Winter Wonders
03 Dec 2020
Bundle up and explore all the plateau has to offer
By Dawn Liles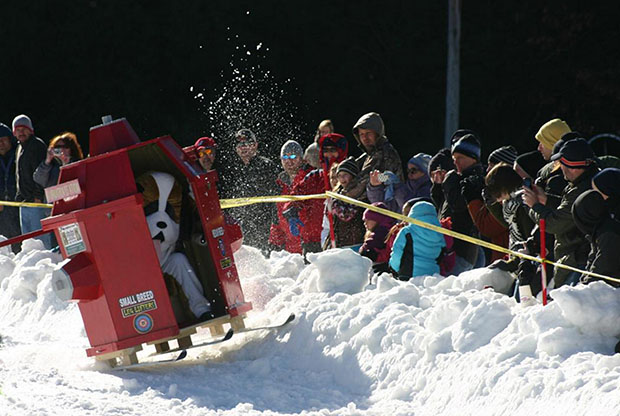 The call of the wild is stronger for many of us this winter, and the plateau's relatively moderate winter temps make the season ripe for outdoor exploration. Come along and read about a few local places for winter fun. Just be sure to use caution on icy winter trails and dress appropriately for the weather and the activity.
Snow Tubing and Ice Skating at Scaly Mountain Outdoor Center
Snow tubing and ice skating are just two of the family-friendly activities offered at Scaly Mountain Outdoor Center in Scaly Mountain. Open year-round, the center is a destination for visitors from Florida, Georgia and South Carolina as well as North Carolina.
"For many people, particularly people coming from Florida and Georgia, we're often the first place they'll see snow this winter," said Dow Harris, general manager. Snowmakers are now fully operational to supplement Mother Nature.
Visitors enjoy snow tubing, ice skating, a fire pit and a retail market with fudge, candy, games, puzzles, souvenirs and gifts. Annie's Cafe serves lunch and hosts live music every Friday night. "We had a better than normal summer season with many people wanting to escape the city, so we're anticipating a busy winter season," said Harris. For more information, including hours and fees, go to their website at www.scalymountain.com.
Snow Sports at Ski Sapphire Valley
Ski Sapphire Valley is a family-friendly resort that caters to beginner skiers with state-of-the-art equipment. The resort has been a family destination since 1964 and offers beginner and intermediate skiing, snow tubing, snowboarding and a zip line. The resort is also home to the popular Great Outhouse Races, which take place annually over Presidents' Day Weekend and involve racing outhouses down the mountain on skis.
The resort has 100% snowmaking capability. Chris Green, ski area director of operations, said, "we have no long lift lines because of our 4-quad chair, and even our bunny slope has a conveyor to transport guests after they've made their way to the bottom of the hill. We offer a 4-lane tubing hill with a conveyor as well."
Guests can enjoy the newly renovated SlopeSide Tavern, conveniently located at the bottom of the slope serving appetizers, lite fare, sandwiches and dinner and includes a ski clothing retail shop with ski clothing rentals. "Skiing and tubing are naturally social distancing sports," said Green, "but we have hired extra staff to sanitize all of the public areas regularly."
Guests are welcome to gather around the fire pit and just enjoy the scenery. For more information, go to www.skisapphirevalley.com.
Ice Skating in Highlands
There is something magical about gliding around an outdoor ice rink bathed in twinkle lights. Since 2015, the town of Highlands has set up an ice rink at the Kelsey-Hutchinson Founders Park. For just $5, friends and families can rent skates (youth size 8 to adult size 14) and enjoy 90 minutes of skating.
Things look a little different this year due to COVID-19 restrictions. Skaters and spectators need to wear masks and stay six feet apart, and skaters are asked to take temperature checks before stepping onto the ice. Online reservations are now required as there is a 30 skater limit on the ice at any time.
"We are asking visitors to please be patient," said Lester Norris, recreation director at the Town of Highlands. "We all have to work together and we want people to enjoy themselves." Visitors can warm up around the founders' monument fireplace and purchase coffee, hot chocolate and bottled water.
The ice rink is open through March 7, 2021 with hours on Thursdays from 1 to 8 pm, Fridays and Saturdays from 1 to 10 pm and Sundays from 1 to 5 pm. The rink will be closed December 24 and 25. Go to www.highlandsnc.org to make your reservation, or call the Town of Highlands Parks & Rec for more information at 828-526-3556.
Outdoor Apparel and Winter Hiking Information at Highland Hiker
Stop by any of Highland Hiker's locations in Highlands and Cashiers for a wide selection of gear, clothing, and shoes for backpacking, fly-fishing, camping, hiking and adventure travel.
The knowledgeable and experienced staff can answer all of your questions and point out the best hikes in the area. "In winter, people typically like to do view hikes, not hike near the base of a freezing waterfall," says second generation-owner Chris Wilkes. "With many of the leaves gone, you can see really far and the views are spectacular." Some of Wilkes's favorite winter hikes include Jones Knob, Rabun Bald and Yellow Mountain.
Winter hikes can be spectacular, but not if you're wearing the wrong clothing and miserably wet and cold. "For winter clothing, go with Icebreaker® merino wool," said Wilkes. "It's soft and you can wear it alone, but as an undershirt, it insulates really well under another layer and stays dry." For an outer layer, he recommends the Patagonia Nano Puff® vest and jacket. "It's lightweight, keeps your core warm and travels well," said Wilkes.
Highland Hiker is open 10 am to 5 pm Monday through Saturday and closed on Sundays. For more information, go online at www.highlandhiker.com or call 828-526-5298.
Fly-Fishing with Brookings Anglers

Fly-fishing can be enjoyed year-round by both experienced anglers and those who have never tied a fly. The 14 employees at Brookings Anglers' Highlands and Cashiers locations have 170 years of guiding experience between them, and they love to share their passion.
All of their trout trips are available throughout the winter. "Probably our most popular trips in the winter are our float trips and private water wade trips," said Matt Canter, partner and general manager. "The float trips are really nice when it gets cold because you don't have to wade in the water to fish. We put you in a boat designed specifically for fly-fishing and row you down four or five miles of river and you fish as we go. They are a lot of fun!"
Canter said what he loves about winter fly-fishing is the lack of crowds. "The likelihood of getting your favorite stretch of river to yourself in the winter is pretty good, especially during the week." For more information or to book a trip or a fly-fishing lesson, go online at www.brookingsonline.com or call 828-743-3768.
Fly-fishing and Educational Offerings with Headwaters Outfitters
Headwaters Outfitters is a small, family-owned and operated outfitter in Rosman, NC, at the headwaters of the French Broad River, between Brevard and Cashiers. They specialize in arranging fishing, paddling and tubing excursions. Their dedicated staff has one collective goal: to have every customer and client learn something and leave with a smile and a memory.
Winter brings fewer crowds and clearer water that makes for excellent fly-fishing, especially dry fly-fishing. "We're lucky in Western North Carolina because we have access to trout fishing all year-round," said Jessica Whitmire, operations and marketing manager at Headwaters Outfitters. Guided bass and muskie fishing trips are also available. Whitmire said the trout fishing trips are available year round, but they don't run as many in the winter. "When the air and water temperatures together don't add up to 100 degrees, hypothermia can set in, so we're careful about monitoring winter temps and ensuring anglers are dressed and prepared for the elements," said Whitmire.
"Many people take advantage of the instruction and educational programs that Headwaters Outfitters offers in the winter. Our School of Trout Headwaters Series is designed to help anglers learn a foundation of fly-fishing and conservation, so they responsibly fish on their own and share that knowledge with others," said Whitmire.
Visitors can enjoy time on the water and then are welcome to relax in the Outfitter's taproom and get a bite from their food truck. "Offering our taproom and food truck was a good way to serve both guests and locals," said Whitmire. "Now both groups are beautifully intertwined and we get to be more connected to our community." For more information on booking a fly-fishing trip or to learn more about educational offerings, go to www.headwatersoutfitters.com.