What's Love Got to Do With It?
04 Feb 2021
Five questions to help you win at the wine game this February
By MANDY MURRY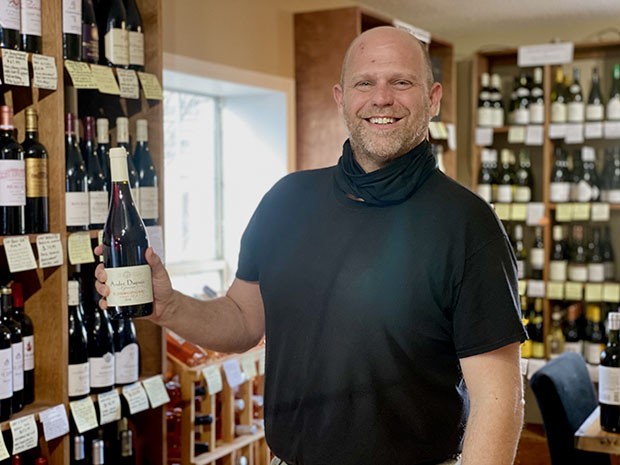 Food and wine are two of my loves in life. The intimacy of exploring flavors, tasting notes of my childhood, and creating in the kitchen offers meaningful moments that I will carry with me for life. When I first started exploring wine, I was clueless. Many would tell you to breathe the aroma of the grape and soil combination in, sip slow and know your grapes - chardonnay, pinot noir and cabernet. But wine is more personal than what is often discussed by sommeliers. Many of us have experienced a wine tasting and have learned about growing regions, conditions and flavors that pair well with others. I was enlightened when I sat down with Davis Picklesimer of Highlands Wine Shoppe, where he proposed the idea of "The Love Language of Ordering Wine."
Choosing a wine to share with your Valentine can easily go beyond a label or grape varietal. In fact, asking these five questions can help you "nail it" this February when you raise a glass to toast love. If you're single, don't worry, this will also work to help you discover something new to enjoy.
Davis suggested that our palate is adapted from the beginning tastes of our childhood. As we age, the palate can refer to a memory, such as the linger of peanut butter and jelly sandwiches, or for me, I recall the love of a slice of cheese between bread. Each of us has a different palate- different flavors that we love, recall or experience. For some, the palate is preference, while for others, it could be memory. The fact is what we like is what we like. Understanding this can help in choosing the perfect wine.
How do you buy the best wine for the one you love? It is not necessarily based on cost. Start with asking a few questions or observing what they eat and drink. "Knowing they like pinot noir is like saying 'I like pickup trucks,'" Davis laughed. "If you can provide answers to one or all of these, I can help you identify wines you or your loved one may enjoy. In fact, the wine shop will soon have profile cards you can keep in your wallet or pocketbook to take with you. Allowing you to share the wine flavors you like when you are purchasing a glass (bottle) of wine elsewhere."
1. Do you/they eat grapefruit? Grapefruit is typically a love or hate type of food. If someone enjoys grapefruit, they will typically like something such as an acidic chardonnay style and a more New Zealand than California sauvignon blanc. A nice wine pairing for a fruit-forward palate - Whitehaven.
2. Do you/they enjoy coffee? If someone likes coffee, the big question then lies in how they drink their coffee. Is it black, with cream, sugar or milk? The black coffee drinker can drink a bolder red cabernet. Chappellet is an eloquent wine for the bold coffee drinker.
3. Do you/they enjoy beet salad? There is no middle ground with a beet salad. Beets are also a love/hate type of sensory experience. For someone that loves beets, their palate will enjoy Old World wines, as they tend to be more earthy. A Bordeaux will pair well with beet salad- one such as Saint-Julien.
4. Do you/they like fish? Fish has mineral ability. For a fish lover, unoaked wine is a nice option. Limestone Hill offers a nice pairing for a menu graced with a fresh catch.
5. Do you/they love chocolate? The American palate tends to love chocolate. Caymus produced by Chuck Wagner in Napa Valley, CA, has been a go-to for that soft finish, full-body, low tannin, chocolate combination, but now there are many that replicate this passionate wine, including J. Lohr Hilltop, Bonanza and Twenty Rows (less expensive too).
Your wine palate is personal. If you have particular styles you do not enjoy, it is not because you are uneducated. Highlands Wine Shoppe is a safe space to put your training wheels on and explore. Consider this, you or someone you know could have a hypersensitive palate. Can you sleep by an elevator in a hotel? Does spice overpower your food? If you said yes, you may not enjoy bold, expressive or even acidic wines, where a broader palate can tolerate up to ten times in flavors.
The difference each of us has is a beautiful thing. Finding what we love in life and wine is part of the journey.
Highlands Wine Shoppe
828.526.4080
www.highlandswineshoppe.com