Farmers Table
04 Feb 2021
This modern farm resort serves destination cuisine, cocktails and fun
By Bridget Callahan
Photos by Traci Kruger, TraLynn Photography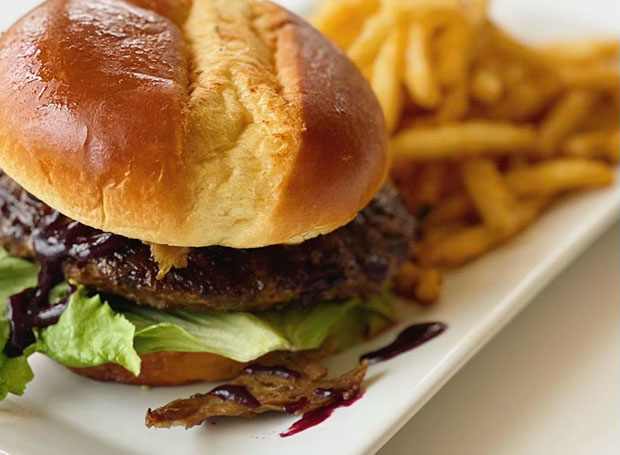 When Lauren and Rick Weaver opened Julep Farms in Fall 2019, they didn't anticipate a global pandemic was coming that would signal the resurgence of outdoor dining. Previously the owners of the popular French Market & Tavern in Locust Grove outside Atlanta, Lauren Weaver had already set her sights on creating a destination spot where she could embrace all her talents as a restaurateur, a designer and a decorator. It was chance that brought them to Rabun County, where they initially went to check out a vineyard for sale. Instead, they happened on 22 acres of beautiful, rolling pastures nestled against the Blue Ridge Mountains that would eventually become Julep Farms. And without meaning to, the Weavers created the perfect day trip destination for COVID-weary travelers looking for a little country escape.
It can be tempting to classify Julep Farms as an event space, but that wouldn't be quite right. It's more like a modern farm resort. With intimately designed, cozy cottages and beautiful gardens, as well as a 300-seat restaurant and two giant outdoor decks with amazing vistas, it's definitely a dream wedding venue. And the large capacity means they often host corporate events as well. But it's also perfect for a couple just looking to get away for an afternoon of shopping and a latte, or dramatic sunsets paired with high-end cuisine and cocktails. There's a coffee shop, a formal garden, a barn of farm animals and a chicken coop, even a croquet field.
"You can walk in and go about the farm anytime. We do cool events all year round. For instance, there's a field to the left of the barn that's a flower field. Lauren planted xenias, wildflowers, and we did flower pickings every Saturday last summer. So, you could come out, have a Bellini or a prosecco popsicle, all kinds of summer drinks, then pick your own flowers and take home a bouquet. We've done hot air balloon rides, a Labor Day party. We have Saturday morning yoga by the coffeeshop. We try to make it revolve around the community," says Katie Martin, the event coordinator. The boutique features unique garden and home decor with handmade gifts and jewelry, all hand-picked by Weaver.
Julep Kitchen, the Weaver's new restaurant on site, is a bright, airy space that reflects Lauren Weaver's aesthetic dreams, bringing the magnificent views into a clean, modern space.
"My last place was very industrial, which was fun, but it was a fleeting trend," Weaver says. "I wanted something more happy and light, I would call it like California meets Scandinavian. It's the comfort and edge of California but with the functionality and clean lines of Scandinavian. I'd say there's even a bit of a New England vibe that gives a little refinement, a little more polish, a touch of traditionalism. Elegant, but approachable."
That description works pretty well for the New American cuisine menu as well, which is a joint collaboration between Weaver's experience and Chef Shane Ferren's talent. It makes generous use of the fresh herbs from their own gardens and the best produce sourced from neighboring farms. There's definitely a Southern twist that shows with menu items like stone-ground white grits and shrimp served with Tasso ham cream sauce. But it's also decidedly upscale, featuring top tier seafood like pan-seared Gulf Grouper and Braveheart Beef ribeyes and filets.
"We sous vide a lot of our meats, so they're very tender. Our steaks are fantastic. But the crab cakes are probably one of our best dishes, made with nothing but jumbo lump," Weaver says. Weaver's own favorite is the buttery herb pork chop with apple chutney. Martin recommends the parmesan encrusted salmon with a honey garlic glaze. If you're craving a burger, the pimento cheeseburger with smoky bacon jam is a win every time. And for day-trippers just stopping by for a quick lunch, the smoked chicken salad on a buttery croissant or the spicy fried Thai chili shrimp sandwich on local sourdough should not be missed.
Crunchy parmesan truffle fries, savory apple, brie and caramelized onion flatbread, and smoky, creamy trout dip round out an appetizer menu where you can find the perfect accompaniment for sipping one of their cocktails on the deck. The mint julep is a fan favorite, or try the refreshing Bees' Knees, made with handcrafted Savannah Honey Bourbon and fresh-squeezed lemon. Or the Chipotle Fig Margarita, featuring Tanteo Chipotle Tequila, agave nectar, fresh squeezed lime & fig preserves.
Often, people who stop by on a whim end up coming back to book one of the four designer cottages that Weaver has built. Each cottage is themed, and Weaver says the themes usually originate with a "collection" she's found in her adventures.
"The Derby is a 1930s vibe with old ribbons and old saddles, big silver trophies. The headboard is made of nine decades of jockey derby hats. The Boathouse started because I bought like 90 old thermoses all from the 1910s to the 1960s that were just so cool," Weaver says, laughing. There are plans to build 18 more cottages on the property in the next five years, and she's already brainstorming the designs, from the Jazz cottage featuring the polished brass and chrome of antique instruments to the Hemingway cottage that will have a "smokey library vibe." Each cottage is still cohesive with the property, with big, vaulted ceilings and relaxing open spaces.
Julep Farms is definitely kid friendly, with plenty of farm animals and games to keep parents happy. So, bring the whole family down or make a clean getaway for the weekend. All in all, it's the perfect destination for the first sunny day, with amazing food and drink to cap it all off.
Julep Farms
500 Hwy 246
Dillard, GA 30537
706.960.9600
www.julep.farm