Waterfall Journey
05 Apr 2023
Cashiers Library to host musician, composer and artist Bryan Heller
Story by Jane Martin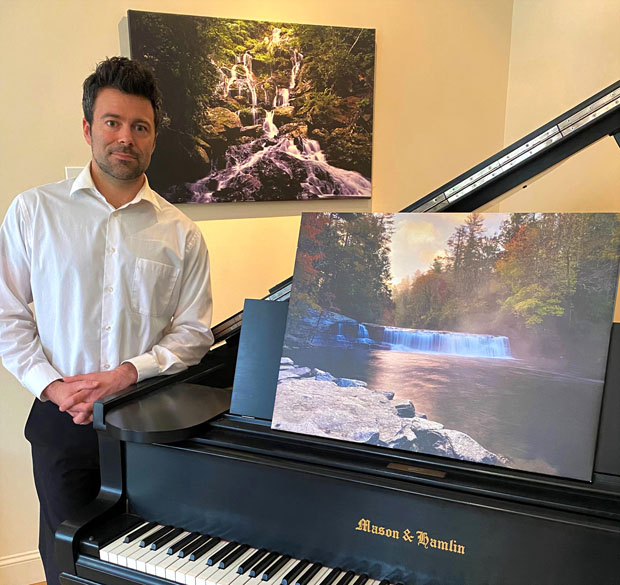 As a gift to the community, the Friends of the Albert Carlton-Cashiers Community Library presents Experience the Mountains: Waterfall Journey, an original musical composition and videographic presentation by local musician, composer and artist, Bryan Heller. Described as "a gift for the soul," this composition invites participants to embark on a unique journey of the Carolina mountains through the sights and sounds of nature.
Bryan grew up in West Palm Beach, Florida, but the mountains have spoken to him for as long as he can remember. When he was only four years old, his parents began annual treks to the Maggie Valley area—often during the Fall season—and Bryan fell in love with the Carolina mountains. His love of piano, however, was not so spontaneous.
At the age of eight, his parents (mainly his mother) insisted he take piano lessons. He hated it. As a young boy, he was consumed with playing baseball and fancied himself a future player for the Marlins. He had no interest in piano. His parents offered a compromise. He could play baseball if, and only if, he completed both his schoolwork and his daily piano practice first. Begrudgingly, he agreed. As the years progressed, his interest in baseball waned, and his love of piano grew.
In his teenage years, he attended the prestigious Alexander W. Dreyfoos School of the Arts in West Palm Beach. It was there he earned a full scholarship to Western Carolina University and a Bachelor of Arts in Music with an emphasis in performance and commercial electronic music.
During his time at WCU, Bryan's love for the Carolina mountains only deepened, and after graduation, he planted his roots in the Cashiers community where he has lived since 2005 and now serves as the Director of Music at Cashiers United Methodist Church. A private piano instructor, Bryan has taught and accompanied piano at the Smokey Mountain High School in Sylva and the Blue Ridge School and Early College in Cashiers. His piano studio, "Piano Mountain," currently instructs students from ages 5 to 85.
An established performer and accompanist throughout the region, Bryan performs at public and private concerts and weddings. He has also served as the accompanist for the Cashiers Community Chorus and the Highlands Community Chorus as well as for the Smokey Mountain High School Concert Choir at Carnegie Hall.
Bryan's inspiration is experiential. He is an avid hiker and, while walking in the woods one day, he found himself listening to the cadence of his footsteps. This prompted him to create a composition based on both the sound of his footsteps and the surrounding environment—man and nature in sync. As he tells people, "Composition and nature are my passions. My true love is in composing music in concert with videography and photography." Experience the Mountains: Waterfall Journey likewise arose during a hiking trip when he felt compelled to capture the beauty of local waterfalls with a multi-media approach. He has just completed a second composition, Experience the Mountains: The Four Seasons, also multi-media, and will be presenting that concert in August.
The concert will take place at 7:00 p.m. on June 8, 2023, in the Albert Carlton-Cashiers Community Library Auditorium. Refreshments will be served after the performance. Admission is free but reservations are required. To reserve a seat, call 828-743-0215.