Music, Mountains and Revelry
05 Apr 2023
Bear Shadow Music Festival welcomes celebrated musicians
Story by Marianne Leek
Photos by Bain Stewart Media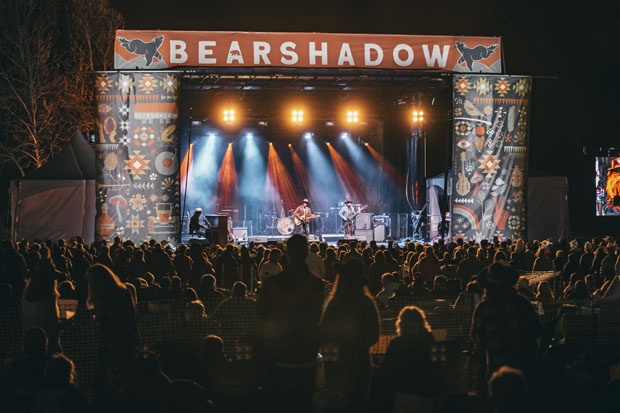 There's no place more beautiful in springtime than the plateau. All gussied up in brilliant Flame Azalea, Rhododendron pastels, and Forsythia the color of sunshine, the Blue Ridge Mountain layers define a Carolina blue sky. As the plateau re-awakens, slowly emerging from hibernation, Bear Shadow Music Festival is ready to celebrate the new season. Now in its third year, the lineup just gets better and better, making it one of the most anticipated festivals in the Southeast. Ironically, the spring festival garners its name from a popular fall leaf-looking experience where, for 30 minutes on sunny days, lucky viewers can catch a shadow resembling a bear across Whiteside Mountain. But sometimes at the tail end of winter, during what locals refer to as "secret season," you can again see the shadow of the bear as it makes its way out of hibernation, much like its residents.
Bear Shadow's inaugural festival was in 2021 on the heels of a global pandemic, but the idea for such a festival had been in the works since 2019 when the Highlands Festival Board and Eleven Events began to think there might be a demand for a sister festival to the insanely popular Highlands Food & Wine Festival, the tickets to which frequently sell out in minutes. Partner at Eleven Events and Bear Shadow Festival Director, Casey Reid, explained its inception, "We were motivated to create a sister festival for early spring—before the summer crowds arrive—that could become a positive economic boost for the area. Music has always been a huge part of Highlands Food & Wine, so we felt that it made sense for Bear Shadow to be focused on music. The pandemic expedited the birth of Bear Shadow, as we had to quickly pivot after canceling Highlands Food & Wine 2020 and offer ticketholders a spring experience. That first year of the festival was pure survival. So much had changed in live events, and we were hoping up until weeks before that we would be allowed to gather. Bear Shadow was actually the first music festival in the country to happen in 2021."
Bear Shadow has drawn some incredible music acts over the past three years, including Drew Holcomb and the Neighbors, Mandolin Orange (who now go by Watchhouse), 49 Winchester, Band of Horses, Trampled by Turtles, Wild Rivers, St. Paul and the Broken Bones… the list goes on. Maybe it's the magic of the plateau, the idyllic setting of Winfield Farm, or the simplicity of a smaller venue, but artists are drawn to this one-of-a-kind festival. Reid frequently hears from artists surprised by the bucolic beauty of the location, the kindness of our community, and the professionalism of festival staff, "The fact that we are a boutique or even 'micro' festival, it feels really special to see these bands with 2,000 people on 50+ acres. We hear it every year from the artists, 'I had no idea.' We are a niche festival in a part of the world that many artists are unfamiliar with. They arrive thinking it might be a low-impact show, and they are then blown away by the area, the people, the crew, and the vibe."
This year is no different. With a curated line-up of celebrated musical guests such as The Head and the Heart, Jason Isbell and the 400 Unit, Spoon, Amythyst Kiah, and others, visitors have come to expect a weekend of music, mountains, food, and fun. Reid elaborated on some of the additional festival-related events throughout the Highlands area as well as the Base Camp location at Winfield Farm that will be going on during the weekend. "Summit & Sound (formerly Hike & Mic) will return this year, with two hikes to Satulah Mountain and Brushy Face Preserve. These are so popular and sell out immediately." A truly unique music experience, these moderate to strenuous hikes led by conservation experts follow a 2-mile trek through some of Highlands' most beautiful forests and trails, culminating in an intimate concert by Bear Shadow artists. Reid added, "Barefoot in the Park will return with Sarah Frick leading free one-hour yoga flow classes in Kelsey-Hutchinson Park in partnership with The Works, a flow studio in Charleston." While the classes are complimentary, those wishing to participate will need to go online to reserve their ticket. In addition, festivalgoers with a penchant for angling can participate in Live Stream, a special half-day fly-fishing experience with Brookings and Bear Shadow musician Woody Platt of the Steep Canyon Rangers.
Having given $20,000 to date to local organizations, Bear Shadow remains committed to environmental conservation and the preservation of the Highlands-Cashiers Plateau. In 2021 and 2022, the festival made donations to the Highlands-Cashiers Land Trust and the Highlands Biological Station. Reid said this year's choice seemed obvious, with $25 of every ticket going to help support the Sky Valley-Scaly Mountain Volunteer Fire and Rescue and The Resource Institute. "Having the Base Camp in Scaly Mountain, literally next door to the Fire & Rescue team, made them a natural choice. The professionals there have helped us every year to keep people safe. The Resource Institute, an organization committed to protecting and restoring North Carolina's waterways, continues our tradition of supporting environmental conservation efforts. To highlight the importance of our rivers, (as previously mentioned) we added an exclusive fly-fishing experience with musician and angler, Woody Platt."
There's nothing like listening to renowned lyricists and musicians at an outdoor venue, but this type of experience isn't without weather-related challenges, and in its first year when musicians were eager to get back to playing live music, one of the festival days was rained out. However, Mandolin Orange streamed an impromptu concert on social media from where they were staying, a simple gesture reminding us that something beautiful can evolve out of disappointment. Reid explained the importance of professionalism and being able to pivot in such circumstances, "It certainly isn't easy or comfortable to cancel a show. Canceling is absolutely the last resort. But weather is always a factor, and keeping our fans, artists, and crews safe is our top priority. In 2021, when we had to cancel the Saturday show due to lightning, all the artists were amazing in getting together and making the best of a bad situation. Mandolin Orange played in their rooms, but Jamestown Revival, Devon Gilfillian, Robert Ellis and Shelly Colvin did a super jam at Half Mile Farm that we streamed online. It was incredibly emotional for all of us and so important we showed fans we were trying to salvage the day."
Billed as "Music, Mountains, and Revelry," ticket holders should expect world-class music and a daytime experience like no other. "We just strive to get better year after year. This year's fans will get to enjoy more fabulous food options and an incredible collection of retail vendors, including popular Highlands stores as well as nationally renowned artisans." Whether you're ready to sing along to "Rivers and Roads" or jam to "Alabama Pines," this year's line-up promises to appeal to the most discerning music lover. But be prepared—the plateau can change you. And a visit to these beautiful mountains in springtime, spent enjoying the magic of music with family and friends, might just be the start of an annual tradition.