Turning Customers into Friends
07 Aug 2020
J Gabriel prides itself on offering shoppers a unique experience
By JUDY ROYAL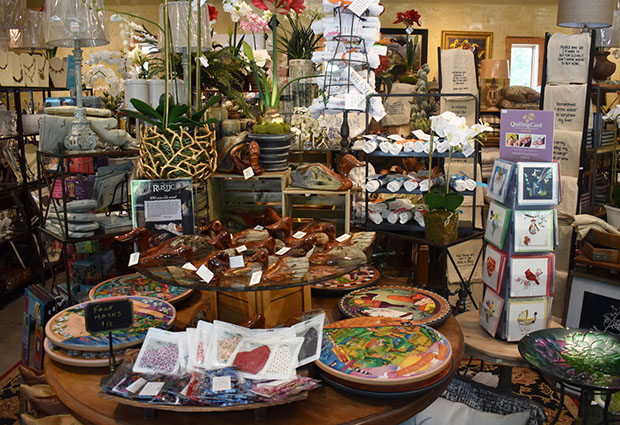 J Gabriel - The Art of Living has only been around since 2019, but the upscale lifestyle boutique has already created quite a following. But what else would you expect from a shop that has the phrase "positive vibes; positive life" prominently displayed on its website?
"I think in today's retail environment, other than having great inventory the one thing that sets us apart is the customer service and wonderful shopping experience they receive every time they come in the store," said José Gonzalez, who owns the shop with Gabriel Muñoz.
That philosophy is indeed paying off.
"I've been a customer at J Gabriel since its inception and must say it is my favorite retail shop to go to," Mary Ellen Lang said. "Not only is the store bursting with unique and beautiful treasures for the home as well as a stylish and upscale array of women's jewelry, the atmosphere when you enter fills your senses with fragrances and sights to excite the shopper in any person. That mingled with the jovial personality of the owners, Gabe and José, as well as staff members, ensures that you will enter J Gabriel as a customer and leave as a friend that will never be disappointed."
J Gabriel is the culmination of more than two decades of the owners' retail experience in Florida, Georgia, and North Carolina. Gonzalez and Muñoz moved to the Tar Heel State in 2015 and eventually owned three stores in Waynesville, NC: Main Street Mercantile, J Gabriel Gifts, and Moonlight and Garbo, a women's apparel store.
"We had always had our eye on expanding into the Cashiers/Highlands area, so we always made trips to look around and see if anything caught our eye," Gonzalez said. "One particular day we stumbled upon the amazing building that we are currently in, which was an antique store, Dovetail Antiques, for many years."
J Gabriel offers unique gifts, home décor, jewelry, and accessories. A brief look at the shop's social media pages shows products ranging from artisan chocolates, whimsical dog-themed items, and bracelets to bedding, candles and pajamas. In addition, customers will find selections for baby, bath and body, and stationery and paper. The customer base also runs the gamut.
"Our challenges in retail have always been to keep finding inventory that makes our store stand out among the rest," Gonzalez said. "Because of the vast array of quality, moderately priced items in our store, we cater to a large audience. We have been in retail for over 23 years, and our favorite thing about being a store owner is always being on the search for new, unique items for our store for our customers."
The Cashiers, NC, store is now the only one that Gonzalez and Muñoz operate, but to keep the line of communication open with loyal customers from shops of the past they have an online store. Of course, some previous customers miss them so much they make the trip to the brick and mortar boutique.
"I have been a patron of their stores since first shopping there in 2015," Debbie Harrison said. "All three of their stores in Waynesville were a much-needed shot in the arm for the downtown area. I, as others, were very disappointed when they decided to move to Cashiers. However, I knew the shoppers there would appreciate their exquisite taste, as do all of their patrons here.
"I have continued to shop there," she said. "Even though the drive is an hour, it is well worth the drive. They are always conscious of having trendy stuff and traditional mountain things, pretty much anything you want or need and then some. I will continue to come to Cashiers to shop at the store mainly because these two fine gentlemen are now very good friends."
While the pandemic has led to challenges and changes for the business, J Gabriel is moving forward and continuing to do what its enthusiastic customer base has come to love and expect.
"During COVID 19, we closed our store for over 45 days," Gonzalez said. "This year we had plans to expand downstairs into home furnishings and more lamps, home decor, accessories, and because of the virus we have had to postpone the opening. We are unsure as to how COVID-19 will affect our future operations, but we are taking it one step at a time and adapting as necessary."
More about J Gabriel - The Art of Living
Owners: José Gonzalez and Gabriel Muñoz
Products: Gifts, home decor, jewelry, and accessories
Location: 252 Highway 107 South, Cashiers, NC
Phone: 828-743-7151
Email: jgabrielliving@gmail.com
Website: www.jgabrielliving.com
Facebook: www.facebook.com/jgabrielliving
Instagram: www.instagram.com/jgabrielliving