The dazzling dahlias of Cashiers Valley
BY Carol M. Bryson, Author and Historian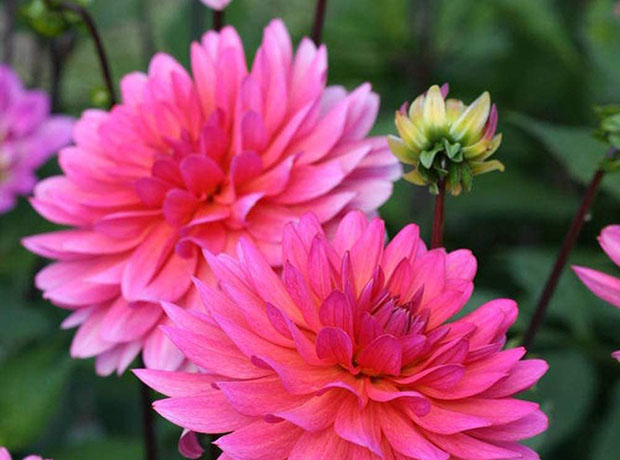 Back in the 1900s, Dahlia Societies had sprung up all over the United States. It was the Halsteds who first introduced the love of growing the colorful pedaled puff to the gardens of Cashiers Valley. Growing dahlias was a favorite hobby for both Dr. Halsted and his wife, Carolina Hampton Halsted.
Dr. William S. Halsted was a founder and chief surgeon at the John Hopkins Hospital in Baltimore, Maryland. He married his head nurse, Caroline Hampton in 1890 at her home in Columbia, SC. Caroline was a niece of the former senator and governor of South Carolina, Wade Hampton III. The Hampton family mountain get-a-way property in Cashiers was located in the valley on the west side of Chimneytop Mountain. Rich in history, these lands were a part of the first settlement in Cashiers Valley by the Zachary family. Ownership of the near 450-acre estate transferred to the two orphaned nieces of Wade Hampton III, Caroline and her sister, Lucy Hampton, in 1893. The girls' mother, Sally, died of tuberculosis in 1862 and their father, Frank, died fighting in the Civil War in 1863.
Caroline Hampton Halsted spent every summer at the Hampton property, just as she had in her childhood. She and her husband started calling the retreat "High Hampton," as derived from Dr. Halsted's ancestral home in England called "High Halsted." Caroline urged her husband to take time off from his practice responsibilities, which had expanded to his becoming a professor, teaching his remarkable new surgical techniques at the hospital. Dr. Halsted tried to get away in the summers to join Caroline at High Hampton as often as he could, to relax and enjoy the countryside. He could travel by train all the way to Toxaway after that depot opened in 1903.
Like other dahlia enthusiasts, Caroline and Dr. Halsted enjoyed cultivating the most valued dahlia roots. It wasn't just a fad for them. They worked at developing the best dahlia color and blooms. The value of dahlia flower bulbs arises from dahlia shows offering monetary prizes of specific judging classes supported by available sponsors. An article appeared in a newspaper out of Charlotte, NC that had quoted Dr. Halsted. He was boasting that he had grown the best dahlias in the United States, right in his garden at High Hampton in Cashiers Valley. He said he had "one dahlia valued at $1,500 and others valued at from $400 to $600." This was in 1911 when the new invention of the automobile was selling for an average price of $500. You could say there were definitely high stakes in the dahlia competitions in those days.