Leadership for the inaugural Festival of Trees invited us to an intimate holiday dining event, bringing good tidings to the plateau
By Kat Ford
All holiday décor and styling: Oakleaf Flower & Garden
Photos: Chelsea Cronkrite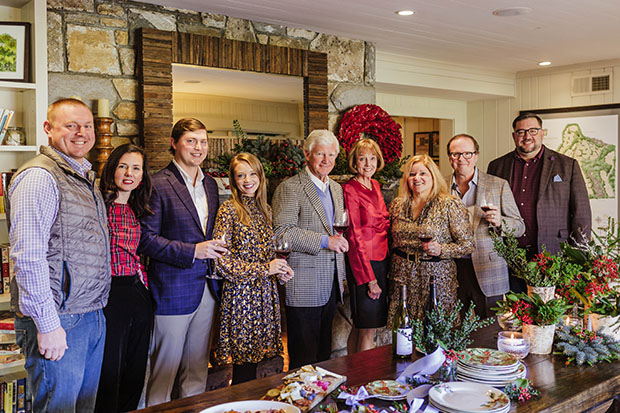 The Summit Charter School Foundation has been celebrating Christmas since the spring. If you follow @CashiersFestivalofTrees on Instagram and Facebook, you might have noticed a few unseasonably early Christmas-inspired posts pop up in your feed. A picture of piles of wrapping paper rolls being carted across the gym floor with a thank you to American Greetings and Cashiers Valley Pharmacy for their donation. A shot of ornaments and Christmas décor-filled showrooms from the AmericasMart Atlanta. How could you possibly have missed the twinkle light-covered Orchard Restaurant's Harvest Barn, complete with wreaths and trees during the Moët & Chandon Toast of the Trees in July?
It has been a long-running social media joke to drop a Mariah Carey-inspired meme in the comment section for friends who put their tree up the day after Halloween. A little side-eye judgment from those of us that adhere to strict "Christmas after Thanksgiving" protocol. But what are we supposed to do with an event destined to get the melody to "All I Want for Christmas Is You" stuck in our heads when we would much rather be having hot fun in the summertime? The Festival of Trees co-chairs Sarah Chapin and Sarah Jennings, along with the Summit Charter School Foundation, encourage the entire community to get in the holiday, and by that they mean school, spirit, year-round.
The build-up took over twelve months, but the payoffs were significant. Scheduled during Thanksgiving weekend, the Festival of Trees offered a multi-day, family-friendly event lineup. Guests were encouraged to get in the holiday spirit by viewing and bidding on decorated trees and holiday décor, enjoying a wide variety of holiday performances, creating personalized children's crafts, celebrating literacy on the Dolly Parton Imagination Library Storytime Stage, enjoying a Build-a-Bear Experience, and shopping one-of-a-kind gifts in the Gift Zone.
Though the event was hosted by the Summit Charter School Foundation and benefited the school, the team found a way to spread the holiday cheer to participating nonprofits.
"We were blown away by the tremendous support of our fellow charities and schools. While raising money for the school is the event's primary focus, we decided to spread the holiday spirit of giving. When a nonprofit or school decorates a tree or wreath, 20% of the item's sale will go back to the participating nonprofit, creating a collaborative initiative to benefit our fellow charities and their worthy causes. Supporting our entire community is very important to our cause and the school's overall mission. Some of the organizations participating include The Bascom, Blue Ridge Free Dental Clinic, Blue Ridge School, Four Seasons Compassion for Life, Camp Merrie-Woode Foundation, Highlands Cashiers Health Foundation and many more. We also had a wide variety of businesses decorating trees, wreaths and gift baskets, such as Zoller Hardware, Gracewear Boutique, Cedar Creek Club, Spruce Interiors, and Acorns Boutique. We even had a NASA tree, including an all-inclusive trip for two students to space camp in Texas!" said Melissa Hudson, development director at Summit Charter School. Her excitement is well-placed; a similar charity-based gift from Tennessee inspired this inaugural fundraising event.
"The event was inspired by Melissa Hudson and a gift she received from someone who'd attended the Knoxville Fantasy of Trees. The gift was in honor of Melissa's late mother. She brought the idea to the school's Foundation as they were looking for a signature event," says Sarah Chapin, who was recruited with Sarah Jennings by Melissa Hudson as co-chairs. What inspired these women to take on the year-long task? "Any opportunity to support what Melissa Hudson believes in; she drives change in our community for the betterment of others," beams Chapin. "We have two boys that attend Summit, and we couldn't be more proud of the education that they receive at this very special school. I wanted to participate in the Festival of Trees to give back to a place that has given so much to our family. I wanted to be a part of a new community tradition that benefits more than just our local children," explains Jennings.
The Summit Center transformed into a winter wonderland with trees devoted to specific causes within the plateau community and programs at Summit Charter School. Those previously mentioned rolls of wrapping paper and ornaments? They were stored under the gym's stage, waiting for businesses and nonprofits to pick them up for tree-trimming and a DIY Gift Wrapping Station at Hampton Realty during event days, managed by students and merry volunteers. "Personally, I am volunteering as a Foundation board member; from a business perspective, Hampton Realty hosted the gift-wrapping station on Friday and Saturday," said Andrew Hudson. "My son Warren is a first-grader at Summit, and this is an exciting new idea for a fundraiser in this community. Historically families come to this area for Thanksgiving and to get a Christmas tree for their homes off the mountain, so it just makes sense to me to combine the two."
A long list of charities and businesses joined in as Festival of Trees elves this year. Kirk Moore of Oakleaf Flower & Garden in Highlands donated potted conifer tabletop trees wrapped in burlap bags for the Foundation to sell and participated in the Gift Zone. They also displayed a booth with their famous locally made plateau wreaths and introduced to Cashiers their wonderful, lacquered magnolia wreaths in golds, silvers, greens and reds. "Even though my Jack Russell Terrier, Elliot, will never be able to matriculate at Summit Charter School, I am proud to be a loyal supporter of the amazing programs they provide children on the plateau," says Moore.
"I enjoy sewing and crafting, so I created handmade items sold in the Gift Zone. I worked with my team at Lonesome Valley to create the most gorgeous tree that we donated, featuring pressed flowers and fern leaves from our gardens. As a board member of the Boys & Girls Club of the Plateau, I worked with my fellow board members and kid club members in creating our upcycled, construction-themed tree," said Sarah Jennings, event co-chair and special events and marketing director of Lonesome Valley.
"Moët & Chandon sponsored the VIP donor event held over the summer at The Orchard Restaurant. It felt great bringing people together after so many months of staying home and not being able to see friends and family. It was a great way to toast the supporters of this wonderful event," said Jason Guerra, on-off premise manager for Moët Hennessy.
"My family owns the Cashiers Farmers Market and Cashiers Firewood. We sponsored the event, provided a tree and designed a firewood structure for folks to bid on," says Josh Crawford, board chair of the Summit Charter School Foundation, adding, "I was inspired to support my daughter's school, local education and the community as a whole. I am a team player that enjoys team projects. I want this event to have as wide a community impact as possible."
Carol and Rob Hunter were Star Benefactors of the Festival of Trees and hosted the Toast to the Trees event held in July. Carol volunteered to help at the festival and arranged for another nonprofit, Four Seasons Compassion for Life, to donate a tree for the event. "This struck us as a way to contribute not only to Summit Charter School but also to our entire community," said Carol.
As those of us who have led any major event in the past know, the end of the event is not the end for a leadership team. This inaugural group is excited for the future. "We will take learnings from this event by speaking with attendees and participants and evaluate how to grow the event even bigger and better. We will also take our learnings and document them to provide a springboard for future leadership," says co-chair Sarah Chapin.
With a community-wide event that focuses on spreading the holiday spirit of giving, the Summit Charter School Foundation might have the whole plateau humming "It's Beginning to Look a Lot Like Christmas" next summer. At the very least, a few more of us most certainly will be putting our trees up a little closer to Halloween.
Plateau Magazine donated a tabletop Christmas tree titled "Bountiful Blessings" made of locally-sourced hydrangeas, wood, grapevine, hand-sculpted porcelain flowers, feathers, twine and natural stone beads. In the spirit of giving, we asked guests what nonprofits they support on the plateau.
We support a variety of nonprofits across the plateau, with Summit Charter School and the Fire Department at the top of our list. - Josh Crawford
Melissa serves as secretary for the Cashiers Community Fund and Andrew is a board member of the Summit Charter School Foundation. Other organizations we support on the plateau include the Cashiers Historical Society, The Village Green, The Boys & Girls Club of the Plateau, Highlands-Cashiers Land Trust, Blue Ridge Free Dental Clinic, Highlands Cashiers Health Foundation and the Church of the Good Shepherd. - Melissa and Andrew Hudson
I am on the board of the Boys & Girls Club of the Plateau, Cashiers Area Chamber of Commerce, Cashiers Valley Preschool and I am a former member of the Jackson County Tourism Development Authority. - Sarah Jennings
Jud and I support the Highlands-Cashiers Plateau Vaccine Initiative with time and, where invited, community outreach. We also support the Cedar Creek Club Donor Advised Fund in order to reach more organizations than the ones we know personally. We are big fans of the Blue Ridge Free Dental Clinic and the Cashiers-Highlands Humane Society. - Sarah and Jud Chapin
Rob serves as treasurer of the Summit Charter School Foundation. Carol is chair of the endowment board at the Church of the Good Shepherd and serves on the boards for Four Seasons Compassion for Life, the Community Foundation of Western North Carolina, and the Community Care Clinic of Highlands-Cashiers. Carol is on the charitable fund committee of the Cedar Creek Club, which this year provided support to 22 nonprofits on the plateau. - Carol and Rob Hunter
Oakleaf Flower & Garden lacquered magnolia wreaths last year-round. Magnolia flowers represent a love for nature, nobility, perseverance and dignity. In the spirit of the magnolia, we asked guests to identify needs on the plateau to raise awareness for those living in and visiting the area, as well as creative solutions for those who want to help.
There are so many wonderful and worthy organizations on the plateau, and they are all looking for help, whether it's through the gift of volunteering, lending your talents or financial commitments. Being an active and informed member of the community results in positive community impact and I find it to be so rewarding. Join us! I would love to talk with anyone who is looking to get involved with the community; we are always looking for help at the school and Foundation! - Melissa Hudson
Affordable housing for teachers, employees of small businesses and the many clubs in the area.
Identify an area you feel passionate about whether it be conservation, education or healthcare, etc. There are several organizations focused on those areas locally that you can support financially or through volunteer work. - Andrew Hudson
Cashiers thrives because of the people and the community that has been created here over generations. We get to reap the benefits of generous community members from decades ago. Our community needs support to thrive. Our schools aren't fully funded by the state, so any "extras" like music, art, etc., happen because of the generosity of others. Those needs will never go away. Food insecurity continues to also be a major concern for our community. There are so many great organizations on the plateau that need participation. Get involved! Volunteer your time or join a board. It is so rewarding. - Sarah Jennings
Like so many other places these days, we are dealing with a major labor shortage in this area. It makes providing the cornerstones of this community very difficult to achieve, like good restaurants and well-built homes. We need to find a way to get more people into the workforce. There is something for everyone. Whatever your interests, I am sure you can find a great fit for you. - Richard Jennings
There are so many employment opportunities on the plateau, which is also rich in education and exposure to avenues for personal growth from relationships formed here, as well as increased access to outdoor living in natural surroundings. There are growing needs to protect our natural resources: our water and our infrastructure. We need affordable quality housing for working families to meet these opportunities. We appreciate the generosity of seasonal homeowners who invest in this community. We invite those seeking involvement to come visit all of our schools. There is so much happening, and supporting all educational providers only elevates opportunities. Come into the classroom, share knowledge and experience. We live in an ever-more connected world. Leverage what you know into classrooms and with those you work with and meet. Ask others how to help, where to help. - Sarah Chapin
Since we have no municipal government in Cashiers, it falls on individuals, churches and social clubs to meet the charitable needs of our community. Each of us who lives on the plateau, whether full- or part-time, must do our part, or it simply will not be done. More specifically to Summit Charter School, we must assure that Summit continues to provide our community's children with opportunities and the tools to capitalize on those opportunities. Working together to meet the needs of our community is necessary to maintain this wonderful life we enjoy on the plateau. - Carol and Rob Hunter