The Jewel of Jackson County
03 Apr 2020
Bear Lake Reserve shares down to earth excellence with the community it loves
By CHRISTINE HENNESSEY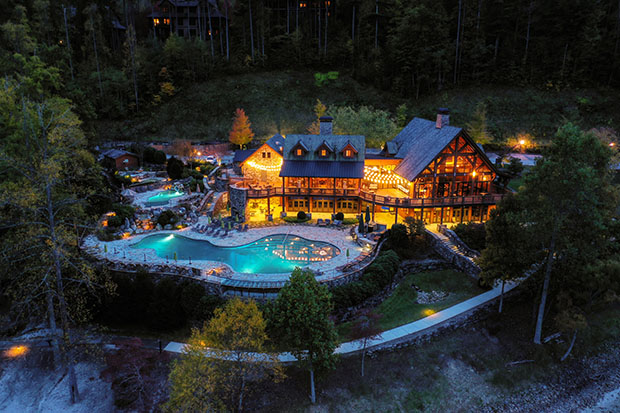 Bear Lake is located in Tuckasegee, NC, between Sylva and Lake Glenville. Founded in 2004, it is part community, part resort, and a full 2,100 acres of natural beauty nestled in the mountains.
"Bear Lake Reserve is what we believe to be one of the finest mountain lake resort villages in Western North Carolina," says Craig Smith, President and General Manager of Bear Lake Reserve. "We offer a stellar, world-class vacation getaway as well as opportunities to own property and become members. We're one of the few properties that encompass it all." He adds that Bear Lake has seen incredible growth over the last 18 months, due to the new management's commitment to quality, dedication to hospitality, and focus on premier dining.
Thanks to numerous amenities and stunning beauty, Bear Lake Reserve has become a go-to destination for everything from family vacations to corporate retreats to weddings. "It's a unique piece of paradise," Smith says. "The Reserve, including the 500-acre lake, is very private and peaceful. We have the Jack Nicklaus golf course, a connection to the Panthertown Trail with six thousand acres of national forest and miles of hiking, and a marina with motorized and non-motorized watercraft. When people come here, they can truly enjoy the lake, the mountains, and the trails, as well as wellness activities like meditation, yoga, pickleball and quality dining." It sounds as if Bear Lake Reserve offers a little bit of everything, and that's the point. "We're trying to create an environment that offers an incredible experience for every visitor."
"Our model is 'down to earth excellence,'" Smith says. This means Bear Lake offers a five star luxury experience but without the "stuffy" attitudes that can sometimes be found at private clubs. "People love coming here because no one cares what you do or who you are," he explains. "It's a down to earth, family environment. You can have an incredible bottle of wine and a meal on par with any fine dining restaurant, or a great beer and burger right at the bar—we do it all."
A Slice of Paradise
There is a growing group of people who enjoy Bear Lake Reserve so much that they've decided to own a piece of it. Most of the 309 people who own homes at Bear Lake use them as vacation properties, renting them out when they're not staying there themselves. A smaller group, about 10%, live at Bear Lake full time, and it's safe to say that everyone else envies them.
With elevations ranging from 2,600 to 3,900 feet, sites ranging from 0.5 to 13 acre, and topography from level to steep, Bear Lake Reserve's variety of homesites are wide enough to suit nearly any buyer. Mountain Villas, pre-built cottages, custom homes and homesites are currently available for sale.
When it comes to the community, two demographics are most common. The first is families with young kids, and the second is active retirees. "We have kids' camp all summer long, and they always sell out. We also host events from wellness and yoga to tennis clinics and trivia," Smith says. These events have made Bear Lake Reserve a lively place year-round, rather than just during the traditional tourist season. "Every Friday night, 52 weeks of the year during 'Happier Hour,' you'll find a whole bunch of owners having a great time with live music," Smith explains. "This place used to be a ghost town in the winter, but now the fire's going and the cocktails are pouring."
Local Love
Smith isn't just the President and General Manager of Bear Lake Reserve—he's also one of the lucky homeowners who live at Bear Lake year-round. He and his wife were originally seasonal visitors until one day, after returning from a trip to Bear Lake Reserve to their home in Dallas, TX, Smith's wife turned to him and said, "Let's move to Bear Lake full-time."
At first, Smith resisted. The couple had a life in Dallas, as well as thriving careers. But then his wife told him in no uncertain terms that she was moving to Bear Lake with or without him. "Like any good husband, I said 'Yup!'" he recalls, laughing.
Before Smith, the Reserve was managed by groups from Texas or Arizona, and some of the recent changes can be traced to the fact that Smith, the current president, is a member of the community, with a vested interest in making Bear Lake Reserve a destination not just for visitors, but for local residents as well.
"We love all of Jackson County, the growth, the connections with Western Carolina University and Southwestern Community College," Smith says. "This whole area has so much potential and such a special opportunity to grow the right way."
This past winter, Bear Lake Reserve implemented several additions to encourage that growth. "A lot of Cashiers and Highlands shuts down during the winter," Smith says, "but we aim to be open year-round." Because every hour at Bear Lake is happy, they host a Happier Hour every Friday night, which is great for visitors and locals searching for weekend getaways or locals looking for evening plans.
Smith is also cognizant of the need to share the wealth of visitors and vacationers that come to Bear Lake Reserve, and encouraging them to support all of Jackson County, not just Bear Lake. This is the thinking behind Bear Lake's recent partnerships with businesses and restaurants in the surrounding area, which include The Library Kitchen + Bar in Sapphire Valley and The Farmhouse Mercantile & Coffee Bar in Sylva.
"The Library Kitchen + Bar is owned and operated by Chef Johannes Klapdohr, an award-winning Michelin-star trained chef," Smith says. "We have a relationship with him, where he mentors and oversees our culinary team, which has raised their bar through the roof. Our guests also enjoy going to The Library for dinner, which is a win-win."
Another fun addition is the live music nights that highlight local talent each Friday and Saturday. Bear Lake offers a special low rate to Jackson County residents at the resort through Memorial Day to help them take advantage of and enjoy these shows. "We normally have a two-night minimum, but Jackson County residents can stay for one night any time from November through the end of April. They can have a meal, hear some music, and stay the night. It's a cool opportunity to experience Bear Lake Reserve." The bands tend to be talent from Western North Carolina, with a focus on Americana music. A few times, they host bigger events with local county music star Matt Stillwell. "Over Memorial Day this year, we will feature Matt and four singer-songwriters that, together, have written over 25 number one country hits. It will be open to the public and we expect 300-400 people to attend."
A True Destination
While the endless activities, exhilarating events, incredible dining, and unique partnerships are exciting, there is one aspect of Bear Lake Reserve that will always be a key part of the experience: natural beauty. For Smith and many homeowners, a special spot known as The Overlook remains one of the best parts of Bear Lake Reserve. "You've got 90-mile views that stretch all the way to Clingmans Dome in Tennessee," Smith says. "When you go up there at sunset with a glass of wine, it's the most stunning, incredible experience." As Bear Lake Reserve continues to grow and evolve, he's excited to share that one-of-a-kind experience with a new generation of visitors.