Decades of Details
03 Apr 2020
Rosemary Stiefel paints the threads that weave nature, textiles, and the human spirit
By KIM HENRY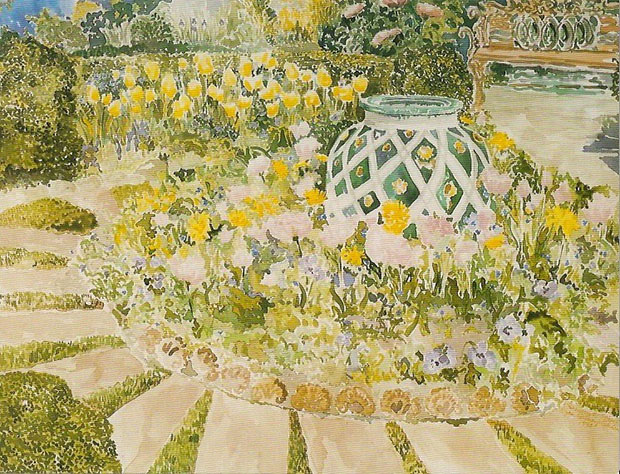 An artist's body of work can sometimes be a little bit like reading their autobiography – except, of course, words are replaced by their creations. The expansive collection of artist Rosemary Stiefel is just like this. From her early childhood spent sketching in nature, to abstract exploration during the 60s and 70s, to the maturing of her designer eye, Stiefel's work tells of travel, heartbreak, accomplishments and so much more.
Born in Madison, Florida, Stiefel spent her childhood summers immersed in nature and its infinite shapes, colors and forms with her grandparents. Being an only child until the age of eight gave Stiefel ample amounts of time to exercise her artistic inclination on the family farm, in her grandmother's flower garden and by the beach.
"My grandmother was my first teacher of how to put color and shapes together and my aunt, who studied art in college, taught me basic watercolor skills before I even started school," remembers Stiefel fondly. Watercolors eventually became her preferred medium, and she aptly describes her technique as having a feeling of "controlled spontaneity."
Despite Stiefel's hometown not having any formal art training, she was fortunate enough to have an artistic family. They took her to galleries at four years old, inspired her adoration of da Vinci and nurtured her love of fabric by passing on the traditional craft of quilting. In 1958, Stiefel went to college to major in botany as a way of being able to make a living and continuing to draw, but once her biology professor saw her work, he insisted she switch to art.
Stiefel met and married her husband of 60 years while in college and after a stint in the navy, they settled in Atlanta to raise their three sons. Among Stiefel's many mentors were Joseph Perrin, head of the art department at Georgia State University and artist Ouida Canaday. "Both are gone now but their voices remain in my mind and I hear from one or the other, if not both at the same time, almost daily," smiles Stiefel.
It was in Atlanta where Stiefel met the regionally acclaimed garden designer, Ryan Gainey. Having been to Italy, where she studied with a group of artists traveling with the Georgia Festival of the Arts in Italy, Stiefel fell in love with the Italian Renaissance. "Italy restored my faith in being able to draw a realistic object and not be ashamed. I was actually in the hills where da Vinci grew up!" beams Stiefel.
Her vivid collection of flower paintings from Italy was being displayed in Atlanta during the annual house and garden tour when Gainey saw them. He immediately wanted to know who the artist was, and on meeting Stiefel, he insisted that she come and paint in his garden. They soon became great friends and did many projects together, including 12 paintings for Gainey's book, The Well-Set Table.
Stiefel's admiration of architecture combines with a lifelong connection to nature and is complemented by her designer's eye. "I love to compose a painting. The placement of shapes and colors, the addition of pattern and textures, perhaps inspired by a piece of music or a poem, and translating this to the visual world," says Stiefel about her process. Her intuitive feeling for design and the placement of geometric forms led to Stiefel designing several well-known logos in Highlands, including the book in the front of The Hudson Library and the logo for the Highlands-Cashiers Land Trust.
Stiefel's list of achievements is long and varied, and not over yet. She was a chairperson for the Georgia Council of the Arts, served on a Congressional Citizens Advisory Committee on the Arts, sat on the Georgia Panel of Information, and has collaborated with art festivals, universities and galleries on a myriad of artistic ventures, including teaching.
Stiefel is currently working on a series of paintings based on the theme of Threads, which brings her back to her quilting days. This will be a part of the Bascom: A Center for the Visual Arts' September 2020 Pop Up Shop Series in the Greehey Atrium and will celebrate their Craft-to-Art Series: Fiber exhibition, which will be on display in the Thompson Gallery at the same time. The focus of her work will be the relationship between humans and fabric "as a vital part of life…in the physical, decorative, and spiritual sense - the tie that binds, the thread that goes through the generations, weaving our own story into the fabric of those past, and of those yet to come," Stiefel describes.
Showing no signs of slowing down, Stiefel's life is one long artistic endeavor and exploration. She combines music, experiences, poetry, and nature into her creations – both highly designed and loosely structured. "All of life is a sketch to be rendered," muses this fascinating woman…and so she returns to her easel.