The Handyman Can
04 Apr 2022
What to look for in handyman services on the plateau
By Kat Ford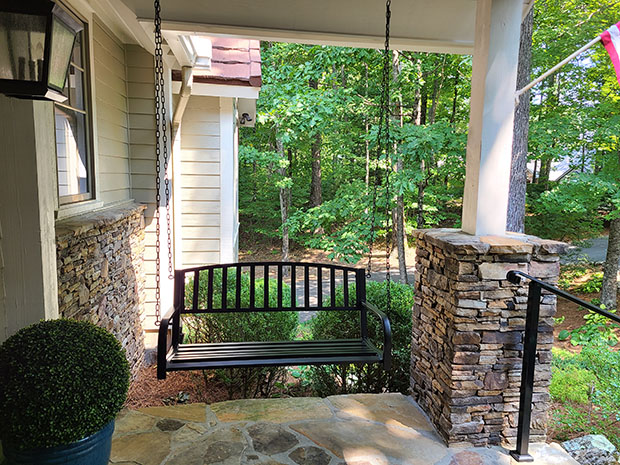 My mother bought a new home last spring. It took until New Year's Day of 2022 to get everything hung on the walls and in place, mostly because she had to wait until I came home to help. Some of the items on her honey-do list were beyond my limited wall-hanging expertise and required added know-how and muscle. So, we called a handyman to hang oversized mirrors and TVs. When handling home renovations and improvements, tasks fall on a broad spectrum, from "who in this family is best with a hammer and nail?" to "do we need a licensed professional?" There are several handyman services to choose from on the plateau; what should you consider when choosing?
Emma and Mike Geisler, owners of Ace Handyman Services in Cashiers, say to start where you look for most things, Google. "When looking for a handyman to come to your home, the most important thing to do is look at their reputation, look at all of their reviews online. Social media is a powerful tool to help when vetting a company that you trust will work in your home. It's also very important to make sure that the handyman company is fully insured, their craftsmen are insured and covered by workers' compensation, as all of Ace Handyman Services' amazing craftsmen are. It is also important to ask if the handyman company guarantees their work."
Ace Handyman Services is a locally owned business whose parent company is Ace Hardware. Like Ace Hardware, Ace Handyman Services is known for its outstanding customer service and immediate responsiveness. A quick scroll down the Cashiers Community Together or What's Happening in Highlands, NC, Facebook pages show plenty of happy customers recommending Ace Handyman Services when fellow group members ask for recommendations. According to Emma and Mike, they experienced how difficult it is to find responsive, quality companies in the area and started the business to help their neighbors with handyman needs. Ace Handyman Services is a fully licensed and insured corporation and can do over 1,200 handyman jobs in customers' homes. All the work done by Ace Handyman Services is guaranteed for one year, showing how confident they are in their skilled employees. Office manager Lisa answers the phone and schedules clients immediately. Craftsmen call the night before to review jobs with clients, text when they are on the way and show up on time.
Greg Mitchell of Franklin, NC, owns GEM Residential Services, is fully insured, certified and a member of the Association of Certified Handyman Professionals. Greg says his current availability is two to three weeks out, so make sure to schedule your services a few weeks in advance. With a tagline of "Handy help for homeowners," Greg specializes in general home repairs, crown molding, baseboards, door casings, laminate flooring, drywall repair and texture, caulking, towel racks, shelving, rock and stone veneer, bulb and filter changing, ceiling fan installation, light fixture replacement, small tile jobs, painting, pressure washing, gutter cleaning, exterior window washing, picture hanging, TV mounting and more.
We have a running list of handyman needs at my mother's house. My mother is a widow; when my father was alive, he could handle most small jobs. But having a spouse with a barn full of tools rivaling the local hardware store meant not needing to do much yourself. She's come a long way, and these days, when I'm standing on top of a ladder asking her to change the driver bit from a Phillips head to a flat head, she knows the difference. Daddy would be proud. But she has windows and gutters she wants to be cleaned, filters and light bulbs to change on ladders that are too tall for her to climb safely, and taste in incredibly heavy wall decorations. So, we are grateful to have her handyman's number close.
In North Carolina, if you need electrical work, HVAC installation, repair or maintenance, demolitions, structural work or plumbing services, make sure you reach out to an appropriately licensed professional. For all other jobs, and there are many (1,200 at Ace Handyman Services alone!), your insured and vetted handyman has you covered.