A magical, seasonally rooted place
By Bridget Callahan
Photos by Chelsea Lane Photography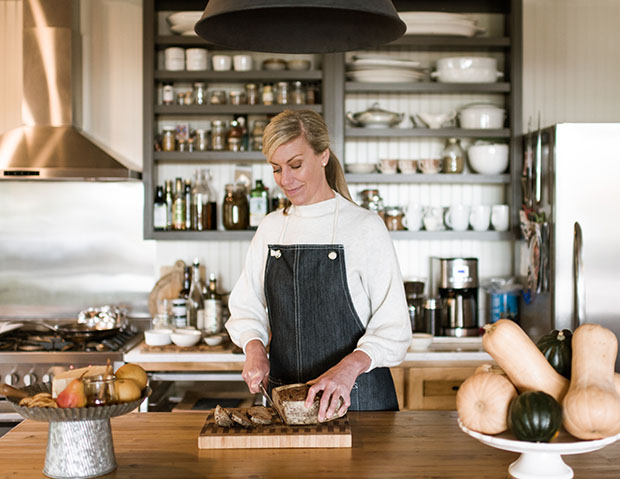 Sometimes all you need for a good idea is the right place. The Barn, located halfway between Cashiers and Highlands, is a textbook example of how to capitalize on the right opportunity to build a dream. Owner Kristin Jorgensen spent many years helping to open and run restaurants across the country. But she had a vision of something more intimate - a way to introduce people to great food on a personal level.
"The Barn was in my family for many years, and it began as an actual barn. No floors. No windows. My grandparents bought it and renovated the property over the course of 25 summers, so it's a building with a lot of sentimental value to me. When they started talking about selling it, I knew I had to try and buy it," Jorgensen says.
Surrounded by lush trees and mountains, the Barn is now a foodie's pastoral paradise. Filled with rustic charm, the gorgeous, open, airy space has lots of windows now, perfect for letting in the afternoon light in any season. And there's plenty of seats for enjoying a glass of wine either at the long farmhouse dining table or around the cozy fire pit.
"I always had a dream of trying a creative food business that was not in the restaurant business," Jorgensen says. "People in the mountains are always looking for really fun experiences, because it's kind of like, adult summer camp. So, I had the idea of cooking classes, and originally, I was catering events as well, but now I'm focused solely on the classes."
Set up for private groups, Jorgensen plans the classes to last about four hours. Groups are given their choice of themes, from Southern to Tuscan Italian to French country. Jorgensen then plans the meal.
"We spend about three hours together in the kitchen cooking, and we eat a lot while we're cooking too, lots of little nibbly things. Then at the end of the session, we all sit down to lunch. The people are just lovely. They're here on vacation, looking to have fun. I get to spend my day just cooking and eating with them. It's a lot of hard work, but it is without a doubt my dream job," she says.
The people who find the Barn range from bachelorette parties to family reunions, and even regular groups of friends who come once a month. Sometimes they'll have a special request, like learning to make pasta or how to roast the perfect chicken. Other times they just want to have some fun in the kitchen.
"I'm always trying to think of dishes that are more hands-on. I don't like to just stand there and show people, though I will if no one wants to help. But usually, people really like to get their hands dirty and cook themselves," she says. A typical French country meal might include cheesy gougères, classic stuffed tomatoes, a savory rice salad, and a sweet souffle or peach galette. Whatever the group ends up making, the best part is sitting down with friends to enjoy the results.
For Jorgensen, the joy of the business is in keeping the Barn an intimate, joyful experience.
"What I love so much about my life now is I don't have to kill myself or spread myself thin making it work. I like the idea of always having the cooking classes and bringing in guest chefs or experts in a certain field. But not expanding to do events or anything like that," she says. In the past, the Barn has offered workshops in addition to the private groups, and now that life is returning to normal, those may return in the fall as well. All new classes will be posted on the Barn website and must be signed up for in advance, so it's worth it to sign up for the email alerts as spaces will fill up fast.
But despite being happily settled in her valley, Jorgensen hasn't stopped thinking of new ways to make people fall in love with food. Next on the horizon are what she's dubbed her "foodie field trips."
"I have relationships with farmers all over North Carolina. For instance, my butcher is in Asheville. That's where a lot of bakeries are too. People were constantly asking, 'Where did you get that bread?' 'Where did you get this cheese?' That's how these trips were born," Jorgensen says. Trips can be a day trip to a butcher to watch a whole pig broken down or behind the scenes at a spice company to see how they roast and blend. This October, Jorgensen is taking a group on the Kentucky Bourbon Trail. Sonoma might be on the horizon as well.
"The bonus is I get to do all these things that I want to learn as well. I stay busy all year round, but in the wintertime, hey, I want to get out of here too. So, I think, 'where is my next dream trip?' And I love the planning process and all the investigation of places to go," she says.
"Anyone who comes here, they walk away knowing that the number one way to make beautiful food is to start with beautiful ingredients. It's one of the things I'm most passionate about," Jorgensen says. "That doesn't mean the most expensive, but it does mean supporting local food and small farmers. Sometimes it means driving an extra half hour to buy a really lovingly made loaf of bread. I feel honored that people trust me to show them my passion, that they trust me enough to know wherever we go or whatever we make, it will be an experience filled with good food."
The Barn
438 Windover Drive
Cullowhee NC, 28723
707-933-6207
www.thebarnnc.com