Spreading Joy One Story at a Time
04 Aug 2021
The Cashiers Historical Society has teamed with Ms. KK of Sunshine StoryTime to bring children's educational content to the Designer Showhouse. Everyone has a story to tell, and there is no better story than one told while camping, or, in this case, glamping!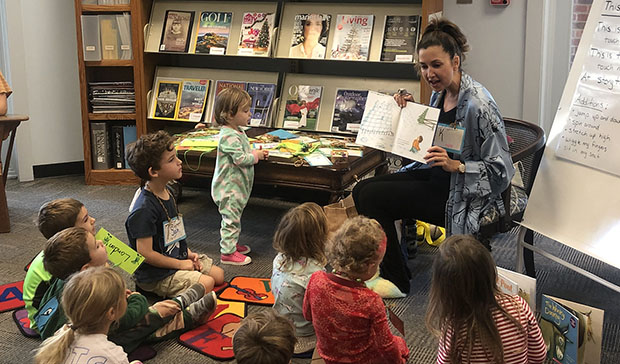 What is Sunshine StoryTime?
Sunshine StoryTime is a program full of enthusiasm and joy where all are welcome. It's a safe space for busy caregivers to introduce their young children to early literacy skills through storytelling, songs, puppets and more. If they can't find a library storytime program to attend in person, I wanted to give all kids the opportunity to watch storytime anytime, from the comfort of their home on YouTube.
I'm always trying new and creative ways to entertain children and if I can make even one child smile, it makes my whole heart shine! My goal is to always make every show full of fun and joy and I do that by using my former acting, improv and voice-over skills, as well as years as a storyteller on YouTube and in public libraries. And if that doesn't work, I just ask my 8-year-old for help! No matter what is happening in your world, you can open a book and experience something completely different. StoryTime is a place where your imagination can run wild. With everything going on in our world today, I feel that this is more important now than ever.

What can guests expect from Sunshine StoryTime's "Stories From the Showhouse"?
I thought it would be a fun perspective to uncover the story behind the glamping tent designs and the designers. I bet we have a lot of future designers out there that would love to know what goes into the process. And of course, we will need to find out each designer's favorite children's book. There might even be a giveaway! I've always believed that there is a story inside each and every one of us; I hope that we will uncover some new and interesting stories this year!