Terroir: A Winemaker's Vision for a Regional Landscape
04 Oct 2021
Part three in a three-part series exploring viticulture and wine
By Kristin E. Landfield
Photos provided by DAOU Vineyards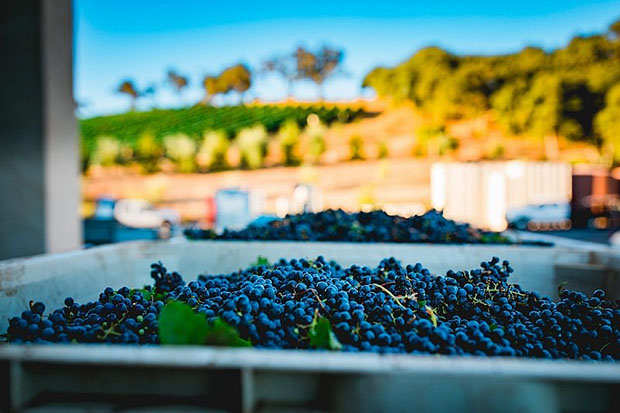 For the Libations section of Plateau Magazine's summer issues, we've been exploring elements of the local wine scene from my novice perspective. I've had the opportunity to learn from Davis Picklesimer at the Highlands Wine Shoppe, just beginning to scratch the surface of a vast universe of wine. Davis regards his wine business from a relational stance. That is, he espouses that the best way to help a person select wine is to learn about that person. He queries their tastes and aligns preferences to apprehend which wines might best suit their particular palate. In his person-centered model, Davis recognizes that appreciation of wine is fostered by experiencing wine through an individual lens—each person's tastes are valid, the callow drinker and developed connoisseur alike. His method is one of relational affinity, and to talk to him is to recognize his profound knowledge and bond with wine.
In this exploration, I've also learned about the local wine industry in western North Carolina, how integrated it is into the native landscape of the southern Appalachians. The same aspects of microclimate and soil biology that dictate our ecologically diverse region are the same elements that shape the phenotype of a grapevine and consequential character of wine in the bottle.
In this third act, Davis arranged a much-coveted interview with prestigious winemaker Daniel Daou of DAOU Vineyards in Paso Robles, CA. Daou is regarded as a pioneering innovator who foresaw the promise for cabernet sauvignon and Bordeaux wines in a region not previously associated with such winemaking. Now DAOU Vineyards is seen as a vanguard maker of choice wines, all with enviable ratings 91 and above. To learn the story of DAOU's success is to learn about Daniel Daou himself, a prime mover who was willing to step out of Napa Valley, the most celebrated and profitable region for American winemaking, to trailblaze a new path in the winescape.
Malcom Gladwell's book "Outliers" posits a much-cited 10,000-hour rule, maintaining that 10,000 hours is the amount of immersion time necessary for someone to become a master in their métier. Gladwell's notion germinates from his survey of psychological research into expertise, success and genius. Though this concept has been questioned, what remains incontrovertible is that along with innate talent, temperament and opportunity, quality time is an essential ingredient. Opportunity and relationship beget virtuoso accomplishment.
Enter Daniel Daou. His is a story of passionate devotion. Daou's insistence on learning the land—the terroir—has yielded a catalogue of top-tier wines that were unforeseen for a stateside region outside of Napa. When Daou and his brother Gorges found this mountain, immediately they recognized a place they'd long envisioned. This was the sacred terroir on which the Daou brothers could unearth and express its nature through artful winemaking. The cabernet and Bordeaux become physical instantiations of the land on which the grapes are grown.
DAOU Mountain stands at 2,200 feet in elevation in the Adelaida district west of Paso Robles. This mountain proved to be a high elevation sweet spot, with a steep rise from sea level, only 14 miles east of the Pacific Ocean. Especially unique in its calcareous soil and its western aspect, DAOU Mountain's proximity to the Pacific provides a cooling effect. This microclimate creates just the right admixture of warm days and cool nights for ripening cabernet sauvignon and Bordeaux varietals. The calcareous limestone underfoot replicates terrain in the French Bordeaux region—an unexpected geology for California—distinctive to the Paso Robles AVA area. Limestone in the soil raises pH, a rare and desirable characteristic that assists in producing grapes with superior phenolics. Phenolics are organic molecules and compounds found in grapes and vines (and other fruits) that are responsible for the taste and color profile of a given wine. Mouth feel, flavor and pigmentation are influenced by tannins, flavonoids, anthocyanins and other phenolic acids found in the grapes and stems. (Incidentally, anthocyanins provide color pigmentation in most flowers that are the botanical precursors for fruiting plants.)
A vineyard's terroir is arguably the most important influence on wine phenolics. Paso Robles soil is chalky and porous sediment with a distinctive minerality content especially amenable to grape production. Realizing that this landscape could conceive exceptional phenolics, Daou knew he had found the place to transform excellence in American cabernet and Bordeaux wine. He speaks to his ethos: "My purpose is to create a pure expression of this terroir-to allow this mountain to speak through the wines that came from it."
As Davis and I listened to Daniel's impassioned speech about DAOU Mountain's terroir, I was especially moved by the idea that this singular extraction—beautiful and choice wine—could embody a landscape in a pure and sensitive form, each barrel sympathetic to the microclimate from which it was derived. A landscape incarnate, so to speak. This concept extrapolates beyond wine to other precious derivatives from the land, though it's hard to think of one purer than fine wine, borne of the ancestral practice of viticulture.
Circling back to the 10,000-hour theory, DAOU Vineyard's success correlates directly with Daniel Daou's vision, his insistence of will and lifelong allegiance to learning about wine. He has created an exceptional oeuvre, one that tells the story of devotion to place—a place he and
Gorges had long imagined. In turn, his keen observations promote very specific varietal choices for each pocket of the landscape in which they are grown. There is a richness folded into the brand and its accompanying phenolics system. The measurement protocol DAOU uses to ensure excellence was produced from thousands of samplings judged by Daou's own highly developed palate. I see this as a sound system rooted in thoughtful awareness—not unlike the detailed attention reserved for a beloved.
Among the many nuggets of wisdom I've learned from Davis over the last several months, most salient is that exploration and enjoyment of wine is personal, and the more experienced the enthusiast, the more personal it becomes—a deepening of relationship. This series started with an interest in the soil science of viticulture, but we've actually taken a broader vantage point to observe terroir: the constellation of elements, including soil chemistry and biology, that define a landscape and its sense of place. DAOU Vineyards is as intertwined with their own mountain's atmosphere as are the botanists and naturalists preserving plants here on the high elevation Highlands-Cashiers Plateau.
We often think of wine as an article of romance. In this exploration, what I see now is that the romance is, in fact, with the landscape. The wine is a sensory narrative of the land on which each grape was grown, tended and harvested with care. Love of place—terroir—is at the heart of the romance in each bottle.
Visit www.daouvineyards.com for the Daou brothers' romantic story. To experience some of DAOU's exceptional wine, find Davis and his knowledgeable staff at Highlands Wine Shoppe, located at 269 Oak Street, Highlands, NC 28741.