Cashiers Valley Smokehouse
04 Oct 2021
The next chapter in Cashiers barbecue
By Bridget Callahan
Photos by Nick Breedlove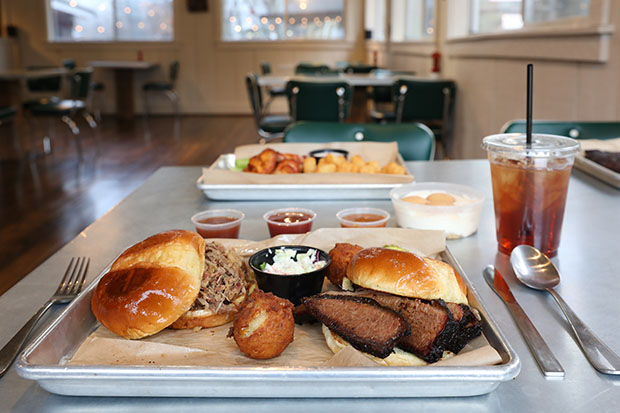 While the question of whether it's "barbecue" or "barbeque" will likely stay the subject of debate
for decades to come, an indisputable fact is there is no greater comfort food than smoked meat.
A plate full of sauce-covered brisket or melting pulled pork brings families and communities
together. And that's the tradition the Peterkin family is trying to keep alive with Cashiers Valley
Smokehouse, formerly Adair Brothers Smokehouse, on Hwy 64.
"You know, when my wife was growing up, their family would come to Cashiers to get a
Christmas tree and come eat here at the barbecue place. It was tradition. And I think that's true
for a lot of folks in town and even out of towners. When you're in Cashiers, you come to the
barbecue place. We're lucky to take on a place with such a good foundation and reputation, and
we're happy we can keep that reputation going," says Brien Peterkin Jr. (The North Carolina
Barbecue Society says it's spelled with a "c," so we'll go with their ruling for now.) The Peterkins
have been known in the local scene for quite a while, first with family-owned Cornucopia, one of
the best casual lunches in town for over forty years, and next, the wildly popular Slab Town Pizza.
When Brien Jr. and his business partner Jon Caddell went looking for their next venture, they
had originally thought of another location for Slab Town. But when the smokehouse, which has
had a few different names over the years, became available, they jumped on the opportunity to
keep the beloved spot alive.
The bright red building with airy interior is exactly what you want your BBQ joint to look
like - comfortable, casual and all about the food. Outside there's a cheery patio of picnic tables
and string lights, perfect for afternoon lunches and sunset dinners. Opening up in the middle of
last year with pandemic restrictions was less than ideal, but the guys kept the menu traditional
for the most part and focused on the food.
"We keep it as simple and fresh as possible," Brien Jr. says. "The meats are cooked
fresh every day; the sides are fresh. We used process stuff as little as possible." Which means
they are constantly in the kitchen, since barbecue can be an intense process. But the results are
worth the effort.
The homemade sauces reflect the unique barbecue intersection that western Carolina
finds itself in.
"We do have a Carolina vinegar sauce. But we're right on the border of Georgia and
South Carolina, so we also have a kind of sweet red that is usually found in Georgia. And a hot
mustard that is more common in South Carolina. A lot of different types of barbecue have found
their way here, which is great for us because we can explore and not be stuck with just one
type," Brien Jr. says.
"The brisket, for instance, is Texas style, with just rub on it. We cook it overnight, then
wrap it in the morning and let it finish. Next, it gets a little higher heat, and then it rests for a long
time. The key with our meat is we only cut them one at a time to order, so everything tastes
fresh and doesn't have time to dry out."
At the peak of season, the kitchen will go through 10-12 briskets in a day, and up to 30
pork shoulders. They're also serving up half chickens, smoked turkey, pulled chicken and St.
Louis style ribs. It's a lot of meat, a lot of love and a lot of smiling faces.
Of course, the sides are almost as important as the barbecue itself, and all the favorites
are here. There's fried okra, rich mac 'n cheese, potato salad and Sallie Peterkin's personal
favorite, collard greens. Brunswick stew, tater tots, hushed puppies and baked beans are all
there, too, all made fresh. And if you're going to be *that* person at the smokehouse, you can
even get a house salad. Everyone will pretend to respect that.
But if you're not in the mood for a heaping tray of meat, there's also a great selection of
sandwiches available, including a brisket Philly, a brisket burger, classic BLT, or a Cuban. While
Brien Jr. prefers the ribs, his mother Sallie recommends the Smokehouse Cobb Salad with
smoked turkey. You can even get the pulled chicken or brisket topping a pile of cheesy nachos
made with wonton chips, black beans, queso, jalapenos and house-made salsa.
But no matter how the menu evolves, barbecue by the pound will always be the star. Get
it family style, with three pints of sides, hushpuppies, Texas toast and sauce. Splurge on a full
rack of ribs for the family get-together. Or get a platter just for yourself, all piled on that essential
smokehouse brown paper-covered tray, with pickles.
The servings are huge and dripping with tangy sauce, and who in the history of the world
has ever resisted a perfectly fried hushpuppy? But if you can save room for dessert, there's
sweet banana pudding or a cobbler of the day to finish off the perfect picnic table meal, made in
house by Brien's wife Sarah Ann.
At the moment, the Peterkins are happy just to have made it successfully through the
pandemic and are gearing up for winter in the valley. While the Highlands area is still fairly
seasonal, it's safe to say Cashiers has hit a critical mass in tourism, and local restaurants are
finding it easier to fill seats no matter what the time of year. There certainly has been no
shortage of customers lining up for their favorite meats, and the family is thrilled to live up to the
challenge of restoring barbecue to its proper place of glory in Cashiers.
Cashiers Valley Smokehouse
281 US 64 W
Cashiers, NC 28717
cashiersvalleysmokehouse.com