Sunday's Table
07 Apr 2021
Full of Grace & Good Food
Recipes and Photography by Kim Byer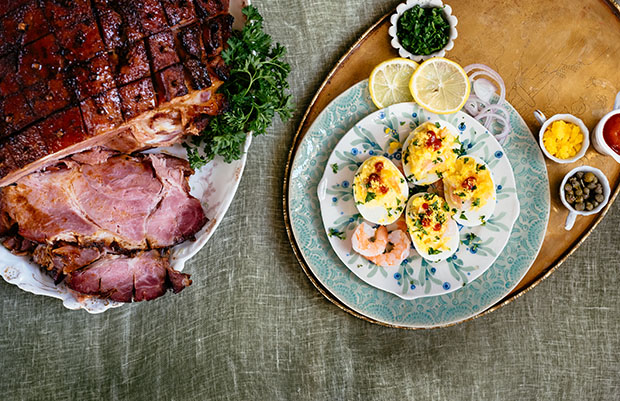 The Southerner's Sunday table is full of grace. Meals start with bowed heads and deviled eggs and end with deviled eggs and pie. And in between, we feast on baked ham and fresh vegetables. It's what we do. Even in today's upside-down, curbside-or-delivered world, Southern cooks make a herculean effort to bring on their Sunday best.
For the Queen of springtime Sundays—Easter— try our Lemony Shrimp Deviled Eggs. Their lemon zest and sriracha topping will tickle your taste buds. Plus, they pair beautifully with our brown sugar-crusted ham, which is studded with cloves and dripping with a rich caramel-orange syrup.
For dessert, Louise's Lemon Chess Pie should be your first move. I've updated my grandmother's recipe with a pressed almond crust and a powdery gameboard pattern that will delight your youngest—or oldest—chess master. Round out your dessert game with a Coconut Chip Bar and a piece of the giant Jelly Bean Chocolate Bar. Serve with coffee or more sweet tea while someone sneaks outside to hide Easter eggs.
Lemony Shrimp Deviled Eggs with Lemon Zest and Sriracha
Broccoli & Bacon Soup with Coconut Milk and Golden Potatoes
Sunday Ham with a Spiced Sugar Crust and Clove Studs
Jelly Bean Chocolate Bar
Coconut Chip Bars with a Butter Pecan Crust and White Chocolate Chips
Louise's Lemon Chess Pie
Lemony Shrimp Deviled Eggs
with Lemon Zest and Sriracha
Serves 6
1 dozen large eggs, boiled, peeled and halved lengthwise
Filling
2 dozen small shrimp (or 4 ounces), peeled, deveined and cooked
¼ cup Duke's mayonnaise
3 teaspoons lemon juice
2 teaspoons onion, minced
2 teaspoons parsley, minced
2 teaspoons capers
1 teaspoon Dijon mustard
1 teaspoon fish sauce
A few grinds of black peppercorns
Toppings
Zest of 4 lemons
Sriracha sauce
Boiled egg yolk and minced parsley (optional)
Remove boiled egg yolks from egg whites. Place into a medium-sized bowl. Reserve 4 yolk halves for topping.

Chop shrimp into small pieces and mix with boiled yolks, mayonnaise, lemon juice, onion, parsley, capers, fish sauce and pepper.

Refrigerate for (at least) 30 minutes, then stir again and spoon into egg whites.

Before serving, top each half with a generous pinch of lemon zest, a squirt of sriracha, a sprinkle of broken yolk and minced parsley.
Tip: Egg halves and shrimp filling can be prepared a day or two before combining and serving.
Broccoli & Bacon Soup
with Coconut Milk and Golden Potatoes
Serves 4-6 as a starter
6 slices bacon, chopped
1 medium yellow onion, diced
4 medium garlic cloves, minced
2 teaspoons kosher salt
1 teaspoon coarse ground black pepper
1/2 teaspoon dried red chili pepper flakes
4 cups chicken stock
1 1/2 pounds baby gold potatoes, diced
1 1/2 pounds broccoli (both florets and peeled stems), chopped
1 cup milk (or unsweetened nut milk of choice)
1 can coconut milk (15 ounces)
Garnish with bacon bits, fresh cilantro and scallions
In a large, heavy soup pot, add chopped bacon; sauté until crispy over medium-low heat. Transfer bacon bits to a paper towel, reserving for garnish. Drain most of the bacon grease, reserving 2-3 tablespoons of the bacon grease in the pot. Add onion and garlic and sauté until translucent, about 5 minutes. Then add kosher salt, pepper, and dried red chili flakes and stir.

Add chicken stock, chopped baby gold potatoes, broccoli florets, milk or nut milk and canned coconut milk. Simmer until the veggies are soft, about 20 minutes.

Turn off the heat and carefully transfer 4 cups worth of soup to a blender and blend on high until puréed. Pour, then stir the blended soup back into the soup pot.

Ladle soup into bowls and garnish with chopped bacon, cilantro and black pepper.

Store soup (and bacon bits) in the refrigerator for 2-3 days.
Sunday Ham
with a Spiced Sugar Crust & Clove Studs
Makes enough rub for 1 large ham
Large semi-boneless, pre-cooked &/or smoked ham, approximately 10-15 pounds
Juice of 1 orange (approximately 3 tablespoons) + a few more (see no. 3 below)
1 ½ cups brown sugar
1 tablespoon + 1 teaspoon garam masala spice (or substitute Chinese 5-spice)
2 teaspoons mustard powder (or substitute 1 ½ teaspoons Dijon mustard)
Cloves for studs
Preheat oven to 500°F. In a medium-sized bowl, mix orange juice, brown sugar and spices. Score outer ham and make a small hole in each square with an ice pick. Poke a clove into each hole, then rub paste all over the ham and into the crevices where possible. Bake for 20 minutes, uncovered, in a heavy baking pan.

Reduce oven temperature to 325°F. Continue baking uncovered for remaining time. Note: Refer to directions with ham. Temperature and cooking time per-pound will vary.

While ham bakes, add small amounts of liquid (orange juice +water mix) to the pan to keep the sugar from burning. It will cook into a dark, sweet, umami syrup. Add ¼ cup liquid every 20-30 minutes.

If desired, deglaze pan (ham removed) by heating over the stove and pouring a ¼ cup of orange juice into pan. Using a wooden spoon, dislodge the syrup on the bottom of the pan and stir until thickened. Pour into a separate container. Use sparingly with ham.

Allow to cool slightly before slicing.
Note: Spiral hams are not recommended as they will dry out using this method.
Jelly Bean Chocolate Bar
Makes one giant, double-layer chocolate slab
1 12-ounce bag mini chocolate chips
1 10-ounce bag mini white chocolate chips
Light corn syrup and cold milk (both optional)
1 cup assorted jelly beans, Easter candies, and/or sprinkles
Method: Line a baking sheet or jelly roll pan with parchment paper. Then, in a small-sized microwave-safe bowl, follow package directions to melt mini chocolate chips in microwave— 45 seconds on high, stir vigorously then repeat, in increments of 15 seconds, until chocolate is smooth. Spread layer onto parchment paper with a solid spatula, then sprinkle with 1/3 of the jelly beans and candy. Place baking sheet into refrigerator while you repeat the melting method on the white chocolate chips. Spread the layer of white chocolate on top of the chocolate, then sprinkle with remaining jelly beans and candy.
Tip: For a thick and chewy chocolate bar, add 1 tablespoon of corn syrup and cold milk while microwaving and stirring vigorously. Corn syrup adds shine and softness and cold milk will coax the chocolate out of a seized state.
Coconut Chip Bars
with White Chocolate Chips & a Butter Pecan Crust
Makes 24 small square bars
Butter Pecan Crust
2 cups all-purpose flour
1 cup brown sugar
½ cup chopped pecans
½ teaspoon kosher salt
¾ cup high-fat butter, melted
Filling
4 cups unsweetened shredded coconut, divided use
1 cup mini white chocolate chips
½ cup all-purpose flour
¼ cup brown sugar
½ teaspoon kosher salt
3 large eggs
1 (14-ounce) can sweetened condensed milk
¼ cup high-fat butter, melted then slightly cooled
1 teaspoon pure vanilla extract
1 coconut, shelled, with meat shredded
Preheat oven to 350°F. Line the bottom and sides of a 13 x 9 pan with parchment paper.

In a large bowl, mix flour, brown sugar, pecans and kosher salt together; then, stir in melted butter. Firmly press into the bottom of the pan using a solid spatula to flatten the batter. Bake for 15 minutes or until golden brown. Remove and allow to cool.

In a large bowl, mix 1 ½ cups of shredded coconut, white chocolate chips, flour, brown sugar and salt together. In a small bowl gently beat eggs, condensed milk, and vanilla extract together. Then, slowly pour (slightly cooled) melted butter into liquid while stirring constantly. Pour over dry batter and stir until mixed.

Spoon over crust then add a layer of the 2 ½ remaining cups of unsweetened shredded coconut and all of the freshly shredded coconut. Bake for 35-40 minutes or until the filling is set and pale golden. Allow to cool then refrigerate for at least 1 hour before lifting the parchment paper/bars out of the pan. Slice into small squares and serve cool or at room temperature. Store leftovers in the refrigerator for up to one week. Bars can be frozen for up to 3 months.
Coconut shredding 101: Crack open the coconut by hitting the shell forcefully once or twice with a hammer. Remove the meat. Using a paring knife, peel off the skin, then shred the edges using a peeler.
Louise's Lemon Chess Tart
Makes one 11-inch tart
Almond Crust
1 1/2 cups all-purpose flour
1/2 cup powdered sugar
1/2 cup slivered almonds
1/2 cup cold, unsalted butter, cut into cubes
Filling
1 1/2 cups sugar
4 large eggs
1 tablespoon all-purpose flour
1 tablespoon cornmeal
1/4 cup milk
1/4 cup butter, melted
1/3 cup fresh-squeezed lemon juice
1 tablespoon lemon zest
Confectioners' sugar for dusting
Lemon slices and mint leaves for decoration

Preheat oven to 350°F. In a food processor, combine the flour, powdered sugar, almonds and butter and pulse until the mixture is the consistency of soft sand.

Press the crust mixture evenly into the bottom and up the sides of an 11-inch tart pan. Set aside in refrigerator.

In a large bowl, combine sugar and eggs. In a small bowl, whisk flour and cornmeal and stir into egg mixture.

Gradually add milk, melted butter, lemon juice and zest. Pour into unbaked tart shell.

Bake for 35-45 minutes or until center of tart is firm. Allow the pie to cool completely. Remove side and bottom of tart pan and place tart on pie stand.

Just before serving: Lay seven 1/2-inch or 7/8-inch strips of ribbon at equal distances, across the tart. Dust with confectioners' sugar. Carefully remove (sugared) ribbons, then place them at opposite (perpendicular) angles in equal distances across the tart. Dust again. Remove ribbons, add embellishments, and serve immediately.
Tip: Grating zest from a lemon is easier before slicing and squeezing the juice. Also, please note that the pie's sugared pattern will disappear if/when the pie is refrigerated.