Something for Everyone
03 Jun 2020
Town & Country General Store offerings run the gamut for all ages and needs
By JUDY ROYAL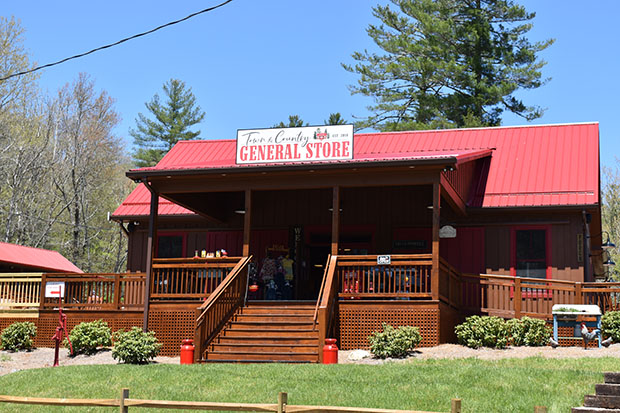 When Valerie Walker opened Town & Country General Store in Cashiers, NC, in April 2019, she wanted to stand out from other shops in the area. Focusing on an eclectic inventory that continues to evolve with customers' needs and wants, she has created a destination that has both tourists and locals coming back for more.
"We have something for everybody in the family," Valerie said. "We have from pacifiers to something for grandmothers and grandfathers. We have inspirational gifts to dinner and entertainment needs."
You can also find the following at Town & Country: clothing, jewelry, home décor, greeting cards, local foods such as jams and honey, groceries, produce, toiletries, old-fashioned sodas and candy, hardware, garden items, sandwiches, meats, seafood, ice, beer, and wine.
And it's not just the products that are diverse.
"We really get a wide array of customers," Valerie said. "I can't say there's any one type of customer that I cater to. I cater to all walks of life and ages. There is no other store in this immediate area that is like mine."
Town & Country is a homecoming of sorts for Valerie. She grew up in the area but moved to Florida in the 1980s. For many years, her family owned a chain of car washes that also included gift stores, so retail was no stranger to her. Three years ago, she saw an opportunity.
"I always wanted to come back home and open a different kind of store," Valerie said. "This area needed a general store in my opinion. It's nice to take a short mountain ride and find an old-fashioned store that has not only character but history. I thought this was just far enough out but not too far out."

Intrigued by the history of the property, which included three houses and a small building on almost four acres, Valerie purchased it in 2018. Its original use was a logging home built in the 1920s, where men gathered around a fireplace to stay warm during the mountain winters. Later, the first dentist of Jackson County lived on the property and raised three daughters. In recent decades, the grandson of the creator of Raggedy Ann and Andy dolls had a store and museum on the site. To preserve and maintain a connection to the history, Valerie has a collection of Raggedy Ann and Andy memorabilia on display in Town & Country. In addition, after discovering that the building she wanted to use for the store was not salvageable, she went to great lengths to keep the original stone chimney and fireplace as the focal point of Town & Country.
Open April through early December, Town & Country is not just a store but a destination. Summer activities include live music, fashion shows, and line dance lessons, and Valerie has added a deli and garden center. She has plans to add a hardware store in the near future.
In the meantime, Town & Country is adjusting to operational changes that have resulted from the COVID-19 pandemic, including curbside pickup, restructuring of staffing to have separate people handling food and money, and shifting inventory demands – think less home décor and more essential items, such as food, beer, and toilet paper.
Despite all the challenges of the current situation, Valerie said owning and operating the store has been a rewarding experience. Her favorite part so far has been the customers' appreciation, she added.
"The amount of customers that have thanked me for opening the store, I have found it very flattering," Valerie said. "That was my biggest surprise – the gratitude and just people being so thankful."
Among those regular customers is Hannah Moody, who lives about three miles away. She said she shops there twice per week for everything from grocery staples to hostess gifts.
"It's good for your basic needs, and it's good if you need to grab something fun," Moody said. "They have a lot of cute things at good price points. It does feel like a cozy neighborhood kind of store."
More about Town & Country General Store
Owner: Valerie Walker
Products: Clothing, jewelry, home décor, greeting cards, local foods such as jams and honey, groceries, produce, toiletries, old-fashioned sodas and candy, hardware, garden items, sandwiches, meats, seafood, ice, beer, and wine
Location: 14 Raggedy Lane, Cashiers, NC
Phone: 828-547-1300
Email: valerie@tandcgeneralstore.com
Website: www.tandcgeneralstore.com
Facebook: www.facebook.com/tandcgeneralstore