The Morales family serves family history in every bite
By BRIDGET CALLAHAN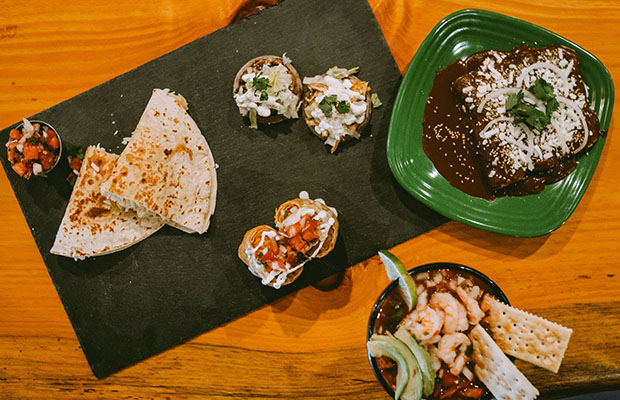 The Morales family, owners of Cashiers' favorite Mexican hangout Chile Loco, did not move to North Carolina with the intention of starting a restaurant. Daughter Sonia Morales said the idea came up almost by happenstance. Her husband was reading the local paper and saw an ad for a pizzeria space for sale.
"He said, 'You guys need to open this restaurant. You make great food; it's a great idea.' We never thought that would happen. We were like yeah, sure, we'll do it, just jokingly. So, then the next day he came back to us, and he had researched it, talked to the seller, found out the price. He pushed it. So...we did it," Sonia says.
It wasn't a completely wild idea. Sonia's father, chef Roberto Morales, was born to a family of farmers, ranchers, and butchers in Puebla, Mexico. When he was 13, he moved north to Mexico City, where he worked his way up in restaurants. Starting in the back of the kitchen, he went from cooking to being a waiter to tending bar. At 35, the whole family, including his wife Delfina and the three girls Sonia, Vicky, and Brenda, made the move to California, where Roberto distributed corn to street vendors. Then he left the food industry and went into landscaping. When the family moved to North Carolina in 2000, landscaping had become the family business, not food. Until the day Sonia's husband saw that ad.
Chile Loco opened in 2008, and it was not an easy feat for a family that had no experience opening a restaurant. There were plenty of mishaps and failures, and a lot of learning as they went.
"Through this process of opening, we finally got there. We opened the restaurant, and then we were like, okay, then what?" Sonia says. "Three years later, we were doing okay. People were starting to come in. But it was difficult because we were introducing locals to authentic Mexican. A lot of restaurants say they're authentic, but you go in there, and it's just your regular Tex-Mex food. Most of the things on our menu are recipes my father got from my grandmother growing up. All our salsas, they're family recipes. We're trying to do beef tongue and tripe soup and people are like ew, what is that?"
Chile Loco is still, twelve years later, very much a family business. Oldest sister Vicky runs the floor, managing the bar and staff. Sonia is the finances, handling the ordering, schedules, and everything else. And Roberto is still running things in the kitchen, where he hasn't missed one day, even working through a battle with cancer with a chemo machine in his backpack.
"He had colon cancer; they said worst-case scenario. So, he did the chemo and radiation, but he refused to stop coming to work. They already told him the worst, and he loves his job. We couldn't stop him from doing what he loved. If I might not make it, then let me do whatever I want, right? Let me enjoy it while I'm here," Sonia says.
Roberto is in remission now, and still in the kitchen, making his famous menudo and mole, both traditional recipes from back in Puebla. The Mexican state of Puebla has a rich history of food trade, embracing spices and ingredients from Spain, France, and Asia. It's the birthplace of mole, a complex, rich dish with a recipe that reads like a shopping list.
"Every time I go to Mexico, I come back telling Dad you make the best mole ever. I can't even get it that good in Mexico. It has so many things in it: almonds, chocolate, cinnamon, three different kinds of peppers, plantains. It's wonderful," Sonia says. Another of her personal favorites, and one of the hardest sells on the menu, is her dad's menudo, a spicy broth made with tripe that is a guaranteed cure for the meanest hangover.
"I tell people I just want you to try it first, because it sounds gross. What it really is- the lining of the cow's stomach, which is honeycombed shaped. It takes hours to cook, and he makes the broth for it, and he uses so many kinds of chiles. It's delicious. A lot of people who know menudo from different states in Mexico, they are like wow, this is the best menudo."
Of course, the extensive Chile Loco menu contains more familiar dishes, like tacos, enchiladas, and fajitas. But more adventurous eaters can also get Mexican favorites like beef tongue, and mojarra, a deep-fried fish that comes whole, eyes and everything. Sonia credits the influx of visitors from all over the country for keeping some of the more challenging items on the menu.
"Wade Hampton Golf Club was one of the things that kept us alive. A lot of the members from Wade Hampton are from Texas, and they were more familiar. Now you have so many people coming from different places, they've seen a variety of foods, and it's less weird." she says.
The cozy, casual restaurant is now a favorite spot for tourists and locals alike. When you visit, be sure to try one (or two) of their handcrafted margaritas and pick up a bag of their homemade chips to eat with your leftovers later.
And if you're looking to break out of your burrito rut but not quite ready for tripe, try the Al Pastor. This tangy, sweet grilled pork originated when Lebanese immigrants brought lamb shawarma to Central Mexico, blending Middle Eastern spices with traditional Mexican ones. It's a delicious reminder that all food has a deep history, just like every family.
Chile Loco
45 Slab Town Rd
Cashiers, NC 28717
828- 743-1160
chilelococashiers.com