Sharp Dressed Man
04 Oct 2021
With 36 years of business under its belt, TJ Bailey's is a town staple
By Judy Royal
Photos by Tracy Mendy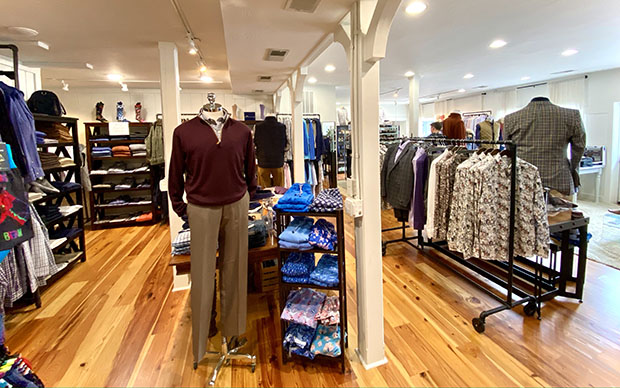 In 1985, Anita Lupoli was 22, working as a secretary, selling real estate and waiting tables when she decided it was time for something different. There were no men's clothing stores in town, but demand was growing.
"Highlands was attracting new summer residents and young retirees with local restaurants and country clubs gaining popularity," she said. "It was time to party, and the men needed a place to shop. Cocktail attire, brightly colored sport coats and ties were the standard, and I had a knack for dressing the men in my life."
Lupoli's family had been living in Highlands, NC, since 1965, and it was her dream to open a business in the heart of her hometown. She made it a reality when TJ Bailey's was launched 36 years ago, and it's still going strong.
"TJ Bailey's is a destination boutique," Lupoli said. "We began by selling men's clothing in Highlands and then women's in Cashiers. We've also expanded our black-tie essentials into an entire groom's room at our Highlands location where men can create a complete made-to-measure look. We pride ourselves on finding and bringing fun and sophisticated brands to our clients. Our tagline has always been 'casual clothing for civilized fun.'"
TJ Bailey's strives to have an appeal that extends more widely than to a "typical customer," Lupoli said.
"Our fashionable clients range from the lavish and playful to the traditional," she said. "They understand the value of a quality product and appreciate our wide range of price points. We have casual statement pieces, golf course classics and even bespoke formalwear."
Lupoli said the people – both clients and the TJ Bailey's team – are her favorite thing about owning the business.
"It's the best feeling when you see customers return year after year," she said. "Our clients become our friends, and we consider it an honor to help them feel good about themselves through their wardrobes."
Teamwork is necessary to create a one-of-a-kind experience, Lupoli added.
"What sets us apart is our level of customer service and our ability to provide a unique product," she said. "We truly are a family at TJ Bailey's, and I believe it creates a unique and welcoming environment for our clients. My team and I seek out designers who are innovators in their field. For example, we began carrying Brackish bow ties, one-of-a-kind accessories made from exquisite and natural feathers, years ago before they graced the necks of celebrities on red carpets."
Frequent customer DJ Williams is among those who keep coming back for more.
"I purchase 90 percent of my clothing from them because of the level of quality in what they sell and incredible customer service," he said.
Five years ago, TJ Bailey's opened a second store in Cashiers that offers much of what it has in Highlands with the addition of women's clothing that is carefully curated to consider female clients' style, dress occasions and love for quality and comfort, Lupoli said.
"We offer a selection of clothing for everything from an evening at a nice restaurant or wedding event to a wide variety of comfortable, casual items for a day at the lake or a run to a grocery store," she said.
Despite changes brought about by the COVID-19 pandemic, TJ Bailey's is sticking to its core values while keeping an open mind about better ways to reach its valued clients, Lupoli said.
"We have certainly navigated many challenges in the past year and a half, as have all small businesses," she said. "We are very careful and happily follow all local mandates and COVID protocols. Our team has become closer, and we have continued to learn the value of connection and compassion. In an effort to keep everyone safe and healthy, we are also serving more clients than ever through phone and web orders.
"Additionally, supply chains have, of course, been affected," Lupoli said. "A lot of our clothing is made in Europe, and with shutdowns, everything is delayed. Because our industry's seasons are so short, timing is vital, and we have had to creatively adapt."
After more than three decades in business, it's no surprise when things evolve, but the most important aspects of TJ Bailey's are steadfast, she said.
"It has been amazing to watch our community over the years," Lupoli said. "While change is inevitable, one thing remains the same: Our visitors and residents are among the best in the world."
More About TJ Bailey's
Owner: Anita Lupoli
Services: Clothing
Locations: 343C Main St., Highlands, NC, and 95 Highway 107 South, Cashiers, NC
Phone: 828.526.2262 (Highlands) and 828.743.8855 (Cashiers)
Website: www.tjbaileys.com
Facebook: www.facebook.com/tjbaileys
Instagram: @tjbaileys