Restoring Native River Cane
04 Oct 2021
Its cultural and ecological significance
By Dawn Liles
Photos provided by Mountain Heritage Center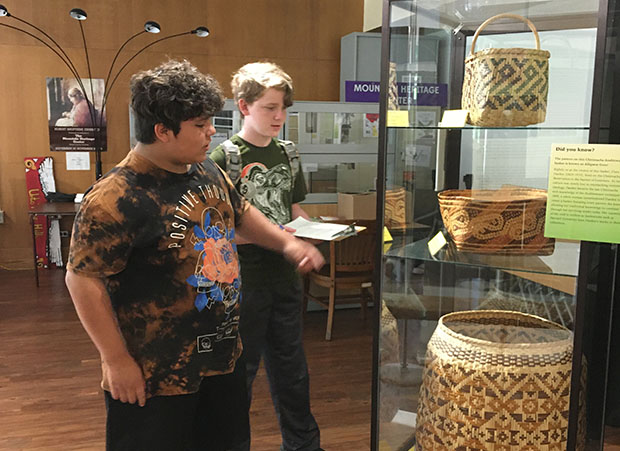 Knowing the history and culture of the people who settled the valleys and highlands of the plateau enriches our lives and teaches us about our responsibilities as stewards of this land.
A great place to learn more about our area and celebrate the natural and cultural heritage of the southern Appalachians is the Mountain Heritage Center (MHC). Located on the campus of Western Carolina University, the center engages students, faculty and the wider community in the study, preservation and celebration of southern Appalachia's cultural heritage and history.
One of the current exhibits at the MHC is "River Cane Renaissance," which highlights the historical uses of river cane, a type of bamboo, by residents of the southern Appalachians. The exhibit features a wide range of river cane artifacts and reproductions, ranging from woven baskets and mats to tools, weapons and musical instruments. The exhibit also explores the biology behind this type of bamboo- a unique grass that is native to and grows throughout the Southeastern U.S.
The once abundant river cane is essential to the lives of the Eastern Band of Cherokee Indians who have lived in this area for thousands of years. River cane is used to make incredibly strong and beautiful baskets, blowguns, knives, spears, bows and arrows, flutes, candles, building materials, sleeping mats, fishing traps and poles, tobacco pipes and medicine, among other things. Native river cane is typically less than 1 inch in diameter and 6-15 feet tall.
According to MHC Director Pam Meister the goals for "River Cane Renaissance" are to raise public awareness of the close connections between stewardship of natural resources and cultural preservation, to increase appreciation of river cane's importance to Cherokee crafts, and to promote knowledge of the ways in which sustainable environmental and cultural preservation initiatives can benefit all residents of our region.
"What I love about this work is the collaboration between so many community partners," said Meister, who has been with MHC since 2010. "We want to be a learning center and community resource as well as a platform for people to talk about their cultures. Our job is to amplify their authentic voices, share their culture with the community and help preserve it for future generations."
Community Partners
One of the MHC's partners for "River Cane Renaissance" is a group called the Revitalization of Traditional Cherokee Artisan Resources (RTCAR), which focuses on environmental preservation with the specific purpose of increasing the availability of natural resources, such as river cane, for tribal artisans.
RTCAR Program Director Dr. Adam Griffith said, "historically, river cane was everywhere, as evidenced by the hundreds of place names across the United States with the word 'cane' in them, particularly in the Southeast." River cane is an amazing and useful plant. The cultural uses are significant for the native Cherokee and other tribes, but there are also many ecological benefits for all of us.
"If you stand inside a canebrake, which is a dense patch made up of only river cane, you can see all the different habitats formed from the roots, culms (stems) and canopy for a variety of animals. Additionally, large canebrakes help slow down water significantly during floods and can remove excess nitrogen, phosphorous and sediment at a higher rate or equal to a riparian buffer (the land alongside creeks, streams, gullies, rivers and wetlands) of mixed species. It does a great job of improving the water quality and keeping excess, harmful nutrients out of it."
Revitalization Efforts
But river cane can't do its job if the community doesn't recognize its value. Nearly all the ecologically and culturally essential river cane has been removed for human development and is now mostly seen only in small patches. Only one or two percent of the river cane remains, and the unique ecosystem it forms is endangered.
According to Griffith, "because of the complex flowering and fruiting cycle of river cane, we can't rely on seeds as a source of plant material for restoration. So, what we're doing a lot of now is transplanting large patches of river cane. We're using machinery or hand tools to dig it up and move it to a new location where it has room to expand."
Visitors to the "River Cane Renaissance" exhibit can learn more about the revitalization efforts being made by community groups and WCU students and alumni to improve river cane habitat and bring back this native species.
In addition to RTCAR, Qualla Arts & Crafts Mutual, Inc., the Cherokee artists' co-op, has been involved in the project, along with several WCU students and faculty, including Dr. Katherine Mathews and Dr. Beverly Collins, biology faculty who served as exhibit advisors.
The exhibit is open to the public Monday through Friday, from 10 a.m. to 4 p.m., at MHC on the campus of WCU through December 10, 2021.