Black Rock Design Build molds bold design choices into a chic contemporary mountain home
By Dawn Liles
Photos by: Gil Stose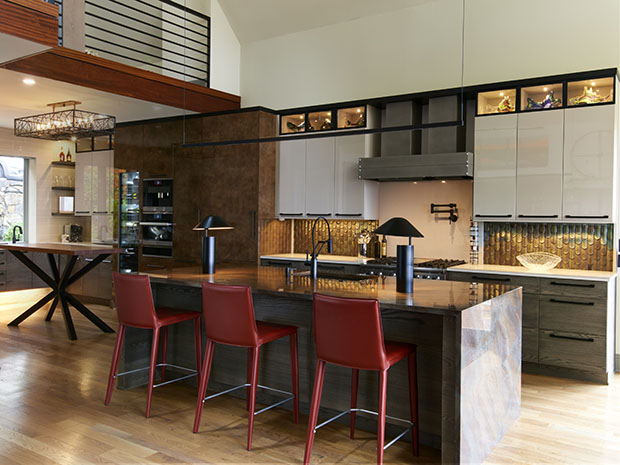 For Highlands homeowners Charlene and Scott McNabb, inspiration for their home remodel came in the form of a Viking kalamata red range. Its reddish-brown hue is one of the couple's favorite colors, so it made sense to use the work-of-art piece as a starting point.
Their home in Wildcat Cliffs was originally built in the 1960s, a James Fox design. It was completely gutted in 2006, with a guest added and a two-level garage added. The McNabbs purchased the home in 2017, relocating from Atlanta.
The couple fell in love with the home's great bones, large picture windows that frame sweeping views and the guest house, which doubles as an office for Scott. But they knew they'd want to add their own aesthetic to the interior.
A friend of Charlene's had recently worked with designer Gregg McLain from Black Rock Design Build in Highlands. "She just knew we would be a great fit with Gregg and told me I HAD to call him," says Charlene. "We met with Gregg at our home, and he immediately embraced and added to our vision."
The McNabb's home is an open concept plan, so most of the first floor was encompassed in the project. "The task was to bring their dated mountain home a contemporary, eclectic but elegant vibe reflective of their home in Atlanta, and give her a kitchen worthy of function, handling large gatherings and extreme style," explains Gregg.
He further explains what was involved in the project. "We removed a small bedroom off of the existing kitchen to create a large gourmet/entertaining kitchen featuring a luxurious Miele appliance package, installed concealed motorized blinds on all of the large windows, refinished all of the original floors toned to complement our new color scheme, replaced the old wood railings with a sleek powder-coated metal version, upgraded all of the lighting, reimagined a powder room that speaks directly to the clients' elegant, contemporary chic style and transformed the existing primary bathroom into a dream spa for two."
Inspired by the red range, the first major selection made was the graceful and colorful copper dunes stone used for the large island. "If you want color integrated in a design, I go to the artwork found in natural stone," says Gregg. "You can find some amazing colors and patterns if you walk through the slab yards.
"Charlene loves feathers, so one of our designers, Thompson Cranford, sourced this glorious opalescent plume tile for the backsplash," says Gregg. "The range and the stone were the springboards for everything else."
The cabinetry faces are a combination of oak toned in a griege stain, a light greige lacquer and a copper leather-looking high gloss lacquer. The black metal doors on the upper cabinets complemented the black light fixtures and other design elements and offered an opportunity to add additional glimmer with the illuminated glass.
The secondary island is topped with a rich mahogany top resting on a metal base fabricated by the metal shop at Black Rock. The custom metal pendant floating above is a contemporary representation of the organic rustic element laced throughout. The mahogany is carried through the space as it travels up the stairway and across the loft, anchoring the sleek metal railings also fabricated by the Black Rock metal shop, explains Gregg.
The powder room, originally a second bath with an acrylic tub/shower, was reconfigured to add additional storage and another area for artwork display. The copper material from the kitchen was continued there for the cabinetry. The custom mirror utilizes a glass bead tile that embraces the faceted glass pendants flanking it.
"In the primary bath, Charlene's style is once again reinforced with zebra print wallcovering," says Gregg. "The concrete-look large format tile interrupted by a soft black mosaic tile mat supporting the strong freestanding tub extends flawlessly into the large shower with its illuminated continuous soap shelf. The subtle glamour favored by the McNabb's is repeated in the combination of glass and metal in the tile mosaic flanking the mirrors."
The updated primary bath is one of the homeowners' favorite rooms. "I enjoy a big bubble bath every night in our beautiful new bathtub," raves Charlene.
Go Bold and Stay Home
"Charlene was easily one of the boldest clients I've had," says Gregg. "She was not afraid of color, she was not afraid to express herself, not timid in any way. She knows what she likes; she just needed some coaching on putting it together. It was such a great marriage from that standpoint."
The couple also included Gregg in the selection of furniture, light fixtures and curating their selection of knickknacks and tchotchkes that would complement their new aesthetic. Many of the McNabb's new furniture selections were ordered through Four Corners Home in Asheville.
"Charlene was special in that way," says Gregg. "Not every client solicits that input from us. The McNabb's have some beautiful, tasteful artwork and furnishings, which were the anchor and motivation for renovation. It's nice when you can follow through with the same touch all the way through the home."
The McNabbs collect paintings, weavings and sculptures, and one of Charlene's favorite new touches is the niche that houses their crosses from Ethiopia. "Gregg was great to work with and helped incorporate a lot of our personal art into the remodel," says Charlene.
Charlene and Scott share the same taste in home design, so they were in harmony during a stressful time. Scott's biggest request was that their home be a smart home, which is what they had in Atlanta. All of their lighting is controlled by an app, and 21 lights can be changed in less than 30 seconds. "We have day, evening and party lighting we can control," explains Charlene. "Lighting is very important to us and can have a huge effect on mood and your environment."
The remodel did take longer than expected, but in the current environment, that is to be expected, said Charlene. "It's important to have a positive attitude when you undertake a home remodel. It was really nice that my husband uses the guest house as his office, so his work wasn't disrupted at all."
One-stop Shop for Full Home Renovations
The McNabbs love their new environment and said their friends have commented they love it as well.
Black Rock owners Kevin and Donna Bradley founded their company in 2009 and have been a part of many design projects in the Highlands-Cashiers-Lake Toxaway area. The firm does all types of remodeling and designing of residential and commercial spaces. They have three locations in Highlands: a Cabinetry and Design Studio, a Tile, Design and Luxury Bath Showroom and a Granite and Hard Surface Showroom.
Gregg began his affiliation with the Bradleys in 2014. He has a degree in architectural engineering and spent a number of years working for architects before opening his own design studio in Hilton Head. He successfully ran that business for 17 years before meeting Donna and Kevin through a cabinet rep.
"I came up to Highlands, met Donna and Kevin, and we hit it off. They said, 'we need you up here, we need a designer and we need somebody to do sales,'" says Gregg. "That was 2011, and I ended up moving to Highlands in 2014. We've been rocking and rolling ever since!"
Black Rock Design Build
Gregg McLain, designer and creative coordinator
2220 N. 4th Street
Highlands, NC 28741
828.526.9800
Blackrockdesignbuild-highlands.com