Road Rally Returns
02 Aug 2023
Rotary Club of Cashiers Valley plans for second annual event this fall
By JUDY ROYAL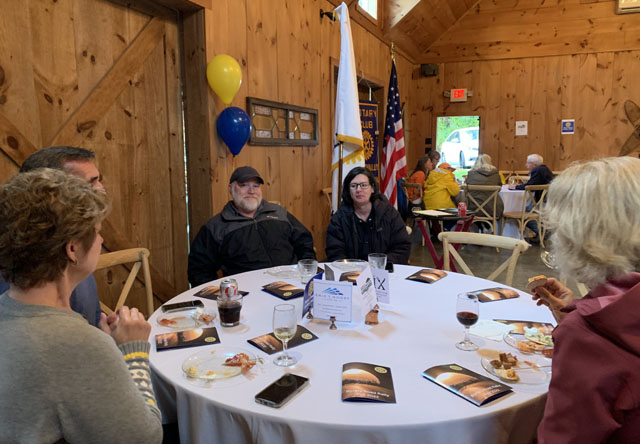 With summer winding down and fall on the horizon, it's not too early to start making plans for autumn events. The Rotary Club of Cashiers Valley is looking to expand on the success of last year's inaugural Road Rally with the second annual event slated for Oct. 21.
The Road Rally, which is a 104-mile route where participants travel via car to follow a mapped route while stopping to earn points with trivia questions and other games, came to Cashiers after Rotary Club Secretary Michelle Hammons had participated in a similar event in Pennsylvania. She thought it was the perfect new fundraising opportunity for this community.
"It's a nice way to see the beauty of the mountains, especially in the fall, and to see some things you may not have seen before," she said. "The trivia brings your attention to details you may not have noticed even if you are familiar with the area. You don't have to have a fancy car. It's not a car show. It's just a nice, pretty drive with some games mixed in."
The Road Rally will start at noon in the heart of Cashiers and finish about four hours later at Whiteside Brewing Company, taking participants on the Blue Ridge Parkway along the way. The route will include three stops between the beginning and end, and the event will culminate with a party where winners will be announced. It's not a race, and there is no time limit.
Organizers are looking to increase participation from last year's 19 cars to up to 30 cars this year, Hammons said. The cost is $90 per car and covers the driver and one passenger. Additional passengers may ride for $35 each. Those who want to take part may sign up in advance at www.cashiersrotary.org.
People who participated last year can look forward to some changes this year, including staggered start times, a different route, a new finish line venue and a streamlined registration process that will allow people to stay in their cars and send vehicles in opposite directions to avoid backups, Hammons said.
Education is the beneficiary of the event. Through last year's Road Rally and other fundraisers, the Rotary Club donated $2,500 to Summit Charter School and Blue Ridge School, and the goal is to raise even more this year, Hammons said. As part of its charitable efforts, the Rotary Club is looking for sponsors who can choose from sponsorship levels ranging from $200 to $1,000. For more information, email Hammons at mkhammons2@gmail.com.
"I think it's fun," Hammons said. "It supports a good cause. Participants will learn something about this area they didn't know before, and they're going to meet a lot of new people."
Bonnie Grossman participated in last year's Road Rally with her daughter, who was visiting from Atlanta, and hopes to see the event grow this year and in the future. "We started the morning collecting our route directions, scavenger hunt clues, puzzles and box lunch," she said. "We lined up our cars and were dismissed at timed intervals. There were three stops along the route for getting out and completing skill games to earn additional points. Being new to this area, we had fun exploring the roads and sights and getting lost, too." Being able to support a good cause made the day even better, Grossman added.
"This was a fun opportunity to learn about Rotary, how it benefits our community as well as making a contribution to our community," she said. "It was just an overall fun day seeing so much support of our community and spending time with my daughter. We even won a prize for one of the categories. I think we answered the most correct questions on the scavenger hunt and got a $25 gas gift card. The day wrapped up with nice hors d'oeuvres and drinks."
Alastair Lamont had such a great time at last year's Road Rally that he decided to become a full member of the Rotary Club. "I just enjoyed the whole event," he said. "It's representative of the community of Cashiers, and that's exactly why my wife and I chose to live here, because of that community. I took it as an opportunity to become involved. Rotary is a wonderful group of people who are very passionate about the community and serving others, and I hope membership will grow."
The Cashiers Rotary Club meets every week on Wednesday mornings. For more information or to join, visit www.cashiersrotary.org/join-us.
Want to go?
What: Road Rally for the Rotary Club of Cashiers Valley
When: Oct. 21 beginning at noon
Where: Starts in the heart of Cashiers (exact location TBD) and ends with a party at Whiteside Brewing Company
Cost: $90 per car for the driver and one passenger; additional passengers may ride for $35 each
Details and registration: www.cashiersrotary.org