Cashiers Crossroads in 1932
By CAROL M. BRYSON, Author and Historian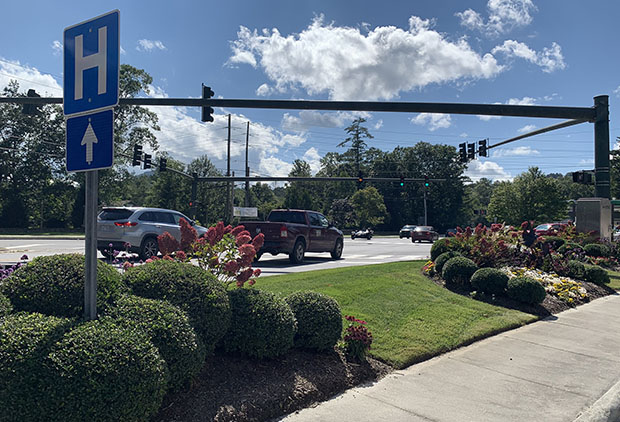 My late husband, David H. Bryson, Jr., and I set out on a new adventure of running our own land surveying business in Jackson County back in the seventies. Our office was in the center of the business district of Cashiers. One of the first actions to get prepared was to get a copy of every recorded plat previously done for lands in southern Jackson County. This did not take long because there were only three plat books in the courthouse for the whole county of recorded survey plats done by surveyors since Jackson County was created in 1851 to the 1970s. One of those plats we copied was this one shown here, surveyed by S. M. Parker dated 1932 for the D. Ellen Coffee Heirs, showing lands held by her estate in Cashiers at the intersection of Highways 106 and 28, which are now NC Highway 107 and US Highway 64. As you can see, her lands were surveyed into 12 good-sized lots, including quite a bit of valuable highway frontage for each lot.
D. Ellen Coffee was a middle child of Alexander Zachary and Sarah Isabelle Wilson Zachary. Her father was a grown man when he came to Cashiers Valley with his parents in 1833. Her mother was a daughter of one of the founders of the village of Hamburg just over the Blue Ridge, now known as Glenville. Her first name was Delcena, but she preferred to be called Ellen. Ellen grew up hanging around her father's store, which was Cashiers Valley's first store. When she was 23, she wrote a little poem in her own handwriting on the margin of her father's store ledger book.
"When this you see
Remember me
Though under the
Could [cold] ground I lay.
Ellen.
Cashiers Valley
Oct. 25th 1866"

In 1875, when Ellen was 32 and still not married, she lived in her parent's home with her sisters. Their store was a portion of their home. She became the first female postmaster of Cashiers Valley in May of 1875, taking over from her father. She married that following July, to a man four years younger than her, Robert Andrew Coffee, from Clayton, GA. Robert and Ellen Coffee built their own home and store on a quarter-acre lot located on the east side of the turnpike road running through Cashiers Valley. Ellen served as the Cashiers Valley postmaster in her own name, Ellen Coffee, soon with her toddler, Blanche, tugging on her skirt.
By the time of her second daughter, Pet Tena's birth in 1878, Robert and Ellen Coffee moved to his home in Clayton, GA, where he worked at a sawmill. Shortly after, the family moved to Anderson, SC, where Robert Coffee ran a sawmill.
Ellen's father, Alexander Zachary, when he was 84 in 1890, gave her a deed for this large tract shown on this plat, located at the crossroads in Cashiers, stating that it contained 17 acres. Ellen remained in Anderson living a full life as a mother of four daughters and contributing time to aid her community. A biographic article states that she organized the first Easter Star Chapter in Anderson, SC, and was a "worthy matron." She suffered the loss of her daughter, Pet Tena, when she died at age 17 of consumption in 1896. Ellen lived to be 78 years old, outliving her husband by nine years.
Ellen did not develop or occupy her crossroads tract in Cashiers, but she did purchase adjoining tracts of George M. Cole and T. R. Zachary. On one of those properties, Ellen and her family came to stay every summer in the former home of George M. Cole.
As the plat depicts, the crossroads tract was divided into large acreage lots to be transferred to her daughters, Blanche, who had married John H. Tate, Dotte, who had married James Cooley, and Flossie, who had married Raymond Cochran. Of these, Blanche's husband, John H. Tate, took a great interest in developing a nearby tract purchased in 1919 with other investors from Anderson, SC, with big plans to survey residential lots and create the lake we now know as Cashiers Lake.
Yes indeed, Ellen, through this article, we still remember you. It was over 100 years later, but someone found your father's store ledger in an old trunk, and we saw the little poem you scribed with your hand in your father's store book so many years ago.