New England Coast Meets Blue Ridge Mountains
03 Aug 2023
Nantucket dream home in Asheville
By DAWN LILES
Photos by RYAN THEEDE PHOTGRAPHY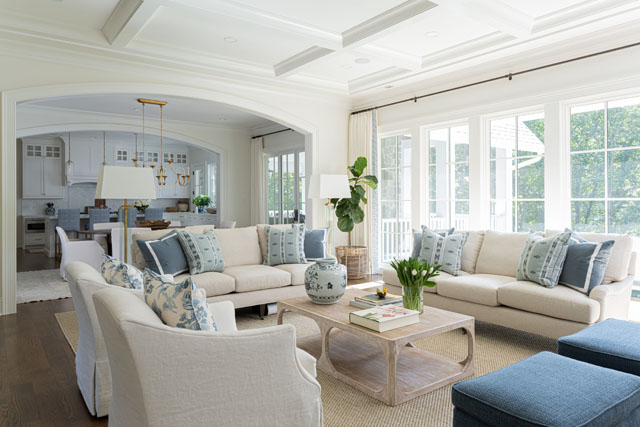 The classic Western North Carolina mountain home often blends wood beams, dark-colored stone and an earthy color palette. But for Austin, Texas, transplants Bob and Carrie Thomas, a Nantucket-inspired home in the mountains was their dream.
The couple is originally from Cincinnati but had lived in Austin for 20 years before Bob's retirement. They are not fans of the months of 90 plus-degree Texas heat, but they do love the lighter, brighter homes more common to that part of the country.
Carrie's grandmother lived in Asheville, and Carrie's family spent many summers visiting her and enjoying the Carolinas, from the mountains to the coast. When it came time to start exploring a place to retire, Asheville was at the top of the couple's list.
They settled on building a home in one of Asheville's gated communities but had no design/construction firm in mind.
"We were in the office in our community and Rick Buchanan (owner of Buchanan Construction) happened to be there, so we struck up a conversation," says Carrie. "Of course, we had no contract with him, but he was really wonderful spending time with us and explaining what his firm could do."
The couple took a leap of faith that Buchanan could bring their vision of a traditional, cedar shake and stone home to life. As a design-build firm, Buchanan Construction evaluates the client's needs, then forms a tailor-made team to bring the project to life. Buchanan's team works closely with everyone involved on the project – from landscape architects to engineers – and they work together to meet the clients' goals.
"Everyone was willing to work with us to make the house what we wanted," says Carrie. "We had such a partnership with everyone at Buchanan. They had no preconceived notion of the type of house to build – they wanted to build what we wanted."
The Thomas's home, New Haven Retreat, features stained cedar shakes and intricate stonework with gray undertones on the exterior, paired with dark wood doors and a timber framed portico, to achieve a traditional style with a Nantucket influence.
The lower level of the home feels as expansive as the upper level due to the choice of ceiling height. Architect Tad Dotson of T.A.D. Architect, PLLC, designed the basement level to have 10-foot ceilings. He also placed the primary bedroom and bath on the main level, with three other bedrooms on the level below. Both levels contain a living area, each with a fireplace.
"One of the most unique features of this home is the wainscot on the interior," comments Clay Ponder, senior construction manager at Buchanan Construction. "It dramatically transformed the home's interior and gave every room more depth and comfort than a traditional flat drywall finish. The craftsmanship of the wainscot was incredible from the design and installation to the final finish."
The inside of the home boasts an open concept floorplan with abundant natural light and a custom blue and white color palette that creates a sense of modernity. Each bedroom of the 5,400 sq. ft. home features a private bath, adding to the functional and luxurious layout of the home. Arched entryways, coffered ceilings, floor-to-ceiling wainscoting, built-ins and other detailed woodwork are coupled with finish selections and lighting inspired by historic English country homes for elegant authenticity. Two large outdoor living spaces feature wood burning fireplaces.
"One of our favorite spaces," says homeowner Carrie Thomas, "is our main living area with five picture windows. Originally we talked about putting a screen porch off the living room, but it wouldn't have allowed as much light into the room. I'm so glad we made the decision to put the porch off the kitchen/dining area instead. Our house sits on a hillside and with the floor-to-ceiling windows, we feel like we are in treehouse. We love it."
Two interior designers helped the Thomas's create the beautiful, bright but soothing and cohesive aesthetic throughout their home. The Thomas's neighbor, Kelle Vickery of LS Interior Design Group, helped select the furniture and custom wallpaper, which came from a company in Philadelphia.
Buchanan Interior Designer Madison McGraw-Parries and Senior Construction Manager Clay Ponder worked with the Thomas's to select appliances, plumbing, interior trim, fireplace designs, lighting fixtures, and paint and stone selections.
"When Carrie told me she wanted a more traditional house with cedar shakes and showed me some pictures of homes she liked, it gave me the idea of the Nantucket dream home in Asheville," says McGraw-Parries. "Carrie had a lot saved on Pinterest and on her phone. I loved working with Carrie and Bob. We took her ideas and made something that I truly think turned out amazing."
The homeowners and McGraw-Parries chose the blue and white color palette early in the design process. "Choosing a softer and more limited color palette made their furniture and lighting stand out more, which was what the Thomas's preferred," says McGraw-Parries. "We used mostly brass and polished nickel for the fixtures and finishes. It is an ideal combination because polished nickel already has a soft yellow feel to it, so mixing it with brass really makes both pop."
Another feature that was carefully considered is the fireplace in the home's main living area. It's a focal point from the front entry all the way to the kitchen, so it's something seen from many different angles. "We met many times to make sure it turned out exactly how it did," explains McGraw-Parries. "The sconces and marble surround and wainscoting really bring something unique to the fireplace. Also, I think the coffered ceiling detail in the main living area is just perfect."
No discussion of a home project is complete without delving into the details of a gourmet kitchen. From cabinets to appliances to plumbing fixtures and then eventually lighting and countertops, everything was carefully researched and considered.
"We went to Viktor's Granite (in Asheville) and found the beautiful marble in White Pegasus and made sure it was honed and added mitered edging," says McGraw-Parries. "It brings such a light, airy feel to the whole space. The appliances are all Thermador, and we added white paneling to blend with the cabinets.Thermador is what we use in most of our homes, and it's one of the best out there for appliances.
We placed subway tile that is a 3x6 brick lay for the perimeter of the kitchen and then a picture frame with a bullnose and herringbone pattern above the range, which gives such a nice accent without distracting from the rest of the space and design."
The kitchen's crown molding was also custom made and painted to match the cabinets, which go all the way to the ceiling. All of the kitchen hardware is polished nickel, and the farmhouse sink is accented with a bridge faucet from Rohl.
Everyone involved in the project felt the headaches were minimal and the collaboration was positive. Clay Ponder comments, "Bob and Carrie were terrific to work with. They had a vision of what they wanted and were able to communicate that to Buchanan, which helped us bring it to life."
Homeowner Bob Thomas says, "Buchanan had an innate ability to work with us and be allies to make us believe we could get the house we wanted. And we did. It comes down to the people, and the people at Buchanan Construction really made a difference for us. They offered a real, persistent, focused eye on cost. It felt like they were our ally in keeping those costs under control."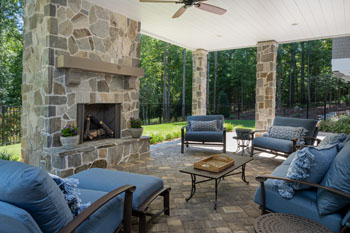 Buchanan Construction
1642 Henderson Road
Asheville, NC 28803
(828) 650-6565
Website: Buchananconstruction.com
Rick Buchanan, owner & president
Sources for New Haven Retreat:
Christies Lighting, Asheville
High Country Cabinets, Asheville
VGM – Viktor's Granite and Marble, Asheville
GBS Building Supply, Hendersonville
Steep Creek Stoneworks, Inc., Asheville