Never-Ending Inspiration
06 Dec 2021
A tiny peninsula in Wisconsin overflows with opportunities to see, hear and taste art.
By Katie McElveen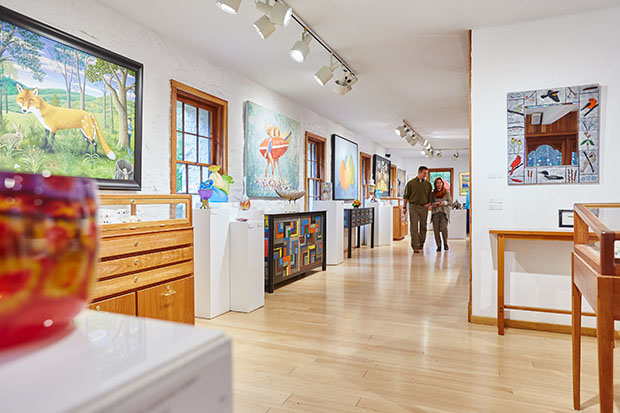 Settled in the 1800s by hardy Scandinavians who made their living in timber production, fishing, and farming, Door County, Wisconsin seems, at first glance, to be an unlikely place for artists to flourish. But after a second look, which reveals a stunning natural landscape of tall dolomite cliffs, deep forests, and the startlingly blue water of Lake Michigan, it all makes sense. "There is never-ending inspiration in the beautiful sunsets, the change of seasons, and the clean, fresh air and water that surrounds us," says Ginnie Cappaert, a painter who owns Cappaert Contemporary Gallery in the village of Egg Harbor. "The welcoming culture and support of the arts is added bonus."
Occupying a narrow peninsula that juts into Lake Michigan just above Green Bay, Door County is often referred to as the Cape Cod of the Midwest, and it's easy to see why. Atmospheric villages with names like Egg Harbor and Sister Bay rim a coastline that's dotted with lighthouses and marinas; within the interior, shady woodlands give way to cherry orchards (it's one of the top sour cherry-producing regions in the country) and neat farms where cows graze beside red barns.
During the summer months, visitors come to hike and bike through expansive state parks, swim in Lake Michigan's bracing water, and sail toward brilliant sunsets. Winter brings ice fishing, snowmobiling, snowshoeing, cross-country skiing, and, during certain weekends, candlelight tours of the woods on cross-country skis. Holiday festivals such as Sturgeon Bay's Festival of Trees, Ephraim's Luminary walks, and spirited gatherings in Baileys Harbor, Sister Bay, Ephraim, Egg Harbor, and Ellison Bay are filled with hot drinks, festive lights, sleigh rides, and lots of shopping at Scandinavian-themed holiday markets. The northern lights also begin to make their presence known with bright wisps of color in the nighttime skies.
But what sets Door County apart from other outdoor wonderlands is the community of artists and makers who occupy its more than 100 galleries, studios, workshops, and theatres.
One of the first establishments to focus exclusively on Door County artists is the Hardy Gallery, which opened in 1961 and occupies a 19th-century warehouse set on the dock in Ephraim. Though The Hardy is famous for its juried shows and community mosaic project, which encourages the public to create artwork on canvas, it's the graffiti-covered building that is perhaps its most well-known feature. "The graffiti evolved from a tradition of visitors signing the warehouse walls in the 1800s to let friends know they'd arrived in town," explains Sarah Zamecnik, the gallery's Executive Director.
Eight years later, Anne Haberland Emerson and her mother, Irene Pamperin Haberland, opened Edgewood Orchard Galleries with a handful of artists in a 1918 barn just outside Fish Creek. Today, under the direction of Nell and JR Jarosh, Emerson's daughter and son-in-law, the gallery exhibits the work of dozens of artists within the restored barn and tucked amid acres of landscaped gardens.
Open since 2007, Egg Harbor's Plum Bottom Gallery is owned by Chad Luberger, a porcelain potter who studied in Japan, and his wife Angela Olsen Luberger, a jewelry designer. Surrounded by a sculpture-speckled garden where silver angels beckon from tree limbs, the original gallery (there's a second, smaller location in downtown Egg Harbor) showcases the work of more than 150 artists within a welcoming, light-filled space.
In Door County, creativity goes beyond traditional mediums like paint, clay, and glass. Chris Renard is the third-generation owner and master cheesemaker at Renard's Artisan Cheese in the town of Sturgeon Bay. Beyond making eleven varieties of cheese, Renard is the creative force behind the company's 50 flavor-infused variations that include cheddar with Door County cherries and farmers cheese with pesto.
Chris Renard isn't the only Door County artisan who uses food as an outlet for his creativity. At Island Orchard Cider, owner Bob Purman has tweaked traditional French hard cider recipes with herbs, different fruits, and oak aging to create ciders that are as delicious as they are sophisticated. Brut cider, for instance, does a spot-on impression of sparkling wine; blended with apple brandy, Pomona is a fruit-forward dessert wine. Then there's Wickman House, where a "whole animal" ethos drives the development of meat dishes, and vegetables are overseen by a staff gardener. The result? Collaborative creativity that translates into a menu fluid enough to deliciously accommodate, if necessary, switching from one cut of meat or vegetable accompaniment to another as the evening progresses. With original wooden floors, a wraparound porch, and elegant lighting, it's a beautiful restaurant, too.
Where to Stay
Open since early 2021, The Dorr mixes modern Scandinavian design with warm wood and sleek stone. Each of the breezy 47 rooms has a private balcony, white quartz bathrooms, and minimalist platform beds; suites have fireplaces and water views.