Music is Art and Art is Music
04 Aug 2021
Brevard artist Shannon Whitworth
By Kim Henry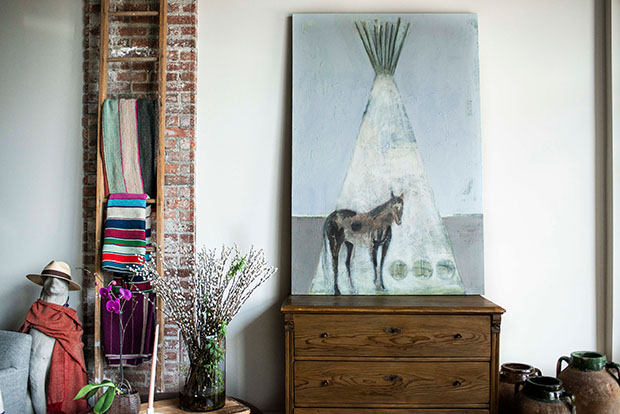 The power of creativity knows no bounds, and for the artists among us, it can be as essential as the very breath of life itself. It may be a painting, a song or a poem and sometimes the weaving together of these artistic threads merge to form a rich tapestry that continually evolves. Such is the interconnect expression of Brevard local Shannon Whitworth, whose deep sense of spirit infuses her writing, is reflected in her music and embodied in the brush strokes of her art.
"I was an impassioned child," says Whitworth with an easy smile and sparkling eyes, "so creativity was always an outlet, a way of expressing what was going on for me." Already an avid poet by her final year in high school, Whitworth suffered a foot injury her first year in college, which turned out to be a blessing in disguise. Finding herself immobile and with lots of time on her hands, Whitworth turned to her sister-in-law, who taught her a few chords on the guitar. Suddenly Whitworth had a whole new dimension of her poetry to explore. "When I realized I could put my poems to music, it just blew my mind!" laughs Whitworth, "luckily, there were no iPhones at that time!" After gaining invaluable experience with the band, The Biscuit Burners, Whitworth went on to release her debut solo, "No Expectations," which was followed by albums "Waterbound" and "Hightide," and took Whitworth from coast to coast for many years.
Fast track through her successful singer-songwriter career to Whitworth moving back to Brevard in 2007, where various factors led to her facilitating a local art festival. Following this, she was asked to be a part of an exhibit by the iconic sculptor Christine Kosiba, which she initially thought must be a mistake. "I didn't know much about the art world. I didn't even know how to price my work or anything, but I couldn't refuse the invite because it was clearly meant to be," remembers Whitworth. The exhibit was called "Isis," referring to the goddess who symbolizes the transforming of death into something positive. At the time, Whitworth was grieving the passing of her mother-in-law Cindy Platt, and her beloved dog was called Isis, compelling Whitworth to participate despite her fears. This led from one door opening to another, and in 2015 when Whitworth became a mother, she realized that life on the road was no longer going to work for her, and the next chapter of her life unfolded.
"I knew I didn't want to travel so much as I wanted to be with my son, but I have to create- or I go crazy! So, I made a studio space at home, and that just sucked me in," explains Whitworth. Inspired by her surroundings on the French Broad River, Whitworth's painting took on a whole new artistic trajectory, and her vast body of work is now consistently exhibited at the Red Wolf Gallery and PLATT HOME, a furniture and accessories showroom, both based in downtown Brevard. Whitworth was also recently invited to join the Cashiers Historical Society's Cashiers Designer Showhouse, where both her art and music will be an integral part of this year's event, from August 21st-September 4th.
It's no surprise that this sensitive artist's collections are reflections of how she experiences the world. Using acrylics, oils and mixed media on canvas, the themes of Whitworth's work can be seen as sovereign instruments that come together to form a complete band, each individual parts of a whole. From elements of the natural world to music to symbols, Whitworth creates from a deep place within. Her artistic style is bold and strong, yet soft and detailed, abstract impressions that merge colors, shapes and textures in her unique interpretation of reality.
"I was always into mythology as a child," says Whitworth when asked about her series entitled "Luminary and Refuge." This is a celebration of her time spent teaching art at the Gila River Indian Reservation. Whitworth first visited the reserve as a young woman and was inspired by the people and their rich relationship with nature. "I've never met a more caring and sharing community that nurtures its connection to the earth; I can't wait to take my son there," says Whitworth with palpable joy.
Ever prolific, Whitworth shows no signs of slowing down, and her work is flowing in abundance. Now introducing art to her son as a means of self-expression, this artist continues to find new ways to grow and evolve. Her inclusion of gold leaf in her work, for example, is her way of acknowledging that we all have our own challenges but that the cracks are where the light shines in. Multi-tasking like most mothers of 2021, Whitworth is a potent reminder that we need to fill up our own cup first. From this space, we have even more to give to our loved ones and to the world at large.