Carroll Rivers' paintings are a love letter to Highlands and beyond
By Liesel Schmidt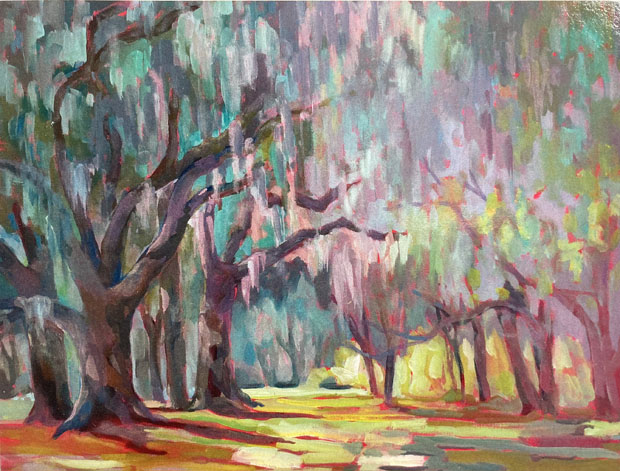 At 86, there's nothing remotely retiring about Carroll W. Rivers; instead a liveliness and a zest for life that colors her paintings, imbuing them with character and vivacity. For more than 50 years, the artist has been creating paintings that illustrate her surroundings, telling stories through the paint on the canvas and offering a snapshot of scenery and wildlife as well as insight into her love of horses.
As one would expect, her eight decades of life are as layered as the colors in her paintings. Born an "Army brat," Rivers is from nowhere in particular, though she now splits her time between two places that hold her heart: Cashiers and Charleston, South Carolina.
"I have friends in both places, and both are special to me," says Rivers, who spends seven months of the year in Charleston and five in Cashiers. As she tells it, Rivers landed in Cashiers more than 50 years ago. As ingrained as the Lowcountry may have been in her husband, Rivers had other preferences.
"I told him that I was a much nicer person when I was cooler, so we came here mountain hunting," she said.
After falling in love with the more temperate climate—not to mention the beauty of the mountains and scenic area—they settled at High Hampton in 1967 and built a home. Fifty-five years later, Rivers still lives in the home, though it was given the addition of a studio in the 90s. With shades of green more varied than one could possibly imagine, her paintings evoke the "mountain rainforest" that she sees around her home in Cashiers, like a love letter to nature told through color, light and shadow.
"People always ask me how I get so many different varieties of green," Rivers says with a chuckle. "But that's just what I see here, and this is where I started painting."
Her origin story as a painter actually begins with workshops—though she will outright tell you that she was essentially conned into going. Having spent years as a high school chemistry and biology teacher, Rivers unexpectedly fell in love with the creativity she found in painting and realized, after some forays into a few different styles that she had talent to explore.
"Boom! I loved it," she says with a twinkle in her eye at the memory. "I really didn't think I would, but I did. It was exciting to discover something new like that after having exhausted my subject matter."
What seemed to infuse her life with the most color was, of course, her art—but also horses, ever since childhood. That deep love for horses later translated into her becoming a master of hounds, though age has necessitated that her admiration has become more passive and less active. But horses are still in her heart—and now in her paintings, filled with a vibrancy and realism that could only be captured by a true equestrian.
"I'm a goer," says Rivers, who enjoys playing croquet and acknowledges that people might describe her as feisty on the court. Her tenacity, it seems, has kept her hands active at the canvas, as well.
"I've been doing this for 56 years now, so I guess that means I'm getting it!" she laughs. Indeed she is, though Rivers has never leaned on her talent as an artist to pay the bills. Still, she is content with the success she has found, selling her work mostly to people she knows and through word of mouth.
As skilled as her paintings show her to be, she has collected a number of awards for her work, which tend toward the mediums of watercolor, gouache and acrylic.
"I prefer impressionistic style, but I also wander into abstracts, portraits, wildflowers and animals," she says. "The North Carolina mountains are my favorite scenes. The light and life in them makes me happy."
"Happy" is a word she uses often to describe her life, and she seems fulfilled with what she has: her friends, her mountains, her painting.
"Painting is a mental exercise and never loses its challenge and its joy," she says. And that joy is every bit as elemental to her pieces as the paint on her brush. Her work can be seen at Whiteside Gallery in Cashiers, online at www.whitesideartgallery.com. She is also a member of Fine Art America, where her prints are available for purchase online.