Montana's Winter Resort Paradise
23 May 2022
Plan ahead for an unforgettable 2022 winter getaway
By Katie McElveen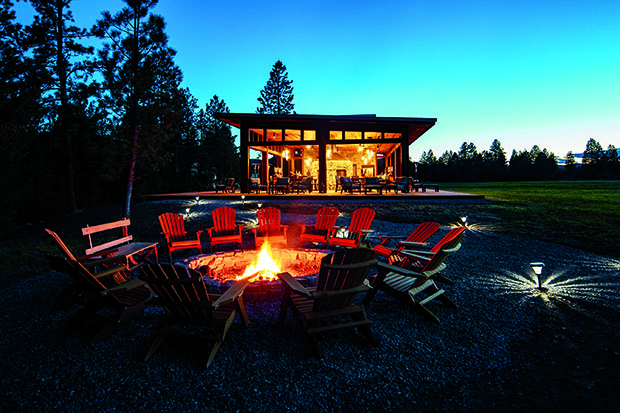 Winter may seem like an odd time to visit Montana, particularly since my destination, the Resort at Paws Up and the green o, a pair of luxury resorts located about 40 minutes outside of Missoula, aren't ski destinations. But skiing isn't the only way to have fun in the snow.
The Resort at Paws Up opened in 2005 as a luxury guest ranch and was one of the first to offer an elevated form of camping called "glamping." But it didn't take long for the owners to realize that Montana's snowy winter landscape was perfect for fun winter activities like horseback riding, snowmobiling, snowshoeing, and dogsledding. Throw in cozy but luxurious log cabins, plenty of access to roaring fires, a pampering spa, and a food program that goes well beyond what one might expect from a ranch, and you've got a near-perfect vacation.
I spent my first morning on horseback following a deer trail through woods and over hills and watching tiny ice crystals glittering in the clear blue sky. Far above, a pair of bald eagles watched our progress from the branch of a tall tree. Their nest was the size of a bathtub and, our guide explained, weighed nearly as much. "They add to it each year, and it gets heavier and heavier," she explained.
On the second morning, as I plunged one snowshoe-clad foot after the other through knee-deep powder, my primary thought was not my surroundings but the fact that catching my breath was getting harder with each step. My guide and I were making the first tracks in the snow (a secret thrill leftover from childhood) when we stumbled onto an area that, while still white, was heavily trampled and pitted. "Looks like this is where a group of elk spent the night," explained my guide, a Montana native who has tracked wildlife with her dad since she was small. Picking up a piece of scat—outdoorsman-speak for animal doo—and squeezing it to determine how frozen it was, she informed me that we'd barely missed the small herd.
I spent the afternoon doing something I had vowed I would never do: riding an e-bike. It's not that I'm averse to the idea; I just like to get exercise whenever I can. But as my snowshoe-tired legs balked at the giant hill that loomed ahead, I gave in and hit the power switch. The motor didn't make a noise, and the glide up the hill was seriously fun.
I did have a chance to explore the resort's six glamping villages, each of which comprises six luxury tents and an elegant stone and glass dining pavilion where breakfast and dinner are served each evening. (Guests can also dine at the main resort; transportation is provided.) Creature comforts abound. Tents—which are actually more like soft-sided hotel suites—have private outdoor decks, copper tubs, camp butlers, air conditioning, and real bathrooms. "It's like a hotel room, except that you can't have any food in the tent," says Camping Director Brian Holwerda. "It could attract bears or other critters."
Of course, this being winter, no one was camping. Instead, winter Paws Up guests stay in one of 28 residences, each of which is outfitted with fireplaces, heated floors, outdoor hot tubs, and lots of privacy. Just down the road, a central area houses a fine-dining restaurant, a more casual restaurant, and a friendly pub. The nearby wilderness outpost serves as the meeting point for the remarkable range of activities available all year round. During the summer, spa treatments take place in a cluster of outdoor treatment rooms; winter treatments are provided in a neat frame house on the property.
Guests at the green o, an adults-only retreat that shares the same property, stay in one of 12 architecturally stunning "hauses" and have additional access to a lounge and restaurant called Social Haus.
Paws Up and the green o place a great deal of importance on the quality of activities—equipment is state-of-the-art, in top working order, and squeaky clean, horses are extremely well cared for, and guides know the lay of the land—so I figured the food would also be delicious. But I didn't expect this level of dining.
Local game appears on menus throughout the resort, often in unexpected ways, such as the duck bacon that topped my bison burger at lunch one day. Chef Sunny Jin, who has worked in kitchens of the French Laundry and El Bulli, also works magic with seafood, poultry, and even salads, which were filled with a kaleidoscope of colors and flavors.
At the green o, Executive Chef Brandon Cunningham uses live fire to cook his nightly nine-course menu, which not only draws on flavors from all over the world but presents them in dishes that are both imaginative and witty. For a tuna and avocado course, for instance, Cunningham dehydrated leche de tigre, the "tiger's milk" that gives Peruvian ceviche its briny bite, and used the flavorful powder to season crunchy sweet potato chips that took the place of more traditional steamed sweet potato cubes. Even after six savory courses, three dessert courses weren't nearly enough, thanks to James Beard-nominated pastry chef Krystle Swenson's delicious way with sweets. Tempted by everything from a frozen Pavlova to a homemade KitKat bar and macarons garnished with rare ruby Callebaut chocolate, I chose them all. Remarkably, food and some alcoholic beverages are included in the all-inclusive pricing at both resorts.
I've always loved cold weather, so heading north during the winter was hardly a struggle. But even warm-weather devotees will find plenty of ways to stay cozy, and, thanks to the variety of diversions and a remarkable food program, might even come to enjoy a bit of briskness.