Midsommar On the Plateau
04 Aug 2021
Discovering a land of hidden gems
By Mary-Elizabeth Lemons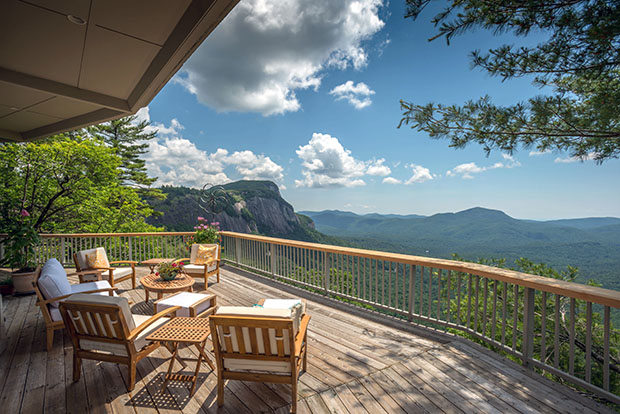 Facing the decision of moving causes a particularly inflated form of stress, but choosing the destination can be even more excruciating. Practical concerns come first, matters such as the scope of kitchens, the number of bathrooms and the home's proximity to specific amenities. But then perspective creeps in and the real question is what is going to provide the highest quality of life and make it worth living. After extensive research and an exasperated face drenched from staring at Zillow-packed pixels, the search brings you to North Carolina and a highly elevated haven among two towns called the plateau.
Sapphire Valley
Iconic mountain curves and protective canopies ornament the travel west on 64, and as Sapphire Valley is introduced, the first neighborhood of Holly Forest appears on the right. Spread individually throughout the valley, Holly Forests I-XIV total the largest body of developments in the area. Maggie Elmer, broker for McKee Properties, emphasises the overall higher density and variety. "They have everything from efficiency condos all the way up to multimillion-dollar estate homes." Whisper Lake is tucked close by and presents a smaller community, attracting year-round residents and families with idyllic fishing and picnics beside its private lake. Gated communities include Spring Forest and historic Lonesome Valley, the former featuring custom homes with renowned architecture, the latter boasting staggering box canyon views. Sapphire Valley Masters Association possesses access to the amenities awarded all of Sapphire Valley that feature stunning Fairfield Lake, an 18-hole golf course, concerts on the slope, boating, fishing and much more.
Cashiers In Town
Coming from Sapphire Valley, the road spills directly into the paradisal heart of Cashiers, and all about its central crossroads wind pockets of hidden homes. Some are directly adjacent to the gardens of The Village Green, while others peek across and protrude from behind the local Cashiers Farmers Market. All are within walking distance of remarkable caches of shopping and dining. To the west of the crossroads is Stonefly, hidden within the gates of Silver Slip Falls, while to the east features the luxury condos of Chattooga Ridge. McKee Properties' Wayne Monday notes that just east of Cashiers' center is Lancewood, one of the town's most original and charming neighborhoods, while Cedar Creek Club offers a wonderful option for a high-end and private tennis club. Further east is Cedar Hill, just far enough to offer more varied acreage and spectacular views of Whiteside and Cow Rock.
Surrounding Cashiers
As the road gently weaves north of Cashiers, the trail quite suddenly presents the scope and grandeur of Lake Glenville. On clear mountain days the waters stretch and mirror the behemoth beauties of Glenshore and other gated communities resting on its islands and precipices. East of the lake is Bee Tree, gorgeous rural farmland that wraps around the valley and spills once again on 107 North. Big Ridge is north; true to its namesake with big land and bigger views. West of Lake Glenville features traditional communities such as Norton and Yellow Mountain, where much of the land is unrestricted and provides for unique building opportunities. Heading south toward the historic enclave is High Hampton, it's stunning views of Chimney Top are bolstered by a relaxed and traditional setting. Arrowhead is a boutique circle of refined cottage homes adjoining Wade Hampton Golf Club, one of the nation's most prestigious clubs; while across the way lies The Chattooga Club, an alluring croquet club with a renowned dining pavilion.
Back at the crossroads, Kyle McKim of Weichert Realtors-Highlands Properties reflects on the uprise of design in Cashiers. "One of the characteristics of Cashiers is that it has become a hub for furniture and antiques, and that interior designer stores have become more available." He also notes that one of the unique aspects of Cashiers is its Village Green, an alternative to a main street where most major events are held.
Highlands-Cashiers Corridor
The drive west toward Highlands has an unique appeal in that the communities sprinkled across this divide have the benefit of both towns. Michael Cox of Betsy Paul Properties postulates that, "Highlands-Cashiers Corridor has increased significantly in popularity in the past five years. People value convenience more than they ever have; it is also emblematic of Highlands and Cashiers markets becoming one." Intimate communities like Stillmont and the Continental Cliffs both exude understated luxury and powerful Whiteside Mountain views. Lake Osseroga offers limited refined homes along with their own private lake and boathouse, while Cullasaja Club possesses an Arnold Palmer Signature Golf Course along with its own private thirty-acre lake. Mountaintop Golf & Lake Club is typified by privacy, but unseen within are knockout views and lots that are between one and five acres; and Wildcat Cliffs Country Club offers active members access to a fitness center designed by locally famous architect Jim Fox.
Highlands
With its extensively well-developed history and a sublimely lined Main Street, Highlands lives up to its many accolades. Peaceful neighborhoods jewel the crown surrounding its core and glitter in the nearby sheltering hills. Nearby Mirror Lake offers glassy waterfront properties, while Sherwood Forest and Big Bear Pen exhibit staggering views of Whiteside Mountain. Judy Michaud of Berkshire Hathaway HomeServices mentions gated communities such as Satulah and the Cottages on 4th, marveling about their high demand and emphasizing that, "as soon as one is available they go immediately." They are within walking distance of town, along with the noted opulence of Old Edwards Inn and just slightly further out the historic Highlands Country Club.
Main Street in Highlands is famously lined with shopping and dining that are stunning examples of upscale living; while attractions such as the Highlands Playhouse and the PAC provide culture in the way of feature films, enviable concerts, local theatre and opera.
Surrounding Highlands
Dillard Road extends from Highlands' center and branches into sprawling areas such as Turtle Pond (a gated community) intertwined with Turtle Creek and the Nantahala National Forest; as well as Scaly Mountain whose entertaining slopes attract tubers year after year. Back towards Cashiers lies Flat Mountain with its curious mix of high elevation but leveled tops; and to the south lies Horse Cove and Whiteside Cove, both with access to the Iron Bridge. Residents of these areas have easy access to Highlands and simultaneously possess a quick back way into Cashiers. Cathy Garren from Highlands Sotheby's International Realty observes that, "One thing we rediscovered after last year is how the beauty and somewhat isolation of our area is now coveted by people from all over the country."
However the individual neighborhoods have been sculpted over the years, the plateau has risen to form an extraordinary destination for people coming from all across the Southeast. From the secluded variety of Sapphire Valley, the historical charm of Cashiers, the convenience of the Corridor and the distinguished elegance of Highlands, where else possesses this combination of appeal and protection? Or its list of exceptional amenities? Imagine leaving the city's hectic plight and turning escape to reality. Come experience the mountains and live a life like no other in our land that touches the sky.