Leaving No Stone Unturned
07 Feb 2022
The gift of a father-son artistic partnership
by Kim Henry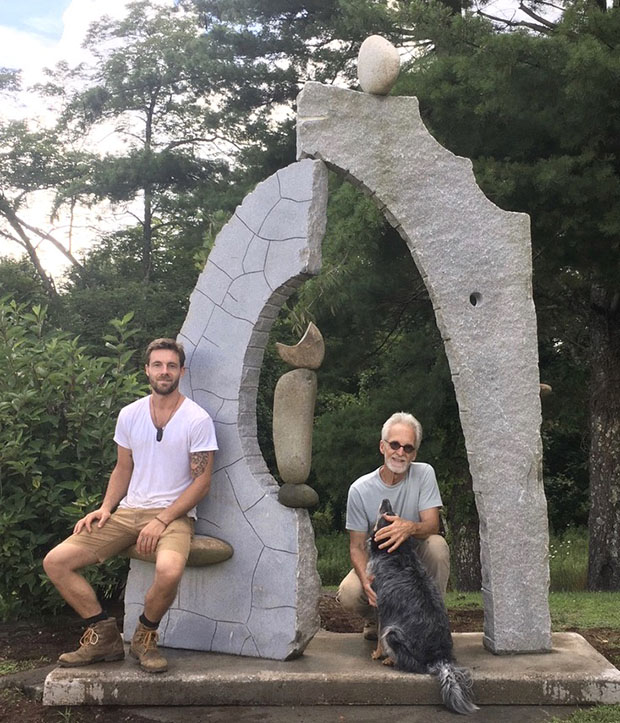 Every once in a while, you come across a story that is so heartwarming, it makes you smile from a deep place within. Such is the case with the father and son stonework artists Carl Peverall and Ethan Forest Peverall. Spending their days making breathtaking stone sculptures, the balance required for their almost mystical pieces is mirrored by the palpable harmony of their creative relationship.
Carl Peverall, raised in Winston-Salem, NC, attributes his love of design and craftsmanship to his seamstress grandmother, whom he spent much of his time with as a child. "Just watching the movements of her hands fascinated me," shares Carl. Fast track through to his college days, Carl bravely left UNC Chapel Hill to pursue his 'personal light' as an artist at the Penland School of Craft, where he was able to explore a wide range of techniques and benefit from the guiding wisdom of top working professionals.
In 2005, after primarily working in clay for over 30 years as a lone studio artist, Carl experienced a moment of insight after completing a body of work for an Asheville gallery. "I no longer wanted to continue my past direction. The new work was an arrival, an end to a journey, and my heart opened to following a new yet unknown path out of the studio and deeper into nature," explains Carl. So, listening to his intuition, Carl headed into the glorious nature of the North Carolina mountains, where he began painting the stone-studded landscape.
Along with this transition came the fulfillment of a dream to temporarily move outside the U.S. and experience living in a foreign culture. So, the family spent six magical months in New Zealand, where Carl serendipitously met sculptor and large-scale land-art specialist Chris Booth. The two became firm friends, and Carl was inspired to follow his life-long interest in stone sculpture. It was also in New Zealand that he participated in CollaboratioNZ, an international symposium that brings artists together to make collaborative work. This inspired Carl to be more willing to work with other people as opposed to being a solo artist. A step that was unknowingly paving the way for his future partnership with his own son, Ethan.
Having spent a lot of time in his dad's studio as a child, Ethan Peverall grew up with the innate ability to work with his hands. Although Ethan studied business at App State, he knew that the world of finance was not his true calling. It was after his father taught him how to make a steel tongue drum (a melodic hand percussion instrument) that Ethan realized he wanted to work with his hands and pursue art as a career. The rest, as they say, is history. The road to working with his father on stone sculptures unfolded seamlessly, and the duo shows no signs of slowing down any time soon.
Living close to the bedrock of the South Toe River in North Carolina, father and son are surrounded by their chosen material and have ample inspiration all around them. When approaching a new project, their starting point is choosing the scale. "The sweet spot seems to be the size of a human figure," smiles Ethan, "we enjoy making things that emote human traits, ideas and desires without making literal representations. This abstract nature keeps our work more available to everyone." Naturally, when working with the weight and size of stones, safety is also a very informative aspect of the process. The giant-sized beads of drilled stones are threaded onto skeletal structures of reinforced steel to create the circles and arches that are so indicative of their work. Exploring balance and composition both literally and aesthetically, the team aims to pin together an arrangement of stones that can also stand alone, as this "tends to have an intrinsic elegance of its own."
How is it working together as father and son? "We have a rule that we don't do anything to a sculpture unless we both agree!" laughs Carl, who says that having two of them working on a project definitely expedites the process and has curtailed his propensity to ponder for too long. Searching for the next perfect stone, the pair spend lots of time walking and being outdoors, which they both love. "Sometimes we both have the exact same stone in mind," smiles Ethan.
Accepting private and public commissions, it was their 2014 sculpture, aptly named The Gift, that really launched their stonework partnership. Having suffered the disappointment of their first substantial commission falling through, the pair decided to actualize one of their ideas even though they no longer had a buyer. Halfway through the stunning project, their neighbor committed to purchasing the piece, allowing them to justify completing it. This led to a picture of The Gift being posted online and going viral, putting them firmly on the map as professional stone artists.
The warmth and mutual respect between the two men is surely the dream of every artistic partnership, particularly as father and son. "We do feel very fortunate," acknowledges Carl, Ethan sat right by his side. And as admirers of their formidable and whimsical creations, we feel very fortunate too.
Instagram: @peverallstonesculpture