It Takes a Village
04 Dec 2020
The volunteers of Vision Cashiers have brought Wi-Fi to town
BY: Dawn Liles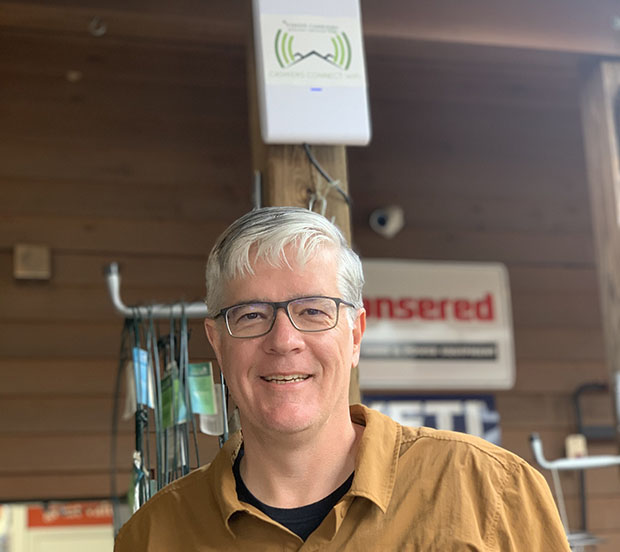 Margaret Mead famously said, "Never doubt that a small group of thoughtful, committed citizens can change the world. Indeed, it is the only thing that ever has." For the village of Cashiers, that small but growing group of committed citizens formed a charity called Vision Cashiers in 2017 and established a number of initiatives intended to improve life for residents and visitors to the village.
One recent task force initiative brings much-needed public Wi-Fi to Cashiers. The "Cashiers Connect Public Wi-Fi" was created by Vision Cashiers, who hired Skyrunner, an internet service provider out of Asheville, to install and operate it. Their combined vision was to create a seamless connected community with high-speed internet. Everyone living in or visiting the crossroads area now has access to free public Wi-Fi for four hours each day.
The initiative is part of the Vision Cashier's technology task force. The task force surveyed the community on internet access and opinion of service providers. Nearly 600 respondents said they felt a "great dissatisfaction with internet connection." After identifying the benefits of a public Wi-Fi network - financial and work, family and social and health & wellness – the technology task force got to work.
The volunteer project manager for Cashiers Connect was Danny Bottoms, who spent his career in the telecom industry. "We made it our mission to expand broadband, and Skyrunner Internet in Asheville was looking to expand into Jackson County, so the timing was right for us to work together," said Bottoms. The task force contracted with Skyrunner to build and provide a free Wi-Fi network in the Cashiers commercial district.
The network has been fully active since early September and currently has an average of 1,000 devices connecting to it each day. That number will continue to increase as Vision Cashiers works to increase awareness of the public Wi-Fi network.
"The network is focused around the crossroads with hot spots in all directions," said Bottoms. "A total of ten different businesses stepped up to host the equipment." The host businesses include: Ingles, Subway, Cashiers Farmers Market, Laurel Terrace Building, BP Gas, Zoller Hardware, Stork's Wrap Pack & Ship, Joan Anderson Interiors, Brookings Anglers and Landmark Real Estate.
"We were happy to help and be a host for the equipment," said Glenn Ubertino, owner of Zoller Hardware on Highway 107 and a board member of Vision Cashiers. "Having free Wi-Fi is a helpful tool for people when they're shopping around town." Ubertino said their customers are taking advantage of the new Wi-Fi and appreciate the benefits.
Another equipment host is located at Ingles Market on Highway 64. According to Bottoms, Ingles, on average, has the greatest number of devices connected to the free Wi-Fi each day. Store manager David Beeker said, "It's been a really pleasant experience with no negatives. We've had a lot of compliments on the service. People thought it was long overdue and were happy to be able to connect."
Antennas installed on the outside of each host business building broadcast the Wi-Fi signal in all directions for approximately 300 feet. The closer a user is to the antenna, which is a flat, gray panel about the size of a laptop, the higher the bandwidth users will experience. Speeds as high as 100 Mbps were seen in field tests. Once users join the "Cashiers Connect Public Wi-Fi" network on their devices, it will automatically connect to the different hot spots as they roam around town.
With broadband internet at home not feasible for many area residents, this initiative helps to bridge the digital divide. As a parent runs into a store to grab dinner, his child can upload homework due the following morning. A visitor on a short-term rental can jump on a Zoom call while shopping around town with her family. Businesses in town can cost-effectively improve their telecommunications services by leveraging this network and creating their own private account by contacting Skyrunner.
Vision Cashiers is committed to improving internet access to all on the plateau. In addition to expanding the current Wi-Fi network if needed, the nonprofit will continue to work with government agencies, property owner associations and service providers to solve the complex problem of providing cost-effective broadband to all homes and businesses. Once installed and satisfied with service, Skyrunner will offer high-speed wireless/fiber broadband to POAs and HOAs.
Vision Cashiers now has nearly 200 local volunteers, with 40 to 50 "very active" members, according to Vice President Paul Robshaw. Robshaw and his wife, Linda, bought a second home in Cashiers in 2013 and quickly realized that without a city government, the town would need volunteers to plan for its future. Robshaw says he was fortunate to meet Ann Austin. Austin is a co-owner/partner and vice president of McKee Properties and a founder of the Cashiers Historical Society. "Ann has been a tireless custodian for the village and provides guidance as we progress," says Robshaw.
The nonprofit started with 25 people at a gathering at the Robshaws' home in 2016. "We had 20 more people come to the next get together where we created 10 task force initiatives," said Robshaw. "But we quickly realized that most of our volunteers were local (born in the Cashiers area) or year-round people; we also needed to reach the seasonal people in order to engage the number of volunteers we needed to move forward." The initial seed capital to fund many of the projects came from 11 founding couples and all are still involved.
Robshaw says that some people think the group is pro-development, but that is not the case. "Growth is going to happen, no matter what we do. Our goal is to preserve the unique village character of Cashiers," says Robshaw.
The group welcomes donations and gifts of time and talent on any of their task forces: Education, Technology, Health & Wellness, Workforce Development, Crime Prevention, Housing, Pathways & Preservation, Pedestrian Safety, Community Planning and Cultural Enrichment. You can make a donation or find more information on their website, www.visioncashiers.com.