Girlfriend's Travel Guide
07 Aug 2020
…Southeast drive style
By MANDY MURRY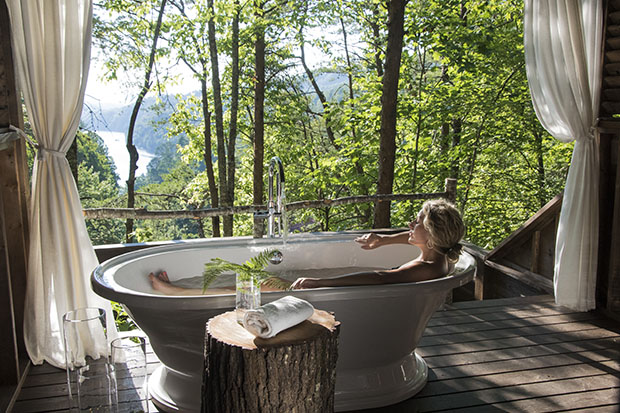 Can we press the travel reset button, please? If you are like me, travel plans in 2020 were big. Cloudsurfing, aka flying, to a new, international destination every year with my girlfriends, has become routine and part of the mandatory yearly planning.
2017, we explored Morocco on a private National Geographic Expedition. 2018, a Paris apartment rental, Champagne in Epernay, and an excursion to Budapest, Hungary.
2019, Prague.
2020, was the year for a spa and culinary tour in Europe.
While air travel has been put on pause, drive destinations are begging for a visit. From culinary to spa, and beach to mountain, these small, intimate getaways offer the renewal your soul needs- All you have to do, is choose the friends who will appreciate the luxury of a spark of magic and warm travel hug. These often-overlooked destinations are hand-selected for ease of travel and amenities.
Lakeview at Fontana
Bryson City, NC
Soak in a Treetop Cabana
Hike miles of trails and rejuvenate in a tub soak in a fresh-air private treetop cabana. This rustic-chic lodge is a secret, cost-friendly getaway located minutes from Bryson City, North Carolina. Perched above Lake Fontana, Lakeview is close but far enough away from the day to day on the plateau. *Lakeview will not be offering massage or yoga classes in 2020- view website for updated information.
What to book: Cloud 9 Romance Package (for yourself) - chilled champagne, rose, petals, and a 90-minute private soaking tub in a treetop cabana.
When to go: September and October.
What to book: 2 or 3 bedroom cabin rental.
The Lodge on Little St. Simons Island
Little St. Simons Island, GA
Secluded Beach Escape
7 miles of beach, 11,000 acres, and a maximum of 32 guests at one time, The Lodge on Little St. Simons Island offers a rustic beachside getaway. Three meals a day are included in your stay and sourced locally, so you can count on local seafood and organic produce to make the menu. Try your hand at fly-fishing with an onsite naturalist guide, kayak or canoe, or stroll at your leisure on the beach.
How to get there: Take the ferry from Hampton River Marina on the North end of St. Simons Island.
Who to take: Put together a group and rent the island!
What to try: Crabbing, a daily activity guided by a naturalist.
Omni Amelia Island Resort & Spa
Fernandina Beach, FL
Pamper with Sand, Salt, Sea, and Sun
For the perfect pairing of spa and beach, book a wellness escape to Fernandina Beach, FL. Large hotels are not idyllic, however, the spa and beach location is. With a selection of spa menu services, there will be something for everyone. Personally, I recommend the quartz sand table massage with vibrational therapy and pure results facial, followed by a nice salad and glass of wine of course. Consider booking a suite to provide spacious and oceanview accommodations where you can easily enjoy morning mimosa's or bloody mary's on a private verandah.
Alternatively, there is a charming beachfront bed and breakfast, Elizabeth Point Lodge, to consider for your hotel options.
Where to Shop: Shoe Visions
Where to Cocktail: The Salty Pelican
Where to Dine: Indulge in oysters at Burlingame. Make reservations for the patio.
www.omnihotels.com/hotels/amelia-island
Snowbird Mountain Lodge
Great Smoky Mountains, NC
Escape to where the mountains kiss the sky
Located in the Great Smoky Mountains, Snowbird Mountain Lodge sparks magic in a natural setting and lives up to its tagline- "disconnect to reconnect." This all-inclusive (3 meals a day included in your stay) serves really good food and cuisine that is comfortable, healthy, and offers options for the most discerning eater. Known for its bar selections (craft cocktails, wine cellar, whisky or whiskey, craft beer, and house bubbly), food, service, and incredible views, Snowbird is a fresh-air mountain embrace- sip your favorite happy hour indulgence, converse, hike, read in the screened-in patio, or sway to and fro in the front porch rockers. Televisions are intentionally absent.
What to Take Home: Travel Candle, Jewelry, Italian Pewter Gifts
Where to Dine: With all meals made on the property, take your packed picnic lunch to Huckleberry Knob and enjoy the view.
Where to Play: Feeling spicy? Take the paddleboards or kayaks provided with stay, out on Lake Santeetlah.
Glen Ella Springs Inn & Restaurant
Clarkesville, GA
Georgia Wine Time
If Napa is calling, yet not doable, then let's talk "wine-ing" in North Georgia. Yonah Mountain Vineyards, CeNita Winery, Flyhawk Farm Tasting Room, and Habersham Winery are within driving distance to Clarkesville, Georgia's Glen Ella Springs Inn. This low-key, rustic bed and breakfast has received accolades for their farm-to-table cuisine. A relaxed yet preserved atmosphere provides the perfect place conversing with the girls over wine.
Where to have lunch: Take a drive over the state line to Chattooga Belle Farm. Plan a minimum of four hours to drive and to sit back, relax, and enjoy the view.
What to do: Hike the Shortline Trail at Tallulah Gorge State Park.
Where to relax: Sip wine poolside. There is a pool onsite.
Anchorage 1770
Beaufort, SC
Whimsical Beach Getaway
When a seaside escape is exactly what the doctor ordered, enjoy a rooftop patio view at Anchorage 1770. The serene and charming character of Beaufort, SC will do wonders to boost your spirits and refresh your traveling spirit. The inn, once an army hospital, and has been luxuriously preserved with history intact. Consider exploring the Low Country oyster trail or walking to view the historic architecture of the Civil War era. The area offers shopping experiences for those who desire retail therapy. Be sure to visit Scout Southern Market and have brunch at Beaufort Bakery and Cafe.
What to do: Walk the Spanish Moss Trail.
Feeling Adventurous? Climb the stairs of Hunting Islands Lighthouse.
What to see: A beautiful relic of a church known as the 'Chapel of Ease' is located on St. Helena Island.
A reminder to check with each property for any 2020 travel updates. State guidelines could manipulate services available for each property. Travel safe.