Supporting public schools on the Highlands-Cashiers Plateau
By ANDIE CHILSON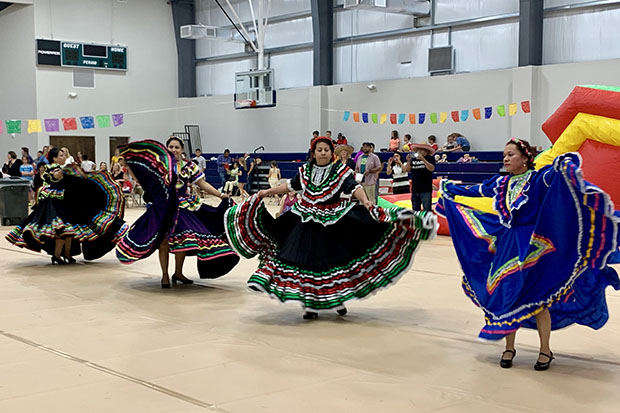 The public schools around the plateau get creative when it comes to fundraising efforts for their students. From hosting Grammy-winning musicians to creating fun-filled fairs, these schools know how to have a good time and make a pretty penny doing it. This year, however, fundraising efforts are promising to look a little bit different.
Each year, the Blue Ridge Education Foundation Hosts a 'Songwriters' Round,' during which notable musicians from Nashville come to Cashiers to perform. All proceeds go towards the supplemental educational funding of Blue Ridge School and Early College. Grammy-winning artist Rivers Rutherford is a regular at the event and is joined by a number of other writers and musicians.
The Blue Ridge School Education Foundation was established in 2002 with the mission of providing local students with the resources they need to succeed academically. The funds that the Foundation provides to the school help to support the Blue Ridge School students (K-12) as well as the Early College, which gives seniors and recent graduates the opportunity to get a head start on their college credits. All proceeds from the annual Songwriters' Round go toward academic resources for Blue Ridge students, such as technology, textbooks and professional development funds for teachers. The funds raised by the Foundation also provide scholarship funding to graduating seniors in the hopes of motivating them to work hard in their high school studies.
The Songwriters' Round typically sees about 400 people in attendance and is usually hosted at a country club in the Highlands-Cashiers area. This year, however, due to COVID-19 and enforced social distancing measures, the event has been postponed to August of next year. The Foundation counts on the Songwriters' Round for about half of their annual funding, so they are expecting to take a significant hit with the cancelation of this year's event.
Summit Charter School in Cashiers has been working to achieve its mission of "engaging students in learning experiences that stimulate discovery, inspire excellence and nurture a positive influence in an ever-changing world" since its founding in 1997. The school is a tuition-free public charter school that prepares students academically while fostering community-mindedness and strong character.
Because Summit is a public charter school, they receive considerably less government funding than traditional public schools. Summit is responsible for financing 29% of its annual budget through resource development initiatives by the Summit Charter School Foundation and fundraising events. The school is currently in the process of transitioning from a K-8 to K-12 school, making these fundraising efforts that much more critical.
Donations are another important source of funding for Summit. In addition to teaching and curricular materials for students and teachers, some of the programs and initiatives that monetary donations go toward include EC programming for students with disabilities to support their intellectual, physical and emotional development through individualized education; the recruitment and retention of teachers; and extracurricular activities like athletics, drama and student clubs.
Summit had two fundraising events planned for 2020. The first was a family-led Cinco de Mayo Fundraiser scheduled for May, and the second was planned in partnership with the Country Club of Sapphire Valley and Blue Ridge School. Both events have been canceled or postponed due to COVID-19.
The Fall Festival is Highlands School's primary annual fundraising event. The festival is complete with inflatables, raffles and face painting. The Highlands School's Parent Teacher Organization (PTO) purchases the graduating seniors' caps and gowns, so each year the senior class sets up various booths to contribute to the fundraising efforts.
Incoming PTO president Ester Gooch said that the school is currently in a state of limbo trying to determine what, if any, funding they can expect for the coming year. Because the Fall Festival is held in the school gym, which is typically packed with people, it would be difficult to host the event with the necessary social distancing measures in place.
Fundraising events like the Fall Festival provide funding for items such as calculators, maps and other classroom essentials as well as funding events like teacher appreciation week.
The second major source of funding for Highlands School is donations from local businesses. This year, the school is anticipating less funding than usual from local businesses, as everyone is being forced to tighten their belts. However, because many school activities will also be canceled this year due to enforced social distancing measures, the school will not require as much funding from donors as they have in years past.
The 3 Rivers Fly Fishing Festival hosted by the Highland Hiker is an annual fundraising event for the Town of Highlands Scholarship Fund, which exclusively benefits Highlands School students. The festival is a fun-filled weekend of fly fishing that invites anglers of all skill levels to compete for prizes and raise money for a good cause. Competitors have been awarded prizes for the most fish caught, the biggest fish and the ugliest fish, among others. In recent years, the festival has raised just shy of $20,000 for the Town of Highlands Scholarship Fund.
This year would have been the tenth anniversary of the festival, but, unfortunately, it has been postponed until further notice due to the spread of COVID-19. The festival committee is trying to get a back-up date in place as soon as possible.
School fundraising events are a great way to have a good time while supporting a more-than-worthy cause. While fundraising will look a little different this year, these schools have proven that they will do what it takes to provide their students with the resources to succeed in the classroom and beyond.