Four65 Woodfire Bistro & Bar
07 Feb 2022
Affordable fun with refined Old Edwards charm
By Bridget Callahan
Photos Chelsea Cronkrite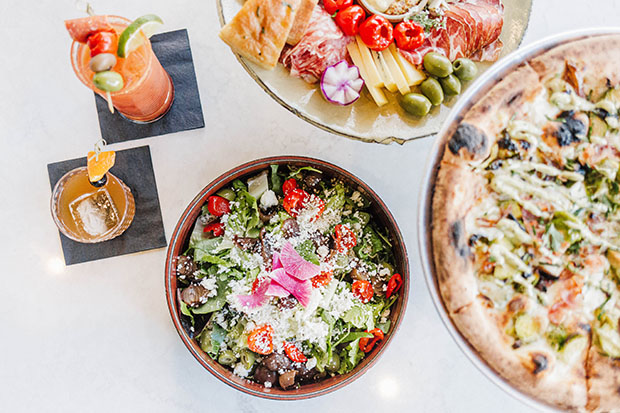 Pizza is a food that transcends class. The best pizza in the world can be a two-dollar slice from a cart on the street, or it can be a fifty-dollar wood-fired pie served in a three-star Michelin restaurant. But one thing remains true no matter where you're getting your pizza fix - pizza is, and always should be, fun.
Four65 Woodfire Bistro & Bar is deceptively swanky for a place with some of the best prices in town. But the emotional theme is clear - this is a place to eat some awesome pizza and enjoy yourself.
"When you come in, it feels like a four- or five-star restaurant. But then you taste the food, and you're impressed with, like, the size of the salad, or our charcuterie plate, which is one of the best in town. Probably the best in the Highlands. And then you see the prices and you're just like 'whoa.' It was designed to be that way. We wanted to be one of the most inexpensive places in town, just a place to eat and drink and have a great time," says Mitch Mikula, Four65's operations manager. A veteran of sister restaurant Madison's next door, Mikula is proud that locals have embraced their traditional Neapolitan style pies and equally proud they don't take reservations.
"If there's ever a wait, it's a small wait," Mikula says, pointing out that when visitors come to town, finding a place for dinner can be a roll of the dice if they haven't scored a reservation. "Being first come, first serve, we're able to serve a lot more people."
Executive Chef Chris Huerta has worked with the Old Edwards Hospitality Group for many years and was part of the original design team for Four65.
"Madison's is more fine dining, and we really wanted to gravitate to something more casual. We started exploring what pizza is, what it could look like, and with the European feel of the hospitality group, Neapolitan pizza made sense. We traveled a lot and ate way too much pizza, looking for snippets of things we liked that influenced the style. We wanted something fast, elegant, not pretentious. And I feel like that's where we landed," Huerta says.
The key to a traditional Neapolitan pizza is unadorned ingredients, so they have to be the best. Actual San Marzano tomatoes. Water buffalo milk that's imported from Europe and made into fresh cheese in Charleston. With something as deceptively simple as sauce and cheese on fried dough, there's no room to hide subpar work, so Huerta became a pizza expert. And like any true chef, he geeked out on pizza making hard. Right down to the gorgeous, tiled pizza ovens guests can see from their tables.
"They're actually made and manufactured in California by this company Forno Bravo. What's interesting is California is pretty similar to us, with the mountains and national parks, and they have burn bans all the time. But if you're a restaurant running a wood fire pizza oven, a burn ban can completely shut you down. So, Forno Bravo has spent years developing an oven that can actually burn gas as well, so if there's a burn ban, we can stay open and serve guests. Plus, they're just beautiful, with stone floors. We use the gas one for pastries, and all the pizzas and everything else is out of the wood oven. We partnered with a gentleman in town who cuts and dries a blend of white oak and hickory for us, so we get a much hotter, cleaner burn," Huerta says.
That same passion in Huerta's voice can be heard again as he talks about handpicking the decor and the silverware. After many years in restaurants, this is Huerta's first time building an entirely new place from scratch, and his excitement and love for restaurants are evident when you walk in. But, of course, the food is where a chef really shines.
When it comes to the menu, Huerta's favorite pizza is the Big Cheese, a creamy white pizza with garlic, mozzarella, ricotta, asiago and herbs. But he thinks the unsung hero of the menu is actually the oft-overlooked Brussel sprout salad. Roasted for up to 30 minutes, flashed in duck fat, with prosciutto and caramelized onions, then dressed with aged balsamic, it's a glammed-up classic that's perfect for a wintery February evening. The less adventurous eaters can get their comfort food fix with wood-fired grilled cheese with truffle aioli.
Between that, the wood-fired Caesar salad, a side of homemade pork meatballs and that famous charcuterie board, you might not even make it to the pizzas on your first visit. That would be a mistake. With just the right balance of toppings and sauce, the crispy wood-seared crust becomes light and airy around the sides, providing a perfect surface for showcasing gourmet ingredients like fennel sausage, hot pecan honey, pesto creme fraiche and that fresh bufala cheese.
And forget the soda fountains of the pizza parlors of your youth. With a well-curated Italian wine list and a fantastic cocktail menu, Four65 might actually be the perfect first date spot. There's even a short but sweet dessert menu featuring homemade gelatos and pastries.
While the menu itself stays pretty much the same, the pizza specials and drink specials change all the time, so there's always something new to try. Guests can build their own regular pie with additions, but please don't ask for substitutions on the specialty pies. Just trust the chef and give that spicy soppressata or wild mushrooms with blue cheese a try. You might just find your new favorite pizza slice.
Though it might be a bit blustery these days for dining outside, once spring arrives, there's plenty of patio seating. But until then, stop by and ride out the winter with a crispy wood-fired pizza and a delicious cocktail in a gorgeous space that works for Tuesday night just as well as Friday.
Four65 Woodfire Bistro & Bar
465 Main St Box 2130, Highlands, NC 28741