Events Calendar
09 Jun 2021
Looking to fill your social calendar?
We've got the rundown on what to do and explore.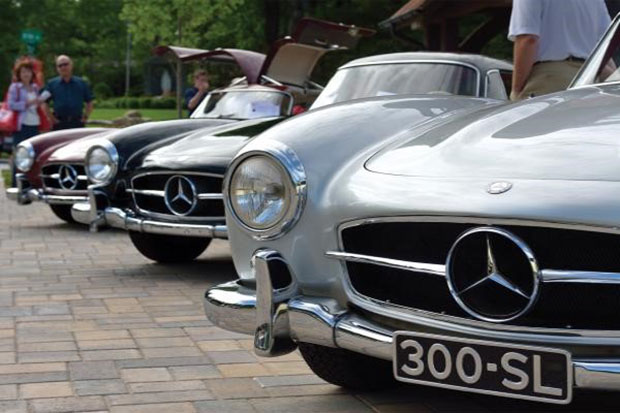 Main Event
Highlands Motoring Festival
June 10 through 13
The fourteenth annual Highlands Motoring Festival® has expanded to eight events spanning four days. June 12, "Cars in the Park" Classic Car Show will be held in Kelsey-Hutchinson Founders Park. It is a juried display of approximately 100 specially invited automobiles from around the world, representing a diversity of styles and concepts from the earliest days of the automobile through 1989. The theme for 2021 is "Pure Bloods d'Italia," featuring classic vehicles from grand marques such as Ferrari, Maserati and Lamborghini. Food will be available and Motoring Festival posters, hats and "One Lap of the Mountain" tour books will be available for purchase at the merchandise table. The morning of June 13 will be a second car show, "High Octane," at Kelsey-Hutchinson Founders Park which will give owners the opportunity to show off their interesting automobiles and meet up for one final time. www.highlandsmotoringfestival.com
ONGOING
The Bascom: A Center for the Visual Arts
Mondays through Sundays
The Bascom: A Center for the Visual Arts has three exhibition spaces open to the public year-round. Current exhibitions include "SKATE," a look at the art of skateboarding, April 6 through July 3; "FreeWheeling," presented in partnership with Highlands Motoring Festival, May 11 through August 21; "Chamber Music Cover Art," presented in partnership with the Highlands-Cashiers Chamber Music Festival, June 7 through August 5; "Members Challenge: PLAY!" July 20 through September 4. (828) 526-4949 www.thebascom.org
Highlands Historical Society
Thursdays through Saturdays
Join the Highlands Historical Society Thursday through Saturday, 10 am to 4 pm, for nine new or refurbished exhibits this summer. Visitors can learn about Cherokee hunting and legends, the town's beginnings as a health resort, historic Joe Webb cabins, local moonshiners, George Masa, Bobby Jones, native plants and more. (828) 787-1050 www.highlandshistory.com
Highlands Playhouse
July 22 through August 14
"Ring of Fire," from the songbook of Johnny Cash, comes this unique musical about love and faith, struggle and success, rowdiness and redemption, and the healing power of home and family. More than two dozen classic hits performed by a multi-talented cast paint a musical portrait that promises to be a foot-stompin', crowd-pleasin' salute to a unique musical legend! All tickets are $45. (828) 526-2695 www.highlandsplayhouse.org
BRUNCH
Bridge at Mill Creek
Sundays
Join the Bridge at Mill Creek for brunch from 8 am to 2 pm for items including Belgian waffles, corned beef hash and omelets. (828) 526-5500 www.thebridgeatmillcreek.com
Highlander Mountain House
Sundays
Join the Ruffed Grouse Tavern from 10 am to 3 pm for brunch favorites ranging from avocado toast and breakfast tacos to omelets, pancakes and chicken biscuits. (828) 526-2590 www.highlandermountainhouse.com
LIVE MUSIC
Highlands-Cashiers Chamber Music Festival
July - August
Celebrate the 40th Anniversary season with regular concerts held Fridays and Sundays at the Highlands Performing Arts Center; Saturdays and Mondays at The Village Green Commons in Cashiers. Visit website for full concert schedule. (828) 526-9060 www.h-cmusicfestival.org
Concerts on the Commons
July - October
Join the Village Green for limited edition outdoor and indoor concerts. Check online for updated information. (828) 743-3434 www.villagegreencashiersnc.com
Live Music Concert Series, Highlands
Fridays and Saturdays
Join the Highlands Chamber of Commerce for Friday Night Live and Saturdays on Pine from 6 to 8 pm. Check online for updated information. (828) 526-2112 www.highlandschamber.org
The Ugly Dog, Highlands
Wednesdays
Join The Ugly Dog in Highlands for Bluegrass Wednesday, featuring Nitrograss starting at 6 pm. Check online for more information, call for reservations. (828) 318-5762 www.theuglydogpub.com
The Ugly Dog, Cashiers
Fridays
Join The Ugly Dog in Cashiers for live music Friday nights starting at 7:30 pm. Check online for more information. (828) 743-3000 www.theuglydogpub.com
Town & Country General Store
Saturdays
Join Town & Country General Store for live music Saturday nights from 6 to 9 pm. Check online for more information. (828) 547-1300 www.tandcgeneralstore.com
Whiteside Brewing Co.
Fridays and Saturdays
Join Whiteside Brewing Co. for live music Fridays with Doug Ramsey and Saturdays with Guided by Pigs, 6 to 9 pm. (828) 743-6000 www.whitesidebrewing.com
WINE TASTINGS
Highlands Wine Shoppe
Thursdays
Every Thursday from 4 to 7 pm, explore different wines of the world. $10 - $20 per person for 5 to 6 wines. (828) 526-4080 www.highlandswineshoppe.com
Meritage Bistro
Thursdays
Join Meritage Bistro Thursdays at 4 pm for wine tastings. Call for more information. (828) 526-1019 www.meritagehighlands.com
JUNE
Trail Workdays
Select Thursdays and Saturdays
Join the Friends of Panthertown for public trail workdays from 9 am to 2 pm on designated dates, with plenty of time left in the remaining afternoon to continue exploring. (828) 269-4453 www.panthertown.org
Nature Center Nights: Starlight Stroll
June 8 and July 6
Unlock the history and mystery of the night sky from 9 to 10 pm! Hear stories of the stars from different cultures and learn to identify summer constellations. Please bring a flashlight for this adventure! This FREE program is weather-dependent; register online. (828) 526-2602 www.highlandsbiological.org
Orchard Sessions at The Farm
June 17
The Farm at Old Edwards invites you for the return of their live concert series, Orchard Sessions. For a small cover charge, you will enjoy light bites and a cash bar. Enjoy an evening with Erick Baker, Emmy Award-winning writer, TV show host and singer-songwriter. (828) 787-2610 www.oldedwardshospitality.com
The Seldom Scene
June 18
Join the Highlands PAC at 7:30 pm for The Seldom Scene. Since forming nearly 50 years ago, The Seldom Scene has brought both freewheeling joy and immaculate musicianship to their inventive take on bluegrass, offering up spirited interpretations of songs from limitless genres.
(828) 526-9047 www.highlandspac.org
Roots of Wisdom
June 18
Join the Cashiers Historical Society from 10 am to 1:30 pm for the 16th annual Jan Wyatt Symposium.
This year the Cashiers Historical Society hosts a panel of experts lending insight on the cultural and ecological significance of rivercane. Restoration and revitalization of rivercane recently has become the focus of various conservancies and statewide institutions. Each panelist will share their unique perspective on this traditional ecosystem, from the environmental conservation of rivercane and aligned ecologies to the artisanal demonstration of traditional Cherokee basketry. Tickets available online. (828) 743-7710 www.cashiershistoricalsociety.org
Book Dedication
June 19
The Friends of the Cashiers Greenway Ramble invite you to celebrate the dedication of the first Cashiers Greenway Ramble StoryWalk™ book, "Cashiers, Come Play With Me." Celebrate with a picnic in the park just like they did back when the Village Play was created; from 11 am to 1 pm at the Village Green.
(828) 743-3434 www.villagegreencashiersnc.com
Highlands Mountaintop Art & Craft Show
June 26 and 27
Visit Kelsey-Hutchinson Founders Park from 10 am to 5 pm for top-quality handmade crafts and fine art in a beautiful outdoor venue. Free admission. Pottery, woodwork, jewelry, weaving, basketry, etc. all made by local and regional artisans. Food and drink available on-site. Leashed pets allowed. Sponsored by Highlands Mountaintop Rotary. (828) 526-9227 www.highlandsvillageartshow.com
JULY
Joy Garden Tour
July 16 and 17
Benefiting The Village Green, this year's Joy Garden Tour theme is The Wonders of Waterfalls and Wildflowers. Due to ongoing health concerns, to ensure the safety and wellbeing of the community, the 2021 tour has modified to offer private and semi-private in-person tours to patron-benefactors. In addition, a virtual tour will be available; tickets are $50 and can be purchased online. Those who buy the virtual tour will receive a unique link to a beautifully produced video tour of the stunning featured gardens for 2021. (828) 743-3434 www.villagegreencashiersnc.com
10th Annual Studio Barn Pottery Show
July 23 and 24
The 10th annual pottery show will be held in the historic Dave Drake Studio Barn from 10 am to 5 pm. Enjoy wonderful and beautiful handmade pottery, including both functional wares and sculpture. All work is made by studio members and made in the Dave Drake Studio. (828) 526-4949 www.thebascom.org
Laurent-Perrier Champagne Dinner
July 29
Old Edwards Inn and Spa is pleased to welcome Champagne Laurent-Perrier's executive vice president of sales, Camille Cox, back to the mountains for a summertime soirée and Champagne dinner at The Farm. The Midsummer Night's Dream pink and white themed evening will include an array of fine Champagne poured from special large format bottles alongside a menu featuring the height of season produce from the Garden at Old Edwards and the ever-delightful talents of Chef Chris Huerta and his team. Cocktails at 6:30 pm, dinner at 7 pm. $185 per person, including Champagne throughout the evening.
(828) 787-2525 www.oldedwardshospitality.com