Dad's Delight
02 Jun 2020
Spoil the superhero in your life with these culinary treats
By MANDY MURRY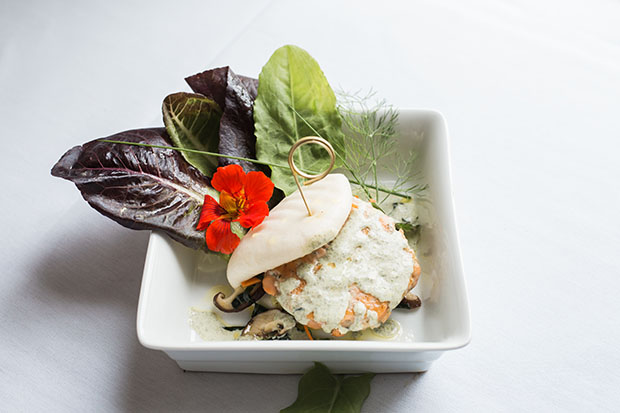 The image of our own dads or father figures is often one of a superhero. No matter our age, we each have an intimate connection to a memory, a moment or something that means the most to us when we think of dad. For many, memories recalled surround places traveled together, sharing conversation while enjoying food or playful moments of laughter during backyard get-togethers. Personally, I think of times grilling with dad, and more often than not, enjoying blackened chicken while attempting to achieve a lemon or Italian-style succulent poultry dish. In honor of dad, local Chefs share their own memory or a Father's Day culinary hack to make the most of your time celebrating dad this June.
French Toast
By Chef Christopher Dupont of M-brace Cafe
When I was six years old, I awoke before everybody else in our farmhouse. It was still dark outside, and I was determined to surprise my dad and the family with some homemade French Toast. I set the table with orange juice and milk- then proceeded to crack the eggs, add cinnamon, milk, and started cooking. Mind you, I was standing on the chair in the kitchen to be able to reach the stove. My mother and father, a prominent French Chef, awoke startled by the smell of smoke and food as there was only a six-year-old and 12-year-old in the house. They ran to the kitchen, and there they found their little blue-eyed, blonde-haired boy grinning and expressing the happiest of "Happy Father's Day." My dad started laughing and sat down, and we ate French Toast- eggshells and all…Truth!!
Words of advice this Father's Day: Unexpected is always the best recipe!
Make Chef Dupont's French Toast recipe at home.
Ingredient list
Pound cake (Cake Bar of Highlands)
Eggs
Heavy cream
Lil' cinnamon
Lil' clove
Lil' orange zest
Roasted pecans
Fresh fruit
Caramelized apples and lemon curd whipped cream
M-brace
462 Dillard Rd
Highlands, NC 28741
828.787.1212
m-brace.business.site
Wed - Sat: 11 a.m. – 7 p.m.
Sun-Tues: Closed
Dutch Baby German Pancakes
by Gabriel Murray, Pitmaster of Highlands Smokehouse
I learned how not to make gravy from my father. On nights when Mom was at choir practice, Dad would attempt to make gravy, ending up with something resembling library paste- more disgusting than good. We loved him, and we did what we could to eat it. So, let's not teach you how to make gravy, but something the whole family looked forward to eating together on Sundays- Mom's Dutch Baby German Pancakes.
If you have not indulged in a Dutch Baby, it is time. They exist somewhere between Flan and a pancake. They are perfect for breakfast in bed, garnished with berries, honey, or maple syrup. I always prefer a side of bacon and black coffee. This dish will equally stand up to a mimosa or your favorite morning cocktail if you prefer to indulge.
Make Pitmaster Murray's Dutch Baby German Pancakes at home.
6 eggs
½ cup milk
½ cup flour
1 pinch of salt
½ tsp baking powder
½ cup sugar
1 pinch of nutmeg
½ tsp of vanilla
3 tbsp melted butter
Preheat oven to 375. Combine all dry ingredients. Whip eggs and milk until smooth. Combine wet and dry. Heat 10 inch cast iron skillet on the stove on med-hi. Add butter until melted and then pour in skillet. Move to the oven for 12 - 15 minutes or until golden brown. Garnish with powdered sugar and berries or just maple syrup. Always mix in good conversation!
Highlands Smokehouse
595 Franklin Rd
Highlands, NC 28741
828.526.3554
highlandssmokehouse.com
Sunday: 11 a.m. – 7 p.m.
Mon - Wed: Closed
Thurs - Sat: 11 a.m. - 8 p.m.
Lobster Lollipops
by Chef Johannes Klapdohr of The Library Kitchen & Bar
My father is an excellent Chef and won several gold and silver medals in international competitions. One of my favorite memories with my father was when he attended a dinner to celebrate my first culinary competition to qualify for the German finals. The competition was fierce- it was a large group of contestants and I was the youngest. After all the guests were served, the president of the chef's association announced the winner with the words:
"The apple does not fall far from the tree." I know that this was a very proud and special moment for both of us. My father inspired me to become a Chef, and I have followed in his footsteps.
Chef Johannes shares an easy and popular adaptation of the Southern buttermilk fried lobster dish, with his coveted Lobster Lollipops. Guests of The Library and the Chef's private events go crazy over this simple delicacy anyone can make at home. When you want to take the celebration from good to culinary delight in honor of dad, try this.
Cut the lobster tail in 1 oz pieces and marinate in buttermilk overnight.
Prior to frying (the next day), bread with seasoned flour and pan-fry, be sure to have enough oil in the pan!
Add skewers and dip in a Jack Daniels honey butter.
Add the guests, and you have a celebration!
The Library Kitchen & Bar
184 Cherokee Trail
Sapphire, NC 28774
828.743.5512
librarykitchenandbar.com
This June, celebrate the legend of dad that lives within your heart, and don't forget to make his favorite drink! In our house, it is the Manhattan (without the crowds), made with Yippee Ki Yay Whiskey from High West Distillery out of Park City, Utah.
2 oz Yippee Ki Yay Whiskey
.5 oz Carpano Antica Sweet Vermouth
6 - 8 drops Woodford Reserve Orange Bitters
Luxardo Amarena (Maraschino) Cherry Juice
Combine in a cocktail shaker and shake vigorously.
Add 2 - 3 cherries plus juice over ice in a cocktail glass.
Pour over the cherries and ice and serve.
Cheers to dads, fathers, like-dads, stepdads, father figures, granddads, grandfathers, and all those who represent dads.