Carving Dreams Out of Clay
02 Jun 2020
Passion is shaped into a business at the potter's wheel
By KIM HENRY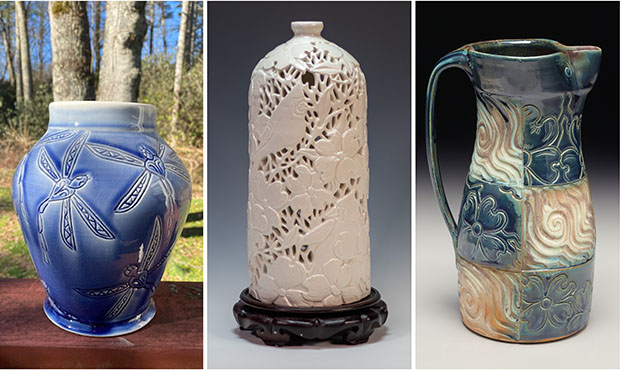 Sometimes life demands that we draw on many different resources in order to live our biggest dreams. For Cashiers local artist, Justin Allman, never a truer word was spoken. Fusing his business degree with his artistic vision, his extrovert ability to make things happen with his more introverted love of peace and nature, Allman has gradually carved his own path to becoming a full-time ceramic artist in the beautiful mountains of Western NC.
Allman grew up around arts and crafts with his art teacher mother, just outside of Philadelphia. However, he initially studied business, ran a restaurant and spent his early thirties building a successful property management company. "I hated it. Being on call 24/7! It was crazy," recalls Allman. One day while having a drink with a few friends, one of them commented on how stressed out Allman seemed and that 'the only time you were happy was when you did that pottery course!'
Something must have resonated because Allman called Trish Fey, a respected ceramic artist at Florida Gulf Coast University who had an opening in a wheel throwing class she was running. Allman decided to do it. The rest, as they say, is history. He sat down at the wheel and 'fell in love.' He then promptly sold his company in Florida and has been refining his pottery techniques ever since.
"My three main teachers have allowed me to be exposed to a lot of different pottery genres," explains Allman. He trained under Trish Fey and Sara Truman. Fey's inspiration comes from the pottery of the Caribbean, which is rooted in pit firing and indigenous methods, while Sara Truman's techniques come from a more modern focus. Allman credits these two talented women and their unique styles with allowing him to explore diversity within pottery.
Allman also considers Frank Vickery, Director of Ceramics at the Bascom: A Center For The Visual Arts in Highlands, NC, to have been his third major mentor. Allman worked as a studio assistant in The Bascom's Dave Drake Studio Barn for three months, doing everything from teaching classes, to loading kilns, to cleaning, becoming a studio member the following year. This also where he discovered new techniques under Vickery's guidance, such as the glazes that produce the vibrant colors featured in some of Allman's work.
The Bascom was quite a leap from running his own company, but Allman treasures this time and it was the stepping-stone to him opening his own studio in Cashiers, NC in 2016 - Firemoss Pottery. Being surrounded by the abundant Appalachian Mountains is reflected in Allman's impressive body of work. Images of nature and animals are reoccurring themes; the process involves photography, hand drawing on to the clay, then shaving the clay around the images again and again until the desired 3D effect has been created.
The challenge is clearly a part of Allman's love of pottery. "You have to be flexible as a potter," describes Allman, "you have to keep figuring things out as you go. Glazes are always different, and clay has a mind of its own!" His creations are both functional and artistic. It seems as if his imagination knows no bounds. Blending many other influences into his work, including Korean ceramics, Japanese woodcuts and tattoos, and German Black Forest techniques, there is something for everyone in Allman's pottery. "Whatever your mind can think of, you can figure out how to create it!"
Never one to sit alone in his studio for too long, Allman likes to come out of his creative hibernation and make things happen. He recently became President of the Jackson County Arts Council, which is the funnel for government financial support for arts in the region. The Arts Council creates art events and awareness, as well as allocating grants to grassroots artists. Allman is also the founder of Pots on the Green, which began in 2017 after Allman felt inspired to create an annual event in Cashiers that would attract potters from all over the country. "NC has some of the best potters in America and Pots on the Green is a great way for ceramic artists from all over to get together in these beautiful mountains," smiles Allman.
Selling from his studio, craft fairs and commissions, Allman is set to go online. Look out for #Teplicuss on Instagram, to continue to follow his artistic journey. This fusing of the names of the Greek God of Fire and Creation to create the word 'Teplicuss' reflects Allman's affinity with both mythology and history, which are also expressed through many of his pieces. "Potters are creators and of course, without fire, there would be no pots," explains Allman, as he gets ready to take the next step in his story.