Canine Comfort
07 Feb 2022
Woof Gang Bakery Cashiers helped owner turn grief into growth of a brand
By Judy Royal
Photos April Rice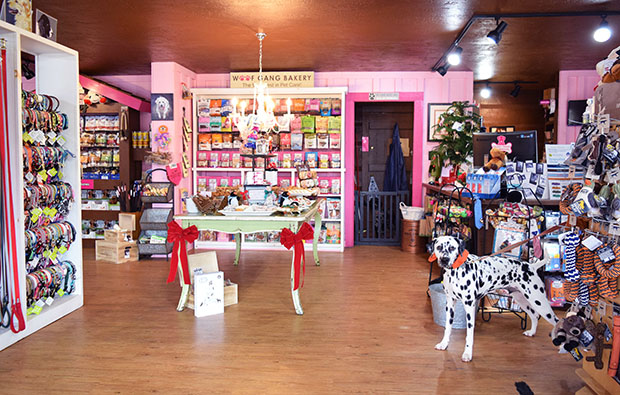 In 2007, Janet Martin had never owned a dog or worked in retail. By 2010, she not only had opened Woof Gang Bakery Cashiers but was the area developer of the brand for the Carolinas, where there are now 25 locations. The Cashiers, NC, location was the first.
What happened during the three years in between was a journey of healing.
As Martin was grieving the loss of her son Jacob to leukemia, she found she had a lot of time on her hands, and it wasn't necessarily a good thing.
"I was sitting on my sofa and God said, 'Go get yourself a dog,'" Martin said. "I turned around and said, 'I don't like dogs. I was afraid of dogs. Is this really what you want me to do?'"
Soon Martin, who split her time between Naples, FL, and Cashiers, NC, found her dog: a Cavalier King Charles Spaniel that reminded her of Jacob in multiple ways, not to mention that he was named Darby, an anagram of Brady, who was her son's favorite football player. She changed the dog's name to Brady and began spoiling her new pooch at the Woof Gang Bakery in Naples, FL. Martin loved the business so much that she began inquiring about opening her own franchise. At the time, Woof Gang Bakery only had six locations, all within Florida (today there are 150 across the country), and the prospect of a store in a small North Carolina mountain town was questionable.
"If a dog can do what this dog has done for me and force me to get up out of bed, then there's something to the brand," Martin said. "I never worked in retail and opened in a down economy. I didn't know anything about what I was doing. The town has embraced our store, and we're here almost 12 years later.
"It really was a very personal decision," she added. "I really didn't care if it made money. I just needed something to do, and it was a happy place for me to be to help with grieving. I have never regretted opening the store up here, and I have met so many incredible people."
The brand began growing in the Carolinas after customers visited the Cashiers store and expressed interest in opening a location in their hometowns.
Woof Gang Bakery is a boutique for dogs offering foods, chews, treats, toys, health products, beds, accessories and grooming. Each shop is best known for having a table full of ornately decorated treats, often with a chandelier hanging overhead.
"The neatest thing is just seeing customers' reactions when they walk in," Martin said. "The look on their face says it all. We love making them and their dogs feel welcome."
Woof Gang Bakery Cashiers gives back to the community by partnering with the Cashiers-Highlands Humane Society to offer people who adopt a dog from there a free ID tag and a percentage off their first shopping spree for their new furry friend. The shop also donates to the organization and hosts canned food drives for it.
While some businesses have struggled with the challenges of the COVID-19 pandemic, Woof Gang Bakery Cashiers actually got a boost from it.
"We never once had to close our doors," Martin said. "We were considered essential, and our sales have been way up over previous years because everyone was getting dogs and they wanted to spend money on their dogs."
In fact, the demand for grooming services is so high that Woof Gang Bakery Cashiers has to turn clients away. Martin said she's always looking for experienced groomers.
"Our biggest challenge right now is finding enough groomers to be able to take care of the demand," she said. "It's tough to get good groomers that can handle the load we have."
Martin credits her loyal customers for the success of her shop.
"We have been fortunate to have very supportive clientele," she said. "In this day and age where you can get everything online, that's hugely important to a small business."
Lynne Sneed, who owns a Shih Tzu, said she has been a weekly grooming and supplies customer for three years.
"It's a great little store," she said. "They have everything you could ever want."
Sue Thomas, who owns a Sheltie, said she has been shopping at Woof Gang Bakery for ten years.
"I like that the people are very knowledgeable about their products," she said. "They're very helpful. It's just a wonderful place to be, and you and your pets feel welcome. We also love the selection of homemade treats."
While Brady the dog passed away at the age of 13 in 2021, Martin is grateful for what he helped her start.
"There's not a day that I get up and don't want to go to the store," she said.
More About Woof Gang Bakery Cashiers
Owner: Janet Martin
Services: Boutique for dogs offering foods, chews, treats, toys, health products, beds, accessories and grooming
Location: 11 Pillar Drive, Cashiers, NC
Phone: 828.743.9663
Website: www.woofgangbakery.com/locations/woof-gang-bakery-grooming-cashiers
Facebook: www.facebook.com/wgbcashiers
Instagram: @woofgangbakerycashiers