These designers put the glam in glamping
By Kat Ford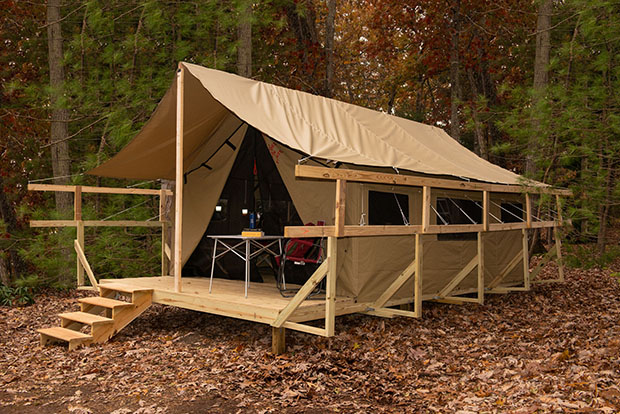 Using their annual Cashiers Designer Showhouse as a platform, the Cashiers Historical Society has created a compelling design narrative since 1998. The recent real estate boom on the plateau left the organization in a unique situation this year; no homes were available for a fall Designer Showhouse event. This required a fresh look at what "home" is and how design can redefine even rugged space. From August 21 through September 4, six renowned designers will transform a collection of 10 x 12 Atlas wall tents from Diamond Brand Gear. Whether 2020 has your Pinterest board full of tiny homes, homesteading, off-grid living, camping, glamping or just plain exploring the outdoors, the 2021 Showhouse is bound to take your escape fantasy to a whole new level of luxury. We asked this year's designers three questions for a sneak peek at what to expect.
1. Describe your glamping tent inspiration in five words.
2. How does designing a small space for a client, like a glamping tent, compare to designing a large space or home?
3. What are you trying to evoke aesthetically with your glamping experience?
Douglas Hilton
DWH Interiors
Atlanta, GA
(404) 550-5484
dwhinteriors.com
1. 18th Century meets 21st Century
2. In a small space, obviously scale becomes critical, and each piece needs to serve a purpose and earn its place in the room. That being said, you have to balance that with the level of luxury/glamour that your clients are used to living with.
3. I wanted to recreate the luxury of the 18th/19th-century idea of safari - carved wood, velvet and tapestries mixed with exotic items from their travels. I envisioned my tent as the camp's desk for reports and the living room for when it rains.
Holly Laughridge
Old Edwards Inn & Acorns Boutique
Highlands, NC
(828) 301-8961
hmorris@oldedwardsinn.com
1. Relaxation, calm, peace, natural beauty, comfort
2. Small spaces are more challenging because you have to ensure furniture placement suits the space as well as the clients' needs. The intimate nature of small spaces makes every decision a little more impactful.
3. A sense of calm and peace that we can all use as a reminder to take a break from our busy lives and appreciate each moment.
Parker Platt & Katie P. Jackson
PLATT
Brevard, NC
(828) 884-2393
platt.us
1. Comfortable, enjoyable, purposeful, approachable, durable
2. With only a 10x12 space, we're focused on making the necessities beautiful and comfortable.
3. We're creating a highly functional, beautiful and comfortable total living experience (bedroom, lounge, kitchen, etc.) that ultimately connects you with the greater environment.
Melanie Couch & Nancy Dyleski
Spruce Interiors
Highlands, NC
(828) 528-1556
1. Dark, moody, boozy, entertaining, Grandmillennial
2. When designing a small space, every piece that we place in a room has to serve dual functions; it has to be both attractive AND functional. For example, an ottoman may have to act both as a coffee table and a foot prop, or a buffet table may have drop leaves to extend into a dining table for entertaining. Furniture that serves multiple functions is always needed.
3. Our inspiration was to bring the Highlands of Scotland to our Appalachian Mountains in a way that evokes lively conversation, laughter and warmth. After a year of social distancing, our space invites people to gather and connect again and celebrate all the beauty that the plateau offers!
Susan Vernon
Tribus
Cashiers, NC and Greenville, SC
(864) 729-4148
tribusinteriordesign.com
1. Relaxed, colorful, shabby, chic and curated
2. No matter the size, we still space plan and brainstorm about the overall aesthetic of the space. Inspirations are always important; the rug in the tent provided our vision for the space. The same would apply when doing a large home or space.
3. Our goal is to keep this interesting and spark inspiration. We hope viewers will see that small spaces can be fun to create and might actually see themselves having a stay over in this tent!
Tori Alexander
Alexander Interiors
Highlands, NC and Nashville, TN
(615) 438-6388
alexanderinteriors.net
1. Rustic elegance and timeless traditions
2. Designing a small space requires taking advantage of every surface available - flooring, walls and even ceiling - that may be overlooked in a larger space.
3. We designed our glamping experience to invoke a sense of timelessness and the bond between generations that families experience in this beautiful area of the country.