A Duty to the Dead
04 Oct 2023
A review of Ron Rash's The Caretaker
By Marianne Leek
The Caretaker by Ron Rash is a gentle love story with three central characters that explores such themes as family and home, society and class, fate and chance, and war and honor, while making the point that family has less to do with biology and more to do with choice and human connection. Through the integral relationships between Blackburn Gant, Jacob Hampton, Naomi Clarke, and their families, The Caretaker is a primer on how we should love others.
Blackburn Gant, a cemetery caretaker, has been left disfigured by a childhood case of Polio and is more comfortable tending to the needs of the dead than those of the living, as "the dead could do nothing worse to him than the living had already done." The exception is his only friend Jacob Hampton, the son of Cora and Daniel Hampton, wealthy and well-respected store owners in Blowing Rock, North Carolina. Conscripted to fight in the Korean War, Jacob asks Blackburn to look after his young wife, Naomi, a hotel maid who is barely sixteen and pregnant. Jacob's marriage to the free-spirited Naomi has left him scandalized by the townspeople and disinherited by his parents. Determined to build a life together, Jacob and Naomi, with the help of Blackburn, begin working to bring a farmhouse back to life and make it a home. But when Jacob sustains a fateful life-threatening injury in Korea, it sets in motion a diabolical plan that threatens to destroy what he and Naomi have fought so hard to build. Rash's first novel in ten years is a poetically written narrative that examines what it means to selflessly love another human being, juxtaposed with the destruction caused by selfish acts justified as familial love.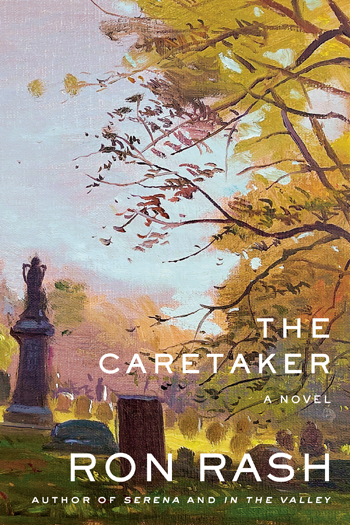 Rash deftly details the intricacies, subtleties, and nuances of what makes us human while weaving together the past and present, scenes that linger like ghosts and reveal insight into what motivates each character. Realizing that people come to the cemetery "with their hearts grieving," Blackburn Gant is meticulous in his caretaking of the dead, cognizant that "small acts of respect mattered." As taught by the previous caretaker, Gant understands that caretaking is "a duty to the living and the dead." Gant approaches his job much like that of an artist, quiet and resolute, discerningly tending to the stones, flowers, and grounds, ever reverent of the departed. Intent on each occupant knowing, "You are not alone."
But while Blackburn is a caretaker of the dead, he is also a selfless caretaker of the living, tenderly helping Naomi prepare for the birth of her child, and later helping Jacob heal after returning from war. In one particularly poignant scene, Naomi, who sees beyond Blackburn's physical disfigurement to the purity of his heart, asks him to put his hand on her burgeoning belly as the baby moves - an intimate gesture of acceptance and friendship for which he is emotionally unprepared and one that solidifies their relationship as family.
In a way, Jacob and Naomi also serve as caretakers in the novel; they are loving caretakers to their friend Blackburn and to each other. Naomi, who defies the social constructs and gender norms of the time, is embraced by Jacob, who is enamored by her free spirit contrasted with her innocent view of the world. Several years older than Naomi, Jacob encourages her to continue her education, procuring books and patiently helping her become more literate. Their letters exchanged while he is in Korea become symbolic of their deep and loving relationship.
Ghosts, resurrection, and the passing of time are recurring motifs in Rash's latest novel - the first chapter of which is reminiscent of some of Ambrose Bierce's best writing. When Jacob is fighting in Korea, he learns the Korean word Gwisin, believed to be the ghosts of dead Americans still wandering in the mountains. While back home in Watauga County, Jacob considers his misfortune a result of the fact that he asked Naomi to marry him as they sat at a lookout watching for the Brown Mountain Lights - the mysterious ghost lights that, according to Cherokee legend, are the ghosts of women looking for their men who died in battle.
When Naomi becomes a mother and sees how quickly her daughter is growing, she begins to realize the ephemeral nature of life and thinks about the significance of one day telling her daughter Annie Mae about an ordinary day "because now she knew it hadn't been ordinary at all." She concludes, "Maybe that was the saddest thing about life, that you couldn't understand, not really, how good something was while living inside of it. How many such moments swept past, lost forever." Blackburn is also aware of the temporal nature of existence, "Calendars were a trick to convince you the world was reliable, that things could be made sure of."
But perhaps the most beautiful sentiment in The Caretaker is how Rash brings the theme of resurrection and rebirth full circle. As Blackburn thinks about what it would mean to him to be a landowner, he remembers Naomi's description of the coming of Christ. He thinks to himself, "It'd be nice to bury something and then see it rise up. That was how Naomi told him the rapture would be. She'd said so in January, spoke of souls like long-planted seeds rising from the dirt." She and Blackburn wonder whether it will be dark or light when the rapture comes and Naomi adds, "Maybe all we'll see in that light is the good in each other's hearts." Rash returns to this image in the coda as Blackburn considers farming land, imagining "fields asleep beneath a veil of snow. Awaiting spring, awaiting him too, because he will be there, standing firm on the broken ground to witness the first sprouts rising toward the light."
While driving to Tennessee early in the novel, Blackburn recalls "Naomi saying she'd thought that entering another state you'd see an immediate change, like on maps. But she found the trees and road and sky looked the same." And just maybe it's the same with people. On the surface, variations, but at our core, there are frequently more commonalities than differences, every human being searching for human connection, home, and family, even if that family is one of our choosing.
With five collections of poetry, seven collections of short stories, and eight novels, all set in the Appalachian Mountains and the rural South, Ron Rash is one of America's best storytellers. His attention to detail, word choice, and structure have prompted critics to make comparisons to literary greats like Steinbeck, Faulkner, and McCarthy. The Caretaker has hints of Rash's earliest work, One Foot in Eden - gorgeously written, rife with humanity and universal truths. When asked about this latest work, Rash replied, "I turn 70 soon, and this book feels a kind of gift of hope to my readers—something that reminds us of the deep-rooted goodness and decency so many quiet, unnoticed people have. That most of us have.... It's important that we remember that in this time, especially when our country is so stratified."
The Caretaker is Ron Rash at his finest.