A Culinary Oasis
03 Feb 2021
Cashiers Kitchen Company offers a one-stop shop for all things cooking, baking and grilling
By Judy Royal
Photos by Tracy Mendy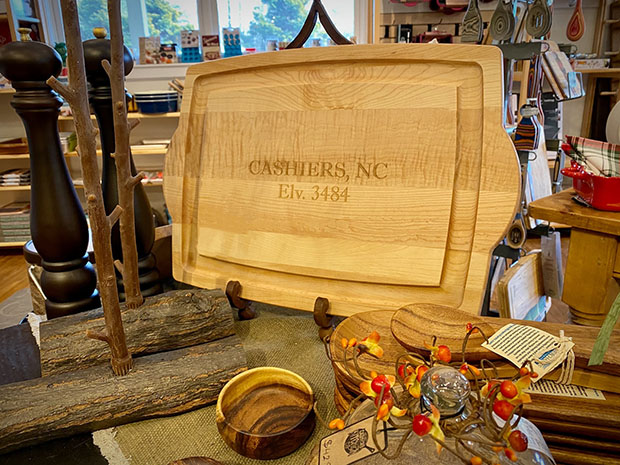 When Glenn and Kim Ubertino bought Zoller Hardware – a longtime staple in Cashiers, NC – five years ago, they realized their kitchen section had expansion potential. As a result, they opened Cashiers Kitchen Company in the same plaza in May 2018.
"Kim and I wanted to open a store that was fun to shop, offering a mix of kitchen tools, professional quality cookware and essential electric appliances to offer exceptional performance and style for the items cooks use most often," said Ubertino, who worked at the corporate level for Home Depot for 17 years. "Everyone loves a new kitchen gadget, and we have many to choose from. Our customers enjoy seeing what's new and available to help them with whatever they are doing in their kitchen."
Marian Duncan, a 40-year resident of the area who has been store manager at Cashiers Kitchen Company since its inception, said the store was a natural extension of the hardware store's selection.
"That's how this store really came to birth because they saw the need in this town for a much more extensive kitchen store," she said. "It has certainly proven that point. The store has just grown and grown ever since we've opened."
Cashiers Kitchen Company offers 3,000 square feet of a variety of culinary products for the customer who loves to cook, bake or grill, including an enclosed outdoor area for the grilling products. There are also gift items such as private-label jams and relishes, lotions and candles. Among the offerings are Wolf small appliances, Wüsthof cutlery, Lodge cast iron cookware, Le Creuset cookware and Mason Cash bowls from England. Both tourists and locals come in for everything from a small souvenir to take back home to items to fully stock their kitchens.
"We're full to the ceiling," said Duncan, who handles most of the ordering for inventory. "The exterior walls have shelves that go to the ceiling, and we have vaulted ceilings. People are amazed when they walk through this door. They can't believe the selection we have, and I like seeing their reactions when they come in."
"Our store is very impressive," she added. "It's very well-lit. It's very well-displayed, and it's very interesting because we have a mix of products and price points. We are a seasonal town, so we have to gear our inventory to that."
"Our mix helps differentiate us," Ubertino said. "We find new and interesting products that are not available in other kitchen stores."
Duncan said Cashiers Kitchen Company offers the variety of a large store while giving people the opportunity to shop local.
"Our typical customer is basically the homeowner here," she said. "They're kind of the base of our financial stability because they are here all the time. It's sort of like their go-to place, and they bring their friends and their families all the time."
Both Ubertino and Duncan agree that getting acquainted with the community is part of what they enjoy the most about being involved with Cashiers Kitchen Company.
"Our favorite thing about owning the store is meeting new people and sharing stories with them," Ubertino said. "We enjoy starting relationships with our customers."
Duncan said she considers many of the customers friends.
While the COVID-19 pandemic has posed some challenges for the store, including sourcing products in a timely fashion due to unprecedented high demand, Cashiers Kitchen Company has adapted and even flourished as a result.
"People have not been going out to restaurants and are eating at home more, so that has been a benefit to us," Duncan said. "Everybody was cooking and baking this past year."
Despite the unexpected nature of 2020, Ubertino said the community reception to Cashiers Kitchen Company has been overwhelmingly positive, and he attributes that to the staff.
"To be honest, we thought we would need to spend more time at the store, but because of our amazing staff we don't need to be there every day all day," he said. "We have employees who know how to run a business and take care of our customers. Our people set the store apart. Marian, David and Joanna are excellent merchants. They know how to merchandise the store versus simply stocking a shelf."
Duncan shared Ubertino's praise for the staff.
"I have two really fantastic coworkers," she said. "We treat this store like it's our own business."
Duncan said she loves hearing how much customers enjoy the store.
"I've been very pleased with the response," she said. "People always say they're glad we're here. It saves them a trip off the mountain."
More About Cashiers Kitchen Company
Owners: Glenn and Kim Ubertino
Products: Kitchen appliances, cutlery, cookware, dinnerware, glassware, utensils, gift items and other culinary goods
Location: 41 Commons Drive, Cashiers, NC
Phone: 828-743-9091
Facebook: www.facebook.com/CashiersKitchenCo