A Benefit Under the Stars
05 Aug 2021
Grammy Award-winning songwriter performs for annual school fundraiser
By Dawn Liles
Photos by Brian O'Shea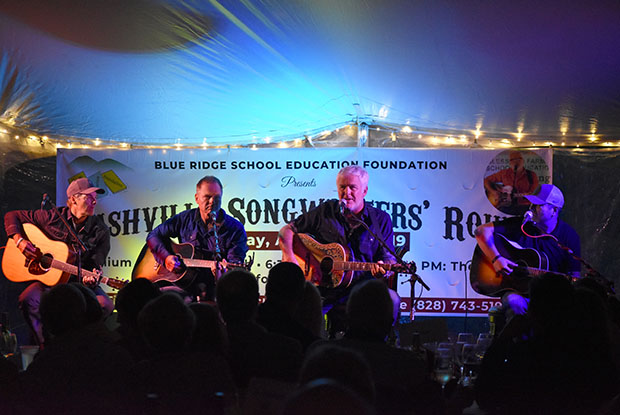 Imagine a perfect summer night: gathering with good friends under the stars, enjoying delicious food and drinks and listening to live music from some of the country's most talented musicians. Now imagine doing all of that while raising funds for a great local cause.
The 15th annual Nashville Songwriters' Round, sponsored by the Blue Ridge School Education Foundation in support of Blue Ridge School and Early College, takes place at Trillium Links & Lake Club in Cashiers on Saturday, August 21. Once again, the event sold out, with ticket prices set at $150 each.
Nearly 400 guests will enjoy the music of Rivers Rutherford, Nashville Songwriters Hall of Fame member and Grammy award-winning songwriter. He'll bring along some of his accomplished songwriter friends, including Kelley Lovelace, Dave Turnbull and Tim James.
"We are grateful to Rivers and his friends, who have always performed complimentary at the special event to support the Foundation's work of providing supplemental educational funding for the school," said Blue Ridge School Education Foundation President Carl Hyde.
"The Foundation is the only 501(c)3 in the Jackson County Public Schools system. We are fortunate to have a songwriters' sellout this year after having to cancel last year because of COVID. Many community residents and event attendees donate to the Foundation each year," said Hyde.
Proceeds from the event come from three levels of sponsors and ticket sales, as well as individual donations. One hundred percent of net proceeds are used by the Foundation to support the school.
The mission of the Foundation is to provide supplemental resources for Blue Ridge School to expand educational experiences for children and staff to achieve and maintain a world-class education environment.
The tax-exempt Foundation is administered by a totally volunteer board of directors who are elected based on their experience with children and commitment to better public schooling. Funding for grants awarded to the school comes from proceeds of the annual Nashville Songwriters' Round and from generous corporate and individual donors who support their mission.
School Projects Funded by the Foundation
Blue Ridge Early College continues to maintain a high graduation rate, with greater than 95% of students graduating. Last year, Blue Ridge Early College graduates received thousands of dollars in scholarships coming directly from the Blue Ridge School Education Foundation. The Foundation also annually hosts the school's Academic Banquet and Scholarship Night to celebrate talented students.
Previous year's funded projects include digital microscopes, gifts to the school library, teacher laptops, scholarships for grades 12 and 13 and support for the Junior Appalachian Music Program, among many others.
In 2020, the Foundation was pleased to fund a cursive writing contest, a Love Yourself to Health Fair, a STEM/STEAM Night, and a positive branding initiative.
The Foundation is grateful for all donations and can direct funds to any of the following:
6th Grade Field Trip - Rocket City Space Camp in Huntsville, AL

General Scholarship Fund

Music Department

Science and Technology

Summer Reading

Other Programs in Need
For more information about the Foundation and the programs they support, please go to: www.BRSFoundation.com.