4118 Kitchen+Bar
03 Apr 2020
A passion for excellent food and the people of Highlands at 4118 Kitchen+Bar leads to an elevated experience
By BRITTANY CONLEY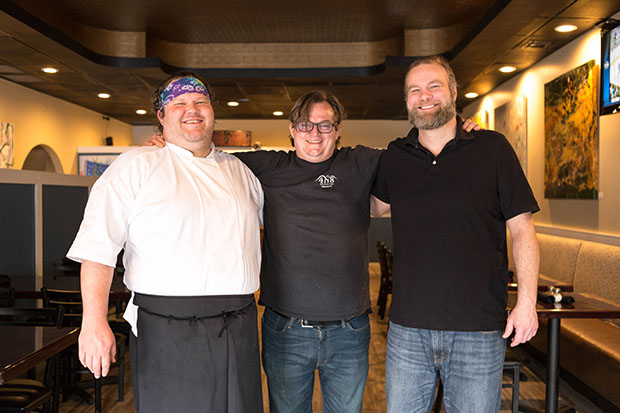 Among the top reasons people flock to Highlands, NC are the stunning vistas, roaring waterfalls, and boutique shopping. But the local food and beverage scene continues to grow in popularity, with the number of tourists seeking an incredible meal on the rise. There is no shortage of great restaurants on the plateau and emerging as one of the area's best kept culinary secrets is 4118 Kitchen + Bar: a New American Cuisine experience affordable enough for the locals, but with an impressive spread to delight even the most discerning travelers.
Owner Ryan Aydelotte isn't native to Highlands, but it is where his heart calls home. Born in Colorado, Mr. Aydelotte moved to Florida where he spent most of his youth. He followed a group of friends to Highlands, instantly fell in love with the area and decided to split his time between the Blue Ridge Mountains and sandy beaches of Sarasota, FL. "It has such a rich history here. Everyone knows everyone. The people are shockingly nice," Mr. Aydelotte said. It didn't take long for Mr. Aydelotte to make a name for himself locally in the culinary industry, working seasonally in well-known spots such as Ristorante Paoletti.
In 2013, after many years going back and forth, Mr. Aydelotte's life was forever changed when his daughter was born. He knew he needed to settle down in one spot. "My daughter Kylee is the reason I do everything," he said, stating that above all else he wants to make his daughter proud. Finally, he made Highlands his home once and for all, setting down roots that would eventually lead him to take a giant leap of faith: opening his own restaurant.
"Opening a restaurant isn't easy," Mr. Aydelotte said. But being his own boss would allow him to accomplish more for his daughter and tackle a new set of challenges. "It's a team effort," he explained. "I've got really good people at my side." He couldn't speak highly enough of his staff, his business partner, Richard Errington, or his executive chef, Adam Bresnahan. "Everyone knows and loves him [Richard], he's just the nicest guy you could ever meet. And Chef Adam, this guy is a genius. I know what he can do. He's world-class. He doesn't disappoint."
After talking with Mr. Aydelotte, his passion for excellent food and the people of Highlands—both the residents and tourists—was undeniable. It's also obvious when you walk into his establishment. From the local artwork showcased on every wall, to the vast and impeccable selection of local brews at the bar, down to the steadfast commitment 4118 has made to working with area farmers and businesses, this restaurant feels like more than a simple eatery. It's like a living, breathing love letter to Highlands and the surrounding area.
Mr. Aydelotte and his team work incredibly hard to give their guests the very best. Not only do they offer innovative daily specials, but they also have a menu which cycles an incredible six times each year. This allows them to use seasonal produce and the highest quality beef, pork, and chicken they can source—usually no further away than Asheville, NC. Building relationships and partnering with local purveyors is only the first step to bringing 4118's customers incredible experiences.
One such experience is a monthly themed wine dinner. Chef Adam crafts an exclusive menu based on the wine selected by Davis Picklesimer from the Highlands Wine Shoppe. This event found instant popularity, with tickets selling out the first month it was introduced. Guests enjoy wines from far-off regions and a delectable multi-course meal showcasing the region's best flavors. It's a palate pleasing opportunity 4118 is proud to offer, and they should be. Their most recent wine dinner took patrons on a culinary excursion to the land down under, featuring six courses and several of Australia's best wines, with a portion of the proceeds going to help victims of the fires which recently devastated the country.
Truly, every day is a special experience at 4118. Mr. Aydelotte's vision for his restaurant gives ample space for Chef Adam to explore and push boundaries. For instance, they developed a "Smash Menu," offering sandwiches and sides with a price point no one could argue is an incredible value. But quality and innovation are not sacrificed to get prices down. On the contrary, these sandwiches feature delicious components such as housemade Cheerwine™ BBQ sauce and, my personal favorite, the "yellow sauce," a mustard-based creation I'll daydream about for quite some time. This fare is perfect for relaxing at the bar with friends or as a quick bite on your lunch break.
If it's date night, 4118 is here to elevate your experience without breaking the bank. You'll find a vast array of wines and handcrafted cocktails, as well as mouthwatering nibbles such as a stunning charcuterie board and duck confit egg rolls. Exquisite entrée options range from shrimp and grits to skirt steak cacciatore—but who knows what magnificent offerings Chef Adam will come up with for their next menu cycle?
Ready to dine with them? The restaurant is located at 64 Highlands Plaza in Highlands, NC. You can stay up to date on the restaurant's events and specials by following them on Facebook and Instagram @4118kitchenbar. To make dinner reservations or to inquire about an upcoming themed wine or beer dinner, give them a call at 828-526-5002. Your new favorite meal is waiting.