Welcome Spring!
05 Apr 2023
We are so hungry for bunny baskets, picnics, parties and fresh vegetables.)
Photos and Recipes by Kaitlin Gooding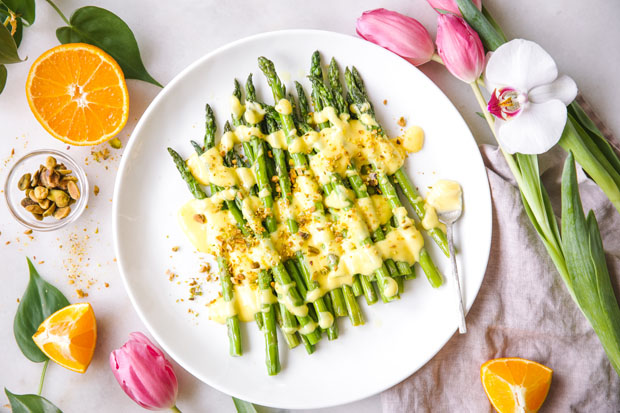 We're hoppin' into this next season with spring-ready dishes. Enjoy your first picnic of the year by biting into this spring grilled cheese stuffed with a fresh raspberry-lemon sauce. Brighten up your Easter plate with a side of asparagus drizzled in an orange hollandaise sauce. Small bites of endives are stuffed with big flavors of citrus from Cara cara oranges and creamy rich ricotta cheese. Uproot your taste buds with a spoonful of our radish soup or satisfy your sweet tooth with this refreshing lemon coconut tart. These dishes are as beautiful as they are delicious and will have your guests coming back for seconds.
-------------
Orange Hollandaise Asparagus
Servings: 3-4 as a side dish
INGREDIENTS
12 oz asparagus (cleaned & trimmed)
egg yolks
1/2 cup unsalted butter (cut into slices)
2½ tbsp fresh orange juice (add more if you like a thinner consistency)
Salt & pepper
tbsp olive oil
1/4 cup pistachios (chopped)
DIRECTIONS
Begin making the hollandaise sauce by squeezing oranges and add the juice to a heat-proof bowl. Add the egg yolk.

In a small sauce pan add a little water and bring to a boil. Turn the water down to simmering and once it has cooled, place the bowl on top. Be careful not to let the bowl touch the water so make sure the bowl is big enough.

Slowly whisk the egg and orange juice together. Slowly, add one slice of butter at a time and continue stirring until smooth.

Remove the mix from the heat and season with salt and pepper as desired. Set aside, stirring occasionally so it doesn't form a top coat.

In a separate skillet warm your olive oil at medium heat. Once the oil is hot add the asparagus and season with salt & pepper.

Stir the asparagus frequently with a spatula until the asparagus becomes tender and reaches a bright green color. Remove the asparagus from the heat.

Plate the asparagus, spoon the hollandaise over top, and top with pistachio pieces.
Baked Lemon-Coconut Tart
INGREDIENTS
Tart Crust:
2 cups flour
2 tbsp sugar
2/3 cup unsalted butter
2 eggs
5 spoonfuls water
pinch of salt
Lemon-Coconut Filling:
1 egg (large egg)
3 egg yolks (large eggs)
1/2 cup sugar
1/4 cup heavy whipping cream
1/2 cup coconut milk (use cream on top of can)
2 tbsp lemon zest
1/4 cup lemon juice
1 tsp vanilla extract
1/2 tsp salt
2 tbsp all-purpose flour
Garnish:
Lemon slices & shredded coconut (optional)
DIRECTIONS
In a medium-sized bowl, mix together sugar, flour, and salt. Cut the butter into the dry mix until there are only pea-sized pieces left. Add the eggs and stir till it is well combined.

Begin working with your hands, mixing and kneading the dough. Add the water. If the mixture is too dry to combine all the flour, add another spoonful of water.

Cover your bowl and place it in the fridge for 20 minutes.

Transfer the dough to a clean surface. Roll the dough into a circle (approx. 12 in.) and press it into a greased 9 inch tart pan. Trim off any excess edges.

Preheat the oven to 325 degrees. Prick the bottom of the crust 6-7 times with a fork and place in the freezer for 15 minutes.

Remove the pie from the freezer. Line the inside of the crust with parchment paper and fill with baking weights or dried beans. Pop the crust into the oven for 10-15 minutes. While this is cooking make the filling.

For the filling: In a medium-sized bowl whisk together the flour, sugar, salt. Add the egg and egg yolk, and vanilla. Continue to whisk together. Slowly add in the heavy cream and coconut milk until it is well combined. Mix in the zest, lemon juice, and vanilla extract. Set aside.

Remove the crust from the oven and remove the parchment paper and weights. Pour the filling into the crust and cook for another 15-20 minutes or until the filling is set and the crust is golden.

Allow the pie to cool for 30 minutes before serving. You can serve this warm or refrigerate and serve cold.

Add shredded coconut and lemon slices to garnish.
Raspberry Sauce
INGREDIENTS
12 oz raspberries

1/2 lemon (juice only)

1/2 cup preferred syrup such as maple or raspberry
DIRECTIONS
Add the raspberries, lemon juice, and syrup into a pot and bring to a boil.

Turn the heat down to simmer once it has reached boiling and allow it to cook down for about 5-10 minutes, continuously stirring.

Once it has thickened, remove from the heat and allow to cool. Pour into a glass closed container to keep in the fridge.

To elevate any sandwich or piece of toast add raspberry sauce and enjoy! This pairs perfectly with our spring grilled cheese.
Spring Grilled Cheese
Servings: 2-3 sandwiches
INGREDIENTS
1/2 lb spring onions (chopped)
1.5 tbsp olive oil
5 oz goat cheese crumbles
raspberry sauce (best to use fresh, but can also use store bought raspberry jam as well)
4-6 slices of bread of choice
2-3 tbsp butter (softened to spread)
Mustard micro greens (can use favorite greens to add)
DIRECTIONS
Begin with caramelizing the spring onions. Add the onions to a pan with 1.5 tbsp of olive oil and cook on low-medium heat. Stir the onions and coat them in the olive oil. Turn the heat down to simmer and allow them to cook for 15-20 more minutes or until they turn a light brown. Stir the onions every few minutes. Once finished cooking, set aside to add later.

Butter one side of each piece of bread for your sandwiches. Place two pieces of bread butter side down on a warm pan. Cook until golden brown. Continue toasting the rest of your bread.

To assemble the sandwiches: Lay your bread slices out, the uncooked side facing up. Spread the raspberry sauce on one piece of bread. Layer the goat cheese on top. Add the caramelized onions and top off with micro greens. Add the other slice of bread on top, toasted side facing up. Cut in half. Finish the rest of your sandwiches and enjoy.
Endive Spears with Orange & Ricotta
Servings: 6-8 (appetizer)
INGREDIENTS
4 endive heads (cleaned, separated, & ends trimmed)
1½ cups ricotta cheese
2 -3 Cara cara oranges
1/2 cup roasted walnuts (chopped)
Minced mint, for garnish
Honey for drizzle over top
Flaky sea salt, to finish
DIRECTIONS
Arrange your endive leaves on a plate. Add a dollop of ricotta to each leaf.

Cut the top and bottom off your oranges. Remove the peel, including the white pith. Remove each piece and cut each slice into segments. Add a few orange pieces to each leaf along with a sprinkle of walnuts and mint as garnish.

Top them off with a honey drizzle, and light sprinkle of salt over your plate of endive leaves.
Spring Radish Soup
Servings: 3-4 (as light appetizers)
INGREDIENTS
2.5 cups sliced radish (extra for garnish)
1 russet potato (peeled & sliced)
4 green onions (chopped)
1 garlic clove (minced)
2 thyme sprigs
1 tbsp olive oil
3-4 tsp horseradish sauce
3 cups chicken broth
Salt & pepper
Creme fraiche & microgreens (optional garnish)
DIRECTIONS
In a sauce pan warm the olive oil at medium heat and cook the garlic and onions for 2-3 minutes. Add the radish and potato and cook for about five minutes, or until radishes are becoming translucent.

Pour in the chicken broth and bring to a boil. Season with salt and pepper and add the thyme sprigs. Reduce the heat down to simmer.

Allow it cook for another five minutes. Remove the thyme sprigs and add the mix to a high powered blender. Mix until smooth. Add the horseradish one tsp at a time till you reach your desired taste. Season with more salt & pepper if desired.

Pour the mix into the bowls, Mix in 1 tbsp of creme fraiche on top and swirl for a fun design. Sprinkle with freshly grated peppercorn (I used pink peppercorns) and greenery of choice (I used microgreens; you could use any herb). Serve warm or cover and refrigerate to serve cold.