Walks To Remember
02 Jun 2020
Make memories along some of Western NC's amazing trails
By BRITTANY CONLEY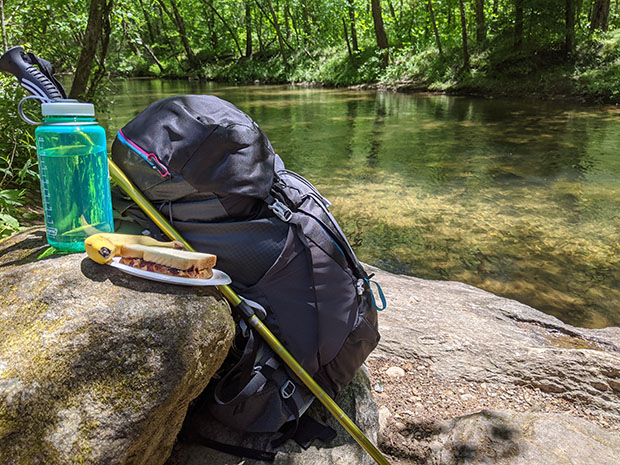 If you've spent any time in this area, you know the sprawling vistas and roadside views are a main attraction for visitors and residents alike. Stunning sights can be found around every bend and it isn't uncommon to spot tourists vying for the perfect photograph. While sightseeing from your vehicle is one way to take in the beauty, there's a lot of majestic scenery you miss.
Hiking trails around the plateau are the perfect way to take advantage of all the natural wonder Western North Carolina has to offer. Whether you're in the mood for a quick and easy out-and-back, a historic loop, or something far more arduous, there are trails for every skill level. And this is the perfect time to plan your next hiking trip! The birds are chirping, the blooms colorful, and temperatures are usually mild compared to the lower elevations.
Sunset Rock | Easy | ~1.4 miles roundtrip
As the name suggests, this is the perfect trail for a late afternoon or evening walk to take in the breathtaking sunsets for which it got its name. Sunset Rock also happens to be one of the most popular trails in the area due to its ease and proximity to Highlands and other points of interest like its neighboring trail, Sunrise Rock, and the nearby Botanical Gardens and Nature Center.
If you're new to hiking, or it's been a while, starting out on a popular trail such as Sunset Rock is a smart idea. "Beginner hikers should start on populated trails," says Jessica Whitmire of Headwaters Outfitters in Brevard, NC. "Just in case you find yourself in need of assistance," she added, which is an important reminder that hiking is a skill which needs to be practiced before attempting a more daunting trail.
Whiteside Mountain Loop Trail | Moderate | ~2 miles roundtrip
It doesn't take very long to reap the benefits of this popular birdwatching trail, as beautiful views abound. You can spot Yellow Mountain to the north, Chimney Top to the east, Lake Keowee to the south, and the Nantahala Mountains to the west—not to mention the abundant flora. Though this trail is fairly short, plan extra time to stand in awe of the natural artwork surrounding you. "You really feel like you're on top of the world with the 360-degree views," says Miss Whitmire, also emphasizing the diversity of native trees and flowers as major attractions.
Caves on the Glades Road Trail | Moderate | ~3 miles roundtrip
Teeming with history, this trail mostly follows an old roadbed once used by prohibition-era bootleggers traveling to and from Highlands into Georgia and South Carolina. The caves themselves were used first by Native Americans and then by farmers. For most hikers, this trail will provide a leisurely stroll, but there is a small degree of difficulty. "The trail is pretty tame," says Chris Hess from the Highland Hiker, "but it doesn't get a lot of maintenance." Just remain vigilant not to stray from the trail and you're sure to have a great time as this trail provides a great opportunity for viewing wildlife.
Ellicott Rock Trail | Moderate | ~6 miles roundtrip
Just a short drive outside Highlands is the trailhead for Ellicott Rock, a dog-friendly trail that not only offers a relatively secluded hike, but also a scavenger hunt. For the history lover, Ellicott Rock is a survey marker placed in 1811 by Andrew Ellicott to rectify a boundary dispute between Georgia and North Carolina. Many who hike the trail leave not having been able to spot this piece of local history, but that shouldn't deter you from trying.
Not only can you try finding Ellicott's rock, but at the southern end of the trail you'll find a sandy beach along the Chattooga River perfect for a leisurely afternoon or family picnic.
Devil's Courthouse at Whiteside Mountain | Difficult | ~3 miles roundtrip
Not to be confused with the Devil's Courthouse trail located along the Blue Ridge Parkway, this Devil's Courthouse trail is steep, rocky, and not for the beginner nor the faint of heart. For a relatively short trail, there is a lot to test the skills of even the most experienced hiker. Expect drastic changes in elevation, boulder scrambling, and a seemingly infinite supply of gnarly roots to navigate—all while concentrating on staying on the correct trail and being especially mindful not to wander too close to the sudden, sheer drop-offs—which can be especially treacherous when rocks are slick after a fresh rain.
All that hard work will pay off, though, as the coveted, panoramic views at the summit will reward you with an unfathomably picturesque backdrop for a snack and an overwhelming sense of accomplishment.
Yellow Mountain | Strenuous | ~12 miles roundtrip
Widely regarded as one of the most difficult trails in Western North Carolina, this out-and-back trail puts even serious hikers through their paces before summiting. Steep switchbacks crawl over multiple mountain peaks, so be prepared to ascend, descend, and repeat. There are plenty of beautiful places to rest and hydrate among the thick rhododendron tunnels and fragrant mountain laurel. "Some trails are long just for the sake of being long," says Chris Wilkes of the Highland Hiker. "That's not the case here. It's tough to get to the top, but the views from the fire tower are worth it," he adds, encouraging people to pack a lunch.
Regardless of which trail you choose, hiking is an amazing way to gain a deeper appreciation for the world around you. It doesn't take much to get started hiking, and luckily, there are great local outdoor retailers ready to help you plan from trailhead to summit. So lace up your boots, get out there, and prepare to feel like you're conquering the world one footstep at a time.
Day Hiking Essentials
The Glenville-Cashiers Rescue Squad encourages you to be PANNIC Free when hiking by remembering these tips.
Preparation - The most frequent reason for a wilderness emergency Search & Rescue call is lack of preparation. Check the weather. Study your map for expected trail conditions and hike time. Plan to stay out longer than expected and let someone know your route and time of return.
Appropriate Clothing - Conditions change quickly in the mountain, anticipate the unexpected. Dress in layers, using a water-wicking layer as a base. Wear headcover. Pack rain gear. Wear high traction boots, supportive shoes, and quality socks. For remote hikes, take extra clothing- especially another pair of socks.
Navigation - Make sure you have a topographic map, compass, trail guide, and/or GPS device.
Nutrition - Take plenty of water, a rule of thumb is one liter for every 2 hours. For long excursions bring a water purifying method. Pack food and snacks that do not require cooking.
Illumination - It is imperative to find your way along a trail in the dark. Don't count on a cell phone. Pack a LED-type headlamp with a small pocket light as backup. Check the batteries.
Communication – Bring a fully charged cell phone and anticipate poor coverage. Use a Personal Locator Beacon (PLB). These can be lifesaving and send an SOS via satellite to first responders. Communicate your plans to others before you leave.
First Aid – Pack a small kit including bandaging, tape, band-aids, blister treatments, etc. Consider a First Aid class.
And a word of warning: Please do not venture from established trails and be aware of marked and posted danger & warning signs.
Leave No Trace
No matter which trail you choose, follow the seven Leave No Trace principles to ensure future hikers will enjoy our beautiful outdoor spaces too for many generations to come.
1. Plan and prepare—check the weather, plan your meals, bring a map. Planning greatly reduces your chances of getting lost or injured.
2. Travel and camp on durable surfaces—remain on established trails whenever possible to minimize the impact on the land.
3. Dispose of waste properly—pack it in, pack it out. Don't leave your trash for someone else to deal with or for wildlife to eat.
4. Leave what you find—take pictures, not rocks. Don't carve into trees or historic structures.
5. Minimize campfire impact—use only existing fire rings or bring a backpacking stove.
6. Respect wildlife—always give them proper space and leave their resources.
7. Be considerate of others—including cleaning up after your pets.
Learn more about these seven principles at LNT.org
Gear Recommendations
Headwaters Outfitters
all available at www.shopheadwatersoutdoors.com
Astral TR1 Merge, $140.00 - From a local company based in Asheville NC, these lightweight shoes dry fast and on the trail dry feet are happy feet.
Weekender Long-sleeved Tee, $49.95 - No need to change after your hike before you hit the brewery.
The Blue Wall from Pisgah Maps, $13.95 - Stay on course with this waterproof, locally made map. A portion of the proceeds goes directly to trail maintenance!
Highland Hiker
all available at www.highlandhiker.com
SteriPEN Water Purification System, $79.95 - Quickly purify up to four liters of water so you can get to the fun of camping quicker.
Highland Hiker Day Hike Guide, $9.95 - For 35 years this has been the go-to book for local hikers. A must have for anyone looking to learn the area, it breaks down everything from waterfalls to views to which hikes are good for kids and which are advanced all day events.
Leki Poles, contact for pricing - Not just for the advanced hiker, these poles help spread the weight and work of a hike over more contact points to allow you to go further and with less energy than ever before. Tackle steeper inclines and farther summits than you thought possible!