To Enrich, Educate and Inspire
02 Aug 2023
Center for Life Enrichment lives its mission
By LIESEL SCHMIDT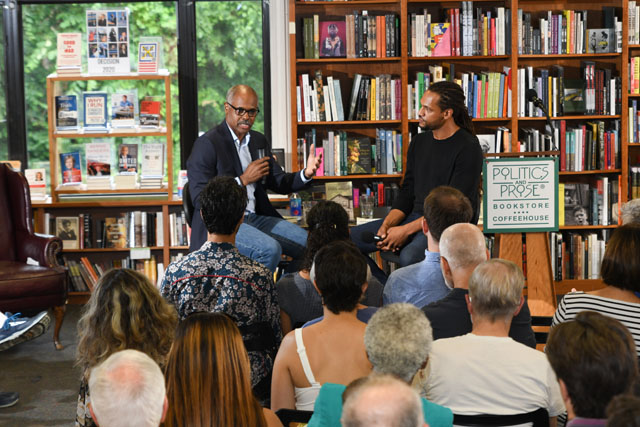 The origin story of the Highlands-Cashiers Center for Life Enrichment (CLE) sounds like something from Steel Magnolias: two women sit and brainstorm ways to enrich the community all while passing time under hairdryers in the local salon. Soon, the idea grows, takes shape and forms roots. So began the CLE in 1989—though at that time, it was still only an idea.
"Nell Martin and Nelda Toothman, both summer residents of Highlands, unknowingly put into motion the founding of the Center," says Audra Bullard, CLE Programs and Communications Manager. "They discussed how fun and rewarding it would be to form a group in the area that could offer enrichment opportunities to people of all ages and backgrounds. Soon, their new friendship included their husbands, Bill Martin and Rex Toothman, and the energetic group of four brought the concept to paper at the end of 1990. The group formally organized as the Center for Life Enrichment in 1992 and offered its first series of courses in the summer of 1993. Since then, the CLE's audience has grown from a small group to a membership base of over 500 enthusiastic supporters."
In its 30 years of existence, CLE's mission has remained steadfast: "to provide life enriching opportunities through educational lectures and to stimulate curiosity and creativity by offering art workshops and culinary/nature programs to residents and visitors to the Highlands-Cashiers Plateau," Bullard explains. As a result of that mission, CLE has effectively brought together plateau residents through cultural enhancement, creative inspirations and intellectual stimulation, with topics ranging from politics and history to art and landscape design.
CLE also strives to promote educational enrichment through community-level outreach programs, offering free educational lectures to high school and college age students in the surrounding areas. In addition, it provides support and opportunities to help WCU honors scholars attain prestigious awards and gain admission to graduate school through the CLE Honors Scholar Program Endowment Fund. "The CLE Honors Scholar Program is designed for exceptional students who are interested in preparation and sponsorship for prestigious national or international scholarships such as the Fulbright, Goldwater, Truman, or Rhodes scholarships," says Bullard.
Among CLE's many notable programs and lectures this summer are those featuring Jeffrey Blount, award-winning author and former NBC News program director, and Woody Holton, acclaimed University of South Carolina history professor and author.
"Join us at a beautiful mountaintop home for a discussion with Jeffrey Blount about his award-winning novel, The Emancipation of Evan Walls," says Bullard of the Monday, August 7, event. "The novel is a thought-provoking, painful and often shocking story that gives readers insight into the complexities and dynamics of racism, identity and courage—seen through the eyes of a young Black child named Evan Walls. Evan, who is growing up in the racially charged 1960s in a small rural Virginia town, is inspired to overcome the racism and class status imposed upon Blacks. He dreams of a bigger life and greater things, which causes his friends and family to resent him. As one of the smartest in his class, Evan also becomes a target of white students threatened by the forced integration of their schools. Being caught in this racial crossfire, Evan feels alone and confused but finds perspective and peace through the help of his grandmother and a mentor."
On Tuesday, August 8, Blount uses his unique insight as the former Director of Programming for NBC News to explain the unfortunate changes in the world of journalism with the advent of social media and the biases of the press. "He'll discuss the consequences for democracy and offer ideas for correcting, or mitigating, these consequences," says Bullard. "In his Q & A presentation, Mr. Blount will touch on a wide variety of issues: the Founders' vision of the role of the free press in a democracy, the consequences of the adoption by TV and radio of the 'entertainment' business model, the common use of politically-driven coverage rather than substantive policy analysis and the role of unconscious bias, as well as the proper way to cover matters of social justice and 'culture war' controversies."
Blount is the award-winning author of three novels—Almost Snow White, Hating Heidi Foster, and The Emancipation of Evan Walls. He is also an Emmy award-winning television director and a 2016 inductee into the Virginia Communications Hall of Fame, boasting a 34-year career at NBC News in addition to being an award-winning documentary scriptwriter for films and interactives on display in various museums across the country. In 2017 and 2018, Blount served as Journalist in Residence and Shapiro Fellow at the School of Media and Public Affairs at George Washington University.
Like Blount, Woody Holton's prestigious career has given his political and social commentary on the injustices of racial bias and the real struggle of human rights a greater stage. On Wednesday, August 16, CLE will host Holton and his lecture, "Ten Myths About America's Founding Documents," which uncovers truths about the Declaration of Independence, the Constitution and the Bill of Rights, documents that were both highly contested and deeply important to the freedoms we enjoy in the United States.
On Thursday, August 17, Holton returns to offer his lecture, "Subversive Books, Politics, and the First Amendment," shedding light on the recent efforts to ban from public libraries and schools books that have been characterized as "woke," as well as the conservative move for state legislation to prohibit specific books that mention LGBTQ+ people. He will offer equal examination to pressure from left-leaning groups upon school boards and libraries to remove books deemed racist, sexist or homophobic. Finally, he will tackle difficult historical topics like slavery and the Civil War. Holton's presentation will include the free speech issues generated by these controversial events.
Holton is an award-winning author as well as the Peter and Bonnie McCausland Professor of History at the University of South Carolina, where he teaches and researches Early American History.
For more information, visit clehighlands.com.