There's No Place Like (Close To) Home for the Holidays
04 Dec 2021
Why Asheville is the perfect place for a holiday staycation
By Marianne Leek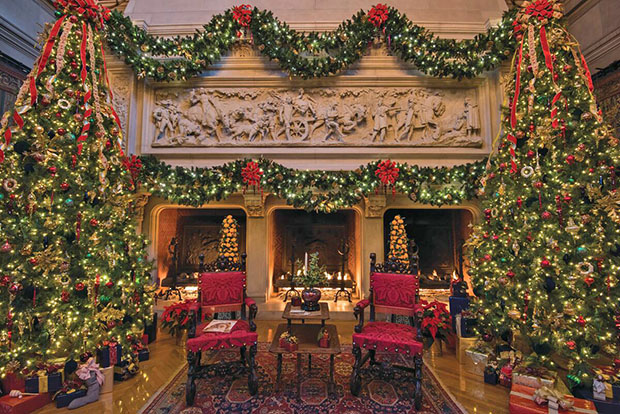 My mother-in-law was a career educator who lived in Asheville, NC. Her husband and children never really understood why once a year she would book accommodations less than five miles from her house at The Inn on Biltmore Estate. There she found a quiet respite of relaxation and rejuvenation, where she and her family enjoyed luxury accommodations and fine dining and were able to explore the history of the house and grounds. She renewed her annual Biltmore pass until she passed away at the age of 82, simply because she loved that she could find peace and solace while enjoying the beauty of the gardens and the opulence of the vast estate of George Vanderbilt. She recognized the benefit of a quality staycation in the "Land of the Sky" long before staycations started trending.
Asheville, located in the heart of the Blue Ridge Mountains of western North Carolina, offers an eclectic mix of hipster coffee houses, craft breweries, independent bookstores, a River Arts District and boutique shopping, as well as luxury lodging and locally sourced dining. Rich in history, art, literature and architecture, visitors can explore a city that feels more like a small town, with the Blue Ridge Parkway and miles of hiking trails offering a stunning visual backdrop to this mountain oasis. Here you can explore the home of American writer Thomas Wolfe or the sweeping Gilded Age estate of George Vanderbilt. For over 10 million visitors each year, Asheville is the place that seems to have something for everyone.
The holidays are a particularly magical time of year to enjoy an Asheville luxury getaway and The Inn on Biltmore Estate, the Windsor Boutique Hotel and the Grand Bohemian Hotel offer premiere accommodations complete with on-site dining, spa experiences and nearby shopping. If you're looking for a place to relax and recharge, these three hotels are in the business of indulging their guests with the finest amenities.
The Inn on Biltmore Estate
biltmore.com/stay/the-inn
Located on the Biltmore Estate, both The Inn on Biltmore Estate and its cozy cousin, the Village Hotel, feature rooms with expansive mountain vistas within walking distance to Antler Hill Village and the award-winning Biltmore Estate Winery, where guests can enjoy estate shopping, farm-to-fork dining and a one-of-a-kind wine tasting experience. Whether you want to enjoy the estate's gardens and trails on foot or choose to book an enchanting carriage ride, seeing the Biltmore Estate is nothing short of an extraordinary experience, especially during the holidays. With a wide array of popular holiday getaway packages, it's important to consider booking your trip to Biltmore well in advance. Christmas at Biltmore, which features over "100 decorated trees, 10,000 ornaments and 100,000 twinkling holiday lights," as well as a variety of festive displays, is a holiday tradition for locals and travelers alike.
This year, the Biltmore Estate has several packages that include dining, tickets to the Biltmore Estate and more, with spa add-on options available for the ideal weekend holiday getaway or WNC staycation. Biltmore's Candlelight Christmas is a luxurious stay that includes a chef's breakfast buffet, admission Candlelight Christmas Evenings, the "Van Gogh Alive" art exhibit and more. The Enchanted Christmas package affords guests the ultimate holiday experience, including a chef's breakfast buffet, Christmas Eve and Christmas Day dinners, as well as admission to Candlelight Christmas Evenings and the "Van Gogh Alive" art exhibit. If guests prefer to ring in the new year in style, there are two exquisite possibilities. The New Year's Eve Gala is an exclusive black-tie gala that includes a five-course dinner, a pre and post VIP reception, live entertainment, an open bar and a midnight fireworks display. The New Year's Eve Celebration includes a four-course dinner and midnight fireworks, as well as New Year's Day wellness and mindfulness offerings. Guests who prefer a quieter winter getaway should plan to visit after the holidays to experience the "Van Gogh Alive" package that includes the chef's breakfast buffet, admission to Biltmore House and admission to "Legends of Art and Innovation at Biltmore: Van Gogh Alive."
The Windsor Boutique Hotel
windsorasheville.com
The Windsor Boutique Hotel is outright stunning, conveniently located in downtown Asheville, and within walking distance of some of the city's most beloved breweries, restaurants, shops, galleries and bookstores. Originally constructed in 1907, it underwent a complete renovation in 2013 and features 14 luxury suites "each with its own character and charm." With each unique suite boasting its own bedroom, bath, washer and dryer, as well as a fully equipped kitchen, the Windsor puts the stay in staycation and does indeed feel like a home away from home. What makes the Windsor distinctive is perhaps "the hand-selected artwork and decor around the hotel that are a fusion of pieces purchased locally and in Paris." Each guest will "enjoy a petit Parisienne combined with a love for the rustic" in a charming suite overlooking the downtown area and the beautiful surrounding mountains. The Windsor also has a luxury spa on-site with a wide selection of treatment packages available to help the body and mind relax and unwind.
The Windsor Boutique Hotel is also home to the prestigious Benjamin Walls Art Gallery and Wine Bar. World-renowned photographer and environmentalist Benjamin Walls is the recipient of seven international awards, with his artwork being "displayed in dozens of museums, including five exhibits at the Smithsonian." If you've never been to a Benjamin Walls art exhibit, now is the perfect time to visually treat yourself. Grab a glass of wine, enjoy the chocolate truffle bar, all while strolling around the gallery. Walls' 2016 book "Beyond," which is a compilation of some of his best work, took "12 years, one million miles of travel and 300,000 exposures" to capture the images that are featured.
Winner of the Tripadvisor Travelers' Choice Award three years running, the Windsor Hotel has been featured in such esteemed publications as Southern Living, Conde Nast Traveler and NY Magazine. With suites that each include a spacious living area and a full-size, fully equipped kitchen, the Windsor Boutique Hotel provides the coziest accommodations to enjoy the holidays with friends and family. Guests who choose to spend Christmas or ring in the new year at the Windsor will receive a complimentary half bottle of champagne.
Grand Bohemian Hotel
kesslercollection.com/bohemian-asheville
Located in the heart of Biltmore Village, it's impossible to miss the incredible architecture that is the Grand Bohemian Hotel. With exemplary dining on-site as well as a full-service spa, you might never want to leave the premises. The Red Stag Grill "has its own wine label and offers farm-to-table cuisine that encapsulates Asheville, NC." Whether you're in the mood for a couple's massage or body scrub, the Poseidon Spa offers a wide range of soothing, tranquil treatments and prides itself on using products specific to the Asheville area. This Tudor-inspired boutique hotel also features an art gallery that includes an exquisitely curated collection of sculptures, paintings and jewelry by both local and up-and-coming artists. Each collection featured tells a unique story and all pieces are for sale. The Grand Bohemian is within easy walking distance to premiere Biltmore Village shopping, regional dining experiences, the historic Cathedral of All Souls and is conveniently located just across from the entrance to the Biltmore Estate. The Grand Bohemian Hotel earned Tripadvisor Traveler's Choice award in 2021 and has been featured in Southern Living magazine.
This festive season guests of the Grand Bohemian will enjoy a hot cocoa station and sugar cookies during their stay. And for those who prefer not to cook during the holidays, the Red Stag Grill has you covered with a four-course a la carte holiday menu on Christmas Eve and Christmas morning, as well as a Christmas Day signature brunch option. Guests may also choose to enjoy a four-course holiday dinner on the evening of December 25th. For those ringing in the new year at the Grand Bohemian, the Red Stag Grill will offer a five-course New Year's Eve dinner complete with a complimentary glass of champagne, and on New Year's Day, patrons can start the year off right with a New Year's Recovery Brunch menu. All Christmas and New Year's OpenTable reservations are book ready by October 15th.
Thomas Wolfe once stated, "Is this not the true romantic feeling; not to desire to escape life, but to prevent life from escaping you." There is no doubt that Wolfe understood the beauty, charm, allure and loveliness that is Asheville, NC. Perhaps, this holiday season is the perfect time to book a luxury stay close to home and rediscover it.
*For hotel accommodation packages and holiday dining pricing, please check individual websites.