The Wood Whisperers
05 Apr 2021
Within a legacy of woodturning, Matt Moulthrop carves his unique style
By Kim Henry
Photo by Don Chambers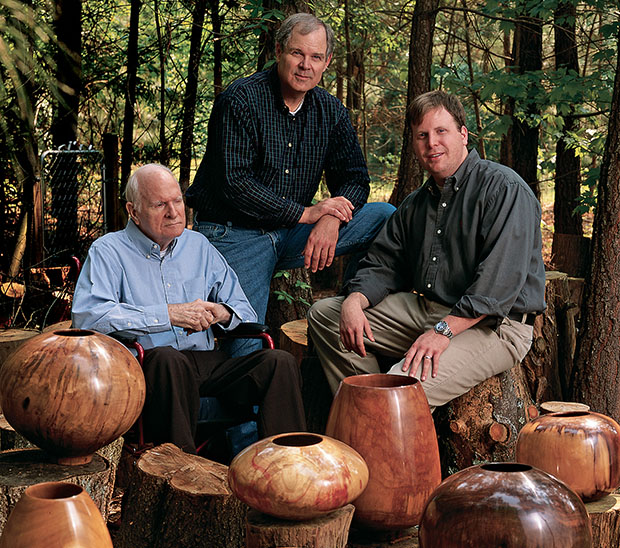 Your destiny may feel a little inescapable if your grandfather is iconic woodturner Ed Moulthrop and your father is equally iconic woodturner Philip Moulthrop but luckily for Matt Moulthrop, it was a destiny he was happy to fulfill. Being a third-generation woodturner, Matt Moulthrop grew up around wood and turned his first piece at 7 years old. These generational artists have literally invented their own tools and techniques and have collectively taken the world of woodturning to a whole new level of recognition. Regardless of his heritage, combining the artist's eye, the mathematical mind, the skilled hand and a sixth sense of intuition, Matt Moulthrop is a profoundly talented woodturner in his own right.
Primarily creating decorative pieces as opposed to functional objects, Matt opens up about his fascinating process. "Each piece will only be as good as the material you're working with, with what nature provides," explains Matt. He talks about 'reading' the log in order to decide whether it will be a spherical shape, to flatten it or something else altogether. The shaping of the wood comes from an instinctual place and also involves 'listening' to the wood as it dries. "I'm listening for failure," he smiles, "anything that's not in rhythm. A weak spot, a crack or a foreign object that may have lodged itself within the wood somehow." As the wood is turning, he is able to glean all this information. This deep connection to his material goes way back in his bloodline and Matt is grateful for the gift.
His grandfather, Ed Moulthrop, is known as the 'father of modern woodturning' and for creating large-scale designs for which he created his own tools. Some of them were so big that a young Matt Moulthrop posed inside one of his grandfather's creations in order to show the scale of the work in a photograph. Ed worked predominately with domestic wood and also made his own finishes. His son, Philip Moulthrop took the torch and ran with it, developing his own mosaic style of woodturning. This involves combining multi sections of wood into one extraordinary creation with the assistance of resin to hold the pieces together. Although this technique broke with some of the more traditional methods, Philip didn't want to be limited in his innovation and his work was groundbreaking for this craft.
Honoring his prolific roots and adding his own spice to the Moulthrop wooden vessel, Matt continues to push the boundaries to see where his work will take him. Branching out (indulge the pun) to wood from other countries, Matt has worked on some particularly memorable projects. Committed to only using wood that has already been cut, and never felling trees just to turn their wood, Matt has worked with botanical gardens from around the world and even with wood extracted from a volcano. One of his most unusual commissions came from Panama. As a result of the Panama Canal, a certain area was flooded and created an underwater forest where the trees were perfectly preserved. "The Panamanian Ambassador to the United States sent a shipping container of this preserved wood, and it was just fascinating to have completely new kinds of wood to work with," recalls Matt.
Every generation of Moulthrop has a unique style and Matt can instantly tell who made a piece just by looking at it. This prolific woodturner strives for a balance of color and form, shape and substance that fully displays the beauty of the tree. "Each tree has a story to tell. Wormholes convey a past life, rings communicate growth and certain colors tell the story of death by lightning or blight. My job is to tell the story of the tree." The process of creating is clearly one of revelation for this intuitive artist. The wood shapes itself to his hands as much as his hands shape the wood. It's as much about the empty space and what to cut away as it is about what to leave intact.
Father and son may share an exhibit, but they do not work on the exact same piece together. Their extensive collections are displayed in countless galleries and museums across the country. Including more local destinations such as The Carter Center and the Museum of Design in Atlanta, GA, and The Bascom: A Center for the Visual Arts in Highlands, NC. Receiving commissions from around the world and always eager to explore his own ideas, this father of two has little time to question the path he took.
Does he want to pass on the family legacy to his own children? "Both of my children show artistic interest, especially my daughter, but I do not want them to feel any pressure or expectation, so we'll see," smiles Matt. This insightful artist returns to his creations, continuing to tell the stories that only the wood whisperers are privy to. Humbly confessing that he still only uses two main tools, one for the outside of the wood and one for the inside, we stand in awe at the precision and artistic integrity of multiple generations.