The Ruffed Grouse Tavern
02 Aug 2022
Elevated fare at a cozy English-style pub in the mountains
By Kay West
Photos by Chelsea Cronkrite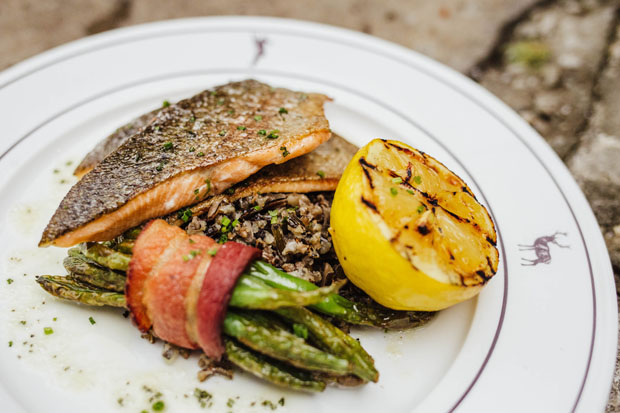 Sitting at a table on the terrace shared by the Highlander Mountain House and The Ruffed Grouse Tavern, owner Jason Reeves is relaxed and affable. As dusk falls, he thanks departing diners for visiting and greets guests checking into the inn. Among those is Nashville singer/songwriter Erin Rae, who will entertain an intimate crowd in the dining room later that night as a featured artist in the ongoing Salon Series that is bringing live music to the mountain resort town.
The serene scene has its genesis in Hurricane Matthew which in 2016 brought Reeves to the building at the corner of Third and Main. Evacuating from Charleston, he drove in 12 hours of traffic to find refuge in Highlands, and had dinner at The Main Street Inn.
Reeves recalls, "Aesthetically, it was not appealing, but the building had great bones, the terrace was beautiful, and I was totally intrigued."
General manager Alastair Lamont, whose melodious South African accent sets a welcoming tone, traces those bones back to a retired Charleston ship captain who constructed it as a residence in 1885. In 1924, it became a boarding house, then passed through more hands and iterations before catching Reeves' discerning eye.
The property meshed with personal and professional interests for Reeves. The Virginia native went to college at historic Sewanee: University of the South, moved to Charleston to restore old houses, went to Boston for a master's degree from Harvard in historic preservation, worked in real estate development and finance in New York for 15 years, then back to Charleston to start a boutique hotel company with three partners.
His first pursuit of the building led nowhere, but on a whim a few years later he did an online search of the address and as fate would have it, there was a listing. He drove straight to Highlands, found the owner, and refused to take no for an answer. He bought it February 28, 2020 and started a gut demo.
Yet he persisted, creating a storyline to transform the building.
"I imagined a well-to-do gentry from West Cotswold who gets a land grant in North Carolina, thinking he's getting farmland and instead it's all mountainous. They have already brought the art and antiques he planned to furnish his home with, so instead they become inn keepers."
Well before the public reveal of the interior of the inn and restaurant in October 2020, Reeves made a statement by painting the exterior a matte slate blue. "It had been white for maybe 100 years; if we kept it white, people would think it was the same old place. We wanted a modern palette, curb appeal and a strong presence so people walking by would give it a second look."
Inside, Reeves' extensive travels through the UK and his affinity for the Cotswold region of the country are immediately felt. "I wanted a genteel quality," he explains. "To feel aged and well-worn, with an eclectic collection of furnishings and art. An English country house transposed to Appalachia, having the contextual feel of the fabric of Highlands, with a European influence."
Vision accomplished. The lobby and its woodburning fireplace are what Lamont calls the heartbeat of the building – 18 rooms to the right; The Ruffed Grouse Tavern a pub-like bar and dining, to the left. The ambiance is transformational and timeless, where one shrugs off cares and conflict and settles into a state of being as comfortable as the antique sofas and chairs set before a second fireplace in the dining room.
The original wood floors were restored; the paneled walls painted deep sage. Rolled glass windows bring in natural daylight while in the evening, lighting is soft and flattering, The banquette upholstered in plush velvet is fronted by coppertop tables. Vintage portraits, cases of Victorian taxidermy, Cherokee artifacts and pieces from Black Mountain College artists indeed compose an 'eclectic collection.'
Reeves consulted with restaurateur Bryan Lewis on the opening menus – breakfast, lunch, dinner and Sunday brunch—and took inspiration from favorite gastropubs in London and New York. Culinary is now the domain of chef Chris Durm, a native of the region who returned home from posts in California and Las Vegas.
The dinner menu is succinct and seasonal, with an emphasis on simplicity and integrity of ingredients. Devils on Horseback are a nod to the Spotted Pig in New York's West Village, but silky fried oysters – distinguished by foregoing heavy breading—on stone ground grits are pure Charleston.
The plank of pan-seared Sunburst trout sourced from Waynesville plates beautifully with al dente wild rice and a bacon-wrapped bundle of haricot vert. Four roasted lamb chops each receive a dollop of mint chimichurri on their perfect pink centers and settle atop a mound of sauteed broccoli rabe studded with gigande beans.
Orecchiette in a deep bowl is the heartiest dish on the menu, with bite-sized clumps of ground lamb sausage, diced tomatoes, greens and generous grate of parmesan.
If Reeves could hang the Ruffed Grouse hat on just one menu item, it's the double cheeseburger, a classic construction of beef, American cheese, pickle, Vidalia onion and comeback sauce on a brioche bun.
"I think the test of a chef is being able to do ordinary things extraordinarily well and this is one of the top three burgers I've ever had in my life," Reeves said.
The ultimate test of the Ruffed Grouse, Reeves says, is not the captive audience of hotel guests, or luring weekenders to the table. It's the people who have had second homes in Highlands for generations and those who live there year-round.
"It is paramount to me that locals feel like this is their place, and to genuinely connect with the people in our own backyard," he said.
The Ruffed Grouse Tavern
270 Main Street
Highlands, NC
828-526-2590
info@highlandermountainhouse