The Rocky Horror Show
12 Oct 2023
Presented by Mountain Theatre Company, under the Executive Artistic Direction of Scott Daniel
Book, music and lyrics by Richard O'Brien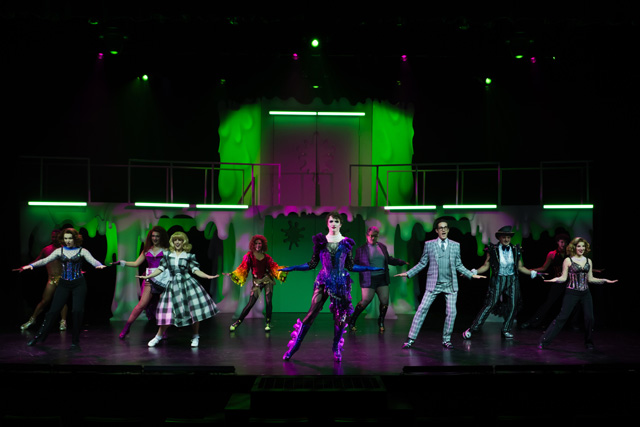 Review by Lisa Gray Youngblood
Let me begin by saying two things.
1. This play is not for everyone.
2. It is fantastic.
There are very few people in this country (perhaps in the world) who have not heard of Rocky Horror. First produced in London in 1973, The Rocky Horror Show is widely regarded as a cult classic that influenced counterculture and the sexual liberation movements of the 70s. It was one of the first musicals to suggest sexual fluidity, and it pressed the point at a time of generational division. That got me to wondering. Have things changed all that much?
On the spectrum of knowledge, I was probably on the lower end, which allowed me to go into this performance as something of a blank slate. I am grateful for that.
This much I knew. The Rocky Horror Show is a campy and humorous tribute to the science fiction and Horror B movies of the 1930s to the early 1960s. It tells the story of a newly engaged couple who get caught in a storm and (somewhat ludicrously) find themselves in the home of a mad scientist and transvestite, Dr. Frank 'N' Furter, who ceremoniously unveils his new creation, Rocky Horror. Rocky is a picturesque man, Adonis-like in his physique and created solely by the hands and imagination of the mad scientist. Rocky is as innocent as they come, having only been alive for a few moments, and everyone is drawn to him, even if he is drawn only to the mystery of being alive.
Oh yeah, and most of the characters are aliens from the planet Transylvania.
If you have never seen the play, you may not know you need props. But not to worry, you can buy a baggie of props for $5 at the concession stand. I suggest you do. There is an attached instruction sheet that explains how and when to use the props and an online "Virgin's Guide to Rocky Horror," which gives additional information about what to expect at the show. The more you engage, the more fun you will have, so I suggest jumping in with gusto.
The cast was outstanding, so much so that it's hard not to single-out every performer. Connor Barr (Dr. Frank 'N' Furter), our deranged, irresistible, witty and mischievous mad scientist, commanded the stage from the start. He rocked those outrageous hot pink boots and lace corset, owning everything about himself. His voice was equal parts confident, wild and, at times, vulnerable. The audience was happy to go where he led, which was guaranteed to be an adventure.
John Mezzina Hannigan (Brad) and Alyson Snyder (Janet), our hapless, newly engaged couple, were hilarious and walked the line of repulsed and curious with expert precision, their innocence being both their saving grace and their (almost) destruction. Snyder's voice was powerful and smooth and stole a number of scenes, and her sexual evolution was downright delightful. Hats off to Hannigan as well. His solo, "Once in a While," offered a surprisingly tender moment of reflection that made me wonder if I understood the play at all. It was a moment of vulnerability that offered another layer to Rocky Horror, a quieter, more serious one.
Hunter Emmett Burke, Liz Davis, Morgan Milone and Louis Hansen, the Ushers, kept the audience engaged and on their toes, reminding us over and over of the goofiness of the story and the free-spirited invitation to let loose and find our own inner wild things.
Chris Carranza (Rocky) nailed the innocence of his character, navigating most of the play in a state of bafflement and naiveté that allowed him to be easily led into trouble. His interaction with the other characters was spot on.
Canter Irene O'May, who played both Eddie & Dr. Scott, had a commanding voice that stopped the show. Meat Loaf is well known for playing (and nailing) these characters, which would be daunting to most but, apparently, not to O'May. She owned it. What a presence. Just wow.
Rachel Lou Redding (Columbia), our heartbroken mistress, had an impressive range and endearing stage presence. Her story line again hinted at a human element in the play. She wanted a man she could not have.
Brandon Leporati (Riff-Raff) and Abby Menocal (Magenta) kept the intensity and energy up throughout, both a little angry, a little mischievous and a lot determined.
Scott Daniel, Artistic Director, Choreographer and Hair & Make-up Designer, prevailed again. With every Mountain Theatre Company play, I grow more impressed with his talent. Each show is different, but the direction is consistent and strong. Director Matthew McGee showed off his talents as well, directing a show that, despite its numerous moving parts and reverberating madness, looked and felt effortless.
Hat's off to Beck Jones as well. The costumes were on-point, outrageous and fabulous.
In essence, the whole thing worked. The lighting enhanced the performance but never interfered. The same with the scenic design, which was well-delineated but subtle enough to let the characters take main stage. Finally, despite the complexities and range of musical numbers, the sound design never faltered.
It is easy to discount this play as silliness, maybe even debauchery at its best, but there are moments that transcend the campy vibe and mock nature of some of its greatest scenes. Both "I'm Going Home," sung by Barr (Dr. Frank 'N' Furter), and "Once in a While," sung by John Mezzina Hannigan (Brad), silenced the audience. I could feel people trying to digest the universal human need to be accepted and the vulnerability that entails. I'll be honest. I had to wonder if it was a trick. Perhaps an alien with a boa was about to jump on stage and laugh at my naiveté. But that didn't happen. The songs finished in rare moments of silence—and then, of course, the fun resumed. But I am pretty sure I wasn't the only one taken aback. The woman beside me whispered to her friend, "It's always the same story. Everyone wants a home."
I'll end where I began. This show is not for everyone, but it sure is good. Perhaps it will have personal meaning for you, especially if you tend to see the world through the lens of inclusivity, love and acceptance. Perhaps it will be nostalgic or ridiculous or confusing. Perhaps it will just be fun. If you have any interest or curiosity, go see it. If nothing else, the vocals and costumes will be worth the price of admission. And we could all use a little fun, couldn't we?